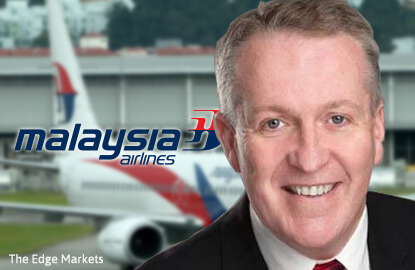 KUALA LUMPUR (July 1): Malaysia Airlines Bhd will stop doing things that lose money, pledges newly appointed managing director (MD) cum chief executive officer (CEO) Peter Bellew, who, in keeping his eyes on costing, has highlighted that lowering airport costs is now an "immediate focus" for the airline.
To do so, the airline is planning to operate "leisure flights" from klia2 from 2017 onwards to gain savings of up to US$500,000 or RM1.98 million per annum, according to Bellew in a statement today.
He said costs per passenger at klia2 is RM33 or US$8.25 lower from the main terminal at the Kuala Lumpur International Airport (KLIA), equivalent to RM5,412 or US$1,350 per flight.
"We will pass on these savings to customers with lower fares. Each and every cost of everything we do will be minutely checked daily without changing any quality," he added.
Describing the airline's future as a road with many interesting turns, Bellew stressed that Malaysia Airlines will remain focused on its turnaround plan.
"Our costs are on track now. However, we cannot for a one second take our eye off the ball," he said, adding that saving money does not mean compromising on safety or quality of products and services.
"It simply means we need to increase productivity and efficiency, invest in modern technology, [and] enter into mutually beneficial partnerships besides identifying and mitigating risks early," he said.
Bellew said that in the next 12 months, Malaysia Airlines will implement new website, mobile application, trade reservations system and airport equipment.
"The digital experience when booking with Malaysia Airlines will see significant investment in 2016 and 2017," he added.
As Bellew assured that the airline will no longer do things that lose money, he also said Malaysia Airlines will rebuild its relationships with the travel trade globally.
"We will lead a worldwide marketing initiative promoting the wonders of Malaysia. We will start new routes from various Malaysian airports to new unserved Asean destinations," he said.
Bellew also said Malaysia Airlines need to ensure its commitment towards meeting customers' expectation.
"We know the complexities of our business but our customers simply want great service. They expect us to be on time, serve great food, have generous baggage allowances and safely operate clean modern aircraft. And that's just exactly what we will do," he said.
Malaysia Airlines, a wholly-owned subsidiary of state fund Khazanah Nasional Bhd's aviation arm Malaysia Aviation Group Bhd, announced that Bellew would succeed outgoing MD cum CEO Christoph Mueller yesterday (June 30) in what it calls an "accelerated leadership transition".
The appointment confirmed a report by The Edge Weekly in its June 20–26 publication, citing sources, that Bellew had been offered the top job at Malaysia Airlines by Khazanah.
Mueller, who resigned on March 10 for "personal reasons" and is serving his notice until Sept 9, has gone on leave. He stepped down from the national carrier's board today.