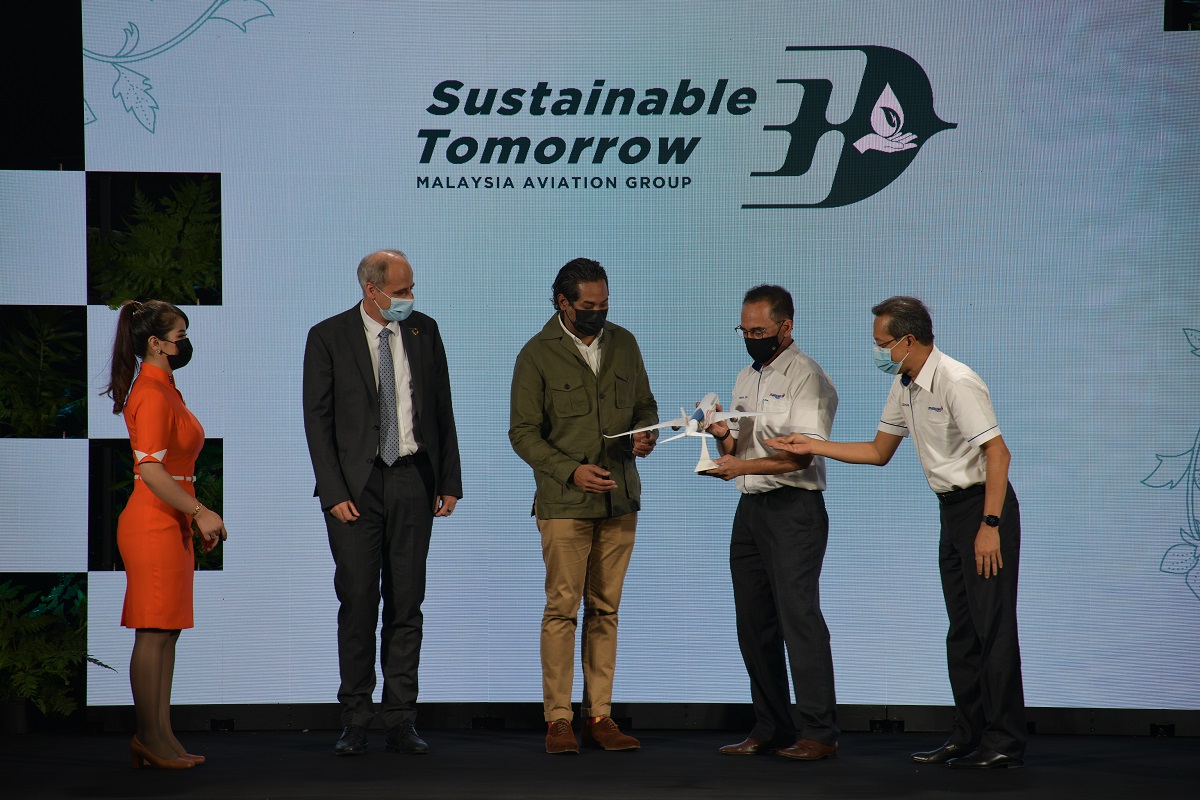 SEPANG (April 12): Malaysia Airlines Bhd's parent Malaysia Aviation Group (MAG) said today it aims to reduce carbon dioxide (CO2) emission by 25 million kg in 2021 and reach 50% usage of biodegradable materials for in-flight operations based on the MAG Sustainability Blueprint, which hopes to promote socio-economic development and achieve net zero carbon emissions by 2050.
In a statement issued today at the launch of the MAG Sustainability Blueprint here, MAG said it also plans to have 50% of ground and in-flight waste recycled and up-cycled by 2025 onwards.
"With 66 initiatives already in various phases of implementation across 23 sustainability matters from five key focus areas, namely economic, governance, safety and security, environmental and social, the blueprint will also function as a driver to accelerate and support these initiatives into the future," MAG said.
MAG group chief executive officer Captain Izham Ismail said in his speech in conjunction with the blueprint launch today that as MAG looks to the future, sustainability is increasingly a critical pillar in the group's long-term business strategy as MAG strives towards a brighter, greener and happier future, with digitalisation acting as an accelerator.
Prior to developing the sustainability blueprint, MAG had outlined its sustainability policy, which emphasises its commitment to creating value for stakeholders in a manner that is responsible, transparent and respectful of the rights of all, according to Izham. 
"Our approach is risk and materiality based and applies throughout the organisation and to all of our managed assets. We are committed to providing safe and effective aviation travel solutions, in response to the continuing global growth in the coming decades. 
"In a business environment where high passenger number growth rate drives fleet expansion, we strive to continuously enhance our safety and security, energy efficiency and environmental performance.
"From there, our blueprint was designed to be all-encompassing, covering environmental, social, safety, governance and economic factors, in line with the United Nation's Agenda for Sustainable Development, with several sustainable development goals in mind," he said.
Khazanah Nasional Bhd — Malaysia's sovereign wealth fund — via MAG wholly-owns Malaysia Airlines.
Khazanah said in a statement on March 4 it continues to provide full support and close cooperation in the comprehensive efforts to ensure the national carrier's sustainability post-Covid-19 pandemic. 
"Moving forward, MAG will focus on working closely with the government and stakeholders on restarting air travel and promoting industry recovery, as well as continuing cash conservation while capturing demand recovery as part of its internal restructuring," it added.
Read also:
Malaysia Airlines parent company confident of better days ahead on restructuring, Covid-19 vaccination