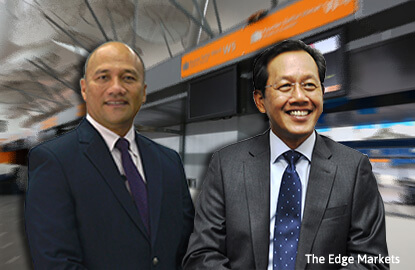 KUALA LUMPUR (Nov 1): Captain Izham Ismail, who served a short stint as the chief executive officer (CEO) of MASwings Sdn Bhd, has been appointed the new chief operations officer (COO) of Malaysia Airlines Bhd, effective today.
In a statement today, Malaysia Airlines said Izham's position as CEO of MASwings will now be filled by Aminuddin Zakaria.
Malaysia Airlines group CEO Peter Bellew said Izham is no stranger to the national carrier, having served as its director of operations from 2012 to 2015.
"With close to 36 years of experience in the aviation industry, and having just completed the advanced management programme at Harvard Business School, I am confident that he will be able to lead the operations and engineering division to new levels of excellence.
"Being our own internal home grown talent, I look forward to working closely with him in delivering operational excellence to the entire group," said Bellew.
Izham began his career with Malaysia Airlines as a trained pilot from the Philippines Airline Aviation School and has operated various aircraft from the Fokker 27, Airbus 330 to the Boeing 747.
He has served various management roles namely head of operations programme management office, executive vice president of flight operations and general manager for technical and development among others.
Izham is also on the board of directors of various companies such as Hamilton Sundstrand Malaysia, MAB Kargo Sdn Bhd, MAB Academy and MAS Awana Sdn Bhd.
On Aminuddin's appointment as MASwings CEO, Bellew said he is confident Aminuddin will develop a comprehensive and sustainable plan to improve MASwings' operations, financial performance and customer service experience.
"The group remains committed towards advancing this community airline serving rural air services in Sabah and Sarawak," said Bellew.
Aminuddin has over 27 years of experience in the engineering field. He holds a degree in mechanical and aeronautical engineering from Universiti Teknologi Malaysia.
MASwings serves a network of 24 destinations and operates 10 64-seater ATR 72-500 — advanced turboprop aircraft which connect Kota Kinabalu, Kuching, and Miri International Airports to major towns and cities in East Malaysia.
It is also the sole operator serving the Rural Air Services routes in Sabah and Sarawak with six 19-seater Viking Air DHC6 400 Series Twin-Otter, operating out of Miri.