This article first appeared in The Edge Malaysia Weekly, on August 5, 2019 - August 11, 2019.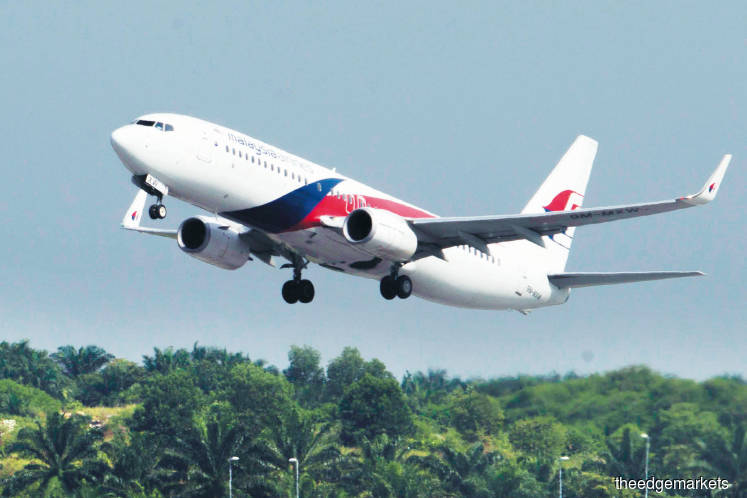 The carrier has so far signed memoranda of understanding with Japan Airlines Co Ltd and Singapore Airlines Ltd to establish a JV covering the Kuala Lumpur-Tokyo Narita and KL-Singapore routes respectively. Photo by Patrick Goh/The Edge
MALAYSIA Airlines Bhd has set its sights on joint ventures (JVs) as a way forward to improve its financial situation, says an industry source close to the matter, as it grapples with overcapacity, high fuel costs, a depreciating ringgit and low-cost competition.
The new focus coincides with one of the four pillars of the carrier's new long-term business plan, which stipulates having a partnership strategy. The plan could see the company achieve financial break-even by 2022 and generate enough income to cover the cost of capital for its operations two years later.
Malaysia Airlines has so far signed memoranda of understanding with Japan Airlines Co Ltd (JAL) and Singapore Airlines Ltd (SIA) to establish a JV covering the Kuala Lumpur-Tokyo Narita and KL-Singapore routes respectively. Other potential areas of co-operation could involve cargo as well as maintenance, repair and overhaul services.
It is awaiting regulatory antitrust approval for the two JVs, but it is understood that the carrier hopes to implement them by the fourth quarter of the year.
According to the source, Malaysia Airlines is in talks with three other airlines for a JV next year.
"The carrier's strategy is to cover four corners of the globe. JAL for Far East. It is also looking for [JV partners to cover] Europe, the Middle East and the Americas," the source adds.
The source tells The Edge that this joint business could result in the foreign partners taking up a stake in the carrier. "But it's not something that's going to happen overnight. You have to wait for the JV relationships to mature first."
The question is, how long can the financially distressed national carrier go it alone without a strategic investor?
A former senior executive of the now-defunct Malaysian Airline System Bhd (MAS), who spoke on condition of anonymity, says the challenge for Malaysia Airlines in turning itself around is that it operates in a market with intense competition.
"In this game, you need to be large enough so that you have greater economies of scale. Only large airlines that are themselves very efficient can make money. Unfortunately, to get to that size, you also need to have an airport or location where you are a hub," he says.
He cites established airlines such as SIA and Cathay Pacific Airways, which have the benefits of hubs like Changi Airport Singapore and Hong Kong International Airport.
"For British Airways, there is London Heathrow Airport and for Emirates, there is Dubai International Airport. Apart from this handful of airlines, every other airline is losing money, unless you are a low-cost carrier," he adds.
The former senior executive believes that at present, Malaysia Airlines does not have large enough economies of scale to compete with its bigger counterparts given its current state. "It will forever be in that cost curve where it is very hard to make money.
"Also, most [full-service] airlines make money from the sale of first-class and business-class tickets. Margins from the sales of economy class seats are only sufficient to cover the airlines' cost. And Malaysia Airlines just doesn't have sufficient business travellers [to fill its seats]. Hubs like Singapore and Hong Kong also have more business traffic."
Thus, he sees Malaysia Airlines facing similar issues even with the entry of new investors unless "the government allows these bigger airlines to merge with the carrier and become part of their network".
The industry source concurs, adding that potential local investors must come in with their "eyes wide open of what the market brings. Otherwise, it will entail the same result".
So far, at least four private local groups have shown interest in acquiring a stake in the national carrier.
That is not to say that such attempts have not been made before. As far back as 2000, there were reports of Australian flag carrier Qantas Airways Ltd making moves to acquire a stake in MAS but the deal failed to get off the ground.
Another attempt was made in August 2011 when MAS' largest shareholder, Khazanah Nasional Bhd, and AirAsia Group Bhd's parent, Tune Air Sdn Bhd, planned to merge the old MAS with AirAsia and AirAsia X Bhd. The bid also failed following political and union pressure.
"The idea back then was to create a larger grouping that would have economies of scale in areas like procurement of planes and jet fuel as well as aircraft maintenance and repair," recalls the former senior executive.
Noting that shutting the carrier down would be "a great shame", he believes that Malaysia Airlines can still find a strategic partner and, at the same time, retain its national identity, which was one of the criteria stated by Prime Minister Tun Dr Mahathir Mohamad last month.
The former senior executive cites airlines such as British Airways, Ireland's Aer Lingus and Madrid-based Iberia, which are owned by International Airlines Group, and Swiss International Air Lines, which is part of Lufthansa Group. "Qatar Airways and SIA also have minority stakes in various airlines around the world, which still retain their national identity," he adds.
When contacted, CAPA — Centre for Aviation chief analyst and chief representative for Southeast Asia Brendan Sobie says the strategy of pursuing new and increased partnerships is sensible.
"Partnerships are emerging as an important component of Malaysia Airlines' new post-restructuring strategy and have already been a component of SIA's strategy since 2011. SIA has forged three JVs as part of this strategy," he adds.