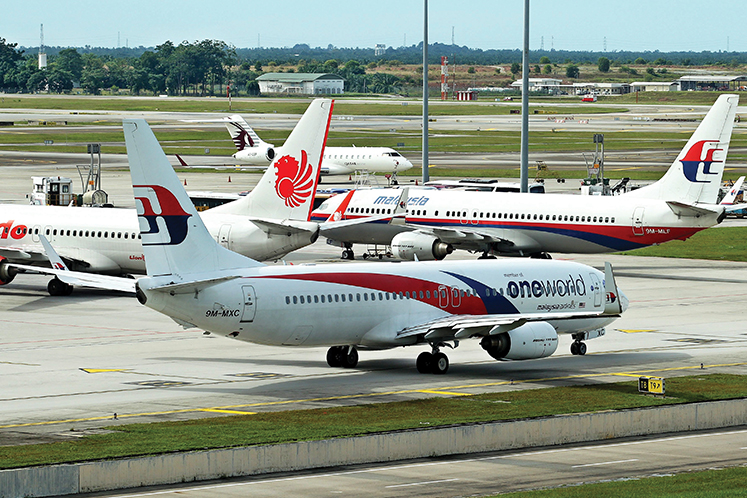 KUALA LUMPUR (March 9): Malaysia Airlines Bhd (MAS) is cutting salary of its senior management by 10% starting this month, says its group CEO Captain Izham Ismail, adding that they will no longer receive allowance.
According to a video to the national airline's 13,000 employees today and seen by theedgemarkets.com, Izham said the cut is part of measures to address the sharp downturn in demand amid the coronavirus (Covid-19) outbreak.
He warned that more cost-cutting measures will be introduced in the coming days.
"You have heard over the past couple of weeks how airlines around the world from Emirates to Cathay Pacific, Singapore Airlines (SIA) and Malindo Air have been forced to take hard measures in order to preserve cash flow. The senior leadership team and I have also been brainstorming potential measures to do the same for MAG (Malaysia Aviation Group) and we will decide the immediate and long-term actions in a matter of few days," he said in the video.
"I will reach out to all of you (employees) more in the following days and weeks what we need to do. (So far,) we have introduced huge capacity cuts. In the first quarter of 2020 alone, we have removed 7.1% of our (flight) capacity. To date, we have cancelled more than 1,600 flights  and the number is increasing," he added.
Izham noted that MAS has cut its capacity to China by 53% and that to South Korea and Japan by 23%. "At the rate and momentum of this crisis, more flights will have to be cancelled because there is just less demand in the marketplace."
"The impact (of Covid-19) to the market is tremendous. People are not travelling. Businesses not operating as they used to be and the aviation landscape has changed tremendously. MAG is not spared from all of this," he said.
According to reports, SIA is cutting salaries of senior management by 10-15% starting March 1 and offering a voluntary no-pay leave scheme to employees, while Malindo Air will be imposing a 50% pay cut on its staff in addition to two weeks of unpaid leave to cope with the impact of Covid-19.
The video also addressed the performance of MAS in 2019, with the carrier's revenue per available seat kilometre (RASK) recording a 3% year-on-year (y-o-y) increase while yield rose 5% y-o-y on the back of a 5% y-o-y growth in capacity.
"We achieved a record breaking RASK results in 2Q to 4Q 2019, with the highest RASK ever recorded in three years," said Izham.
He noted that during the first year of implementing its new long-term business plan (LTBP), MAG -- the holding company of MAS -- achieved "better overall group net income after tax (NIAT) performance compared to 2018, which was 18% ahead of budget."
"(MAG) group revenue grew 7% y-o-y in 2019. The improved NIAT performance year on year is despite higher fuel price by US$3 per barrel, a 3% increase in US dollar against the ringgit and MFRS16 impact," said Izham.
However, he did not disclose the NIAT and revenue numbers, nor that of loss-making MAS for 2019. MAS' net loss for FY18 narrowed to RM791.71 million from RM812.11 million in FY17, as revenue improved by a slight 0.8% y-o-y to RM8.74 billion.
MAS' LTBP would see the national airline achieve financial break-even by 2022 and generate enough income to cover the cost of capital for its operations two years later. Still positioning MAS as a premium airline, the LTBP consists of four pillars, comprising right-sizing the airline's fleet, providing a premium customer experience, having a partnership strategy and diversifying the airline's revenue.
"(Going forward,) what we need to do better is in further bringing costs down. Although we are already competitive compared to peer airlines, there is still room for improvement, especially in reducing wastages.
"Sadly, Covid-19 has hampered our momentum. It has been nine weeks (since the virus outbreak) and the cash flow (shortage) is not only impacting MAG but the industry in totality," said Izham.