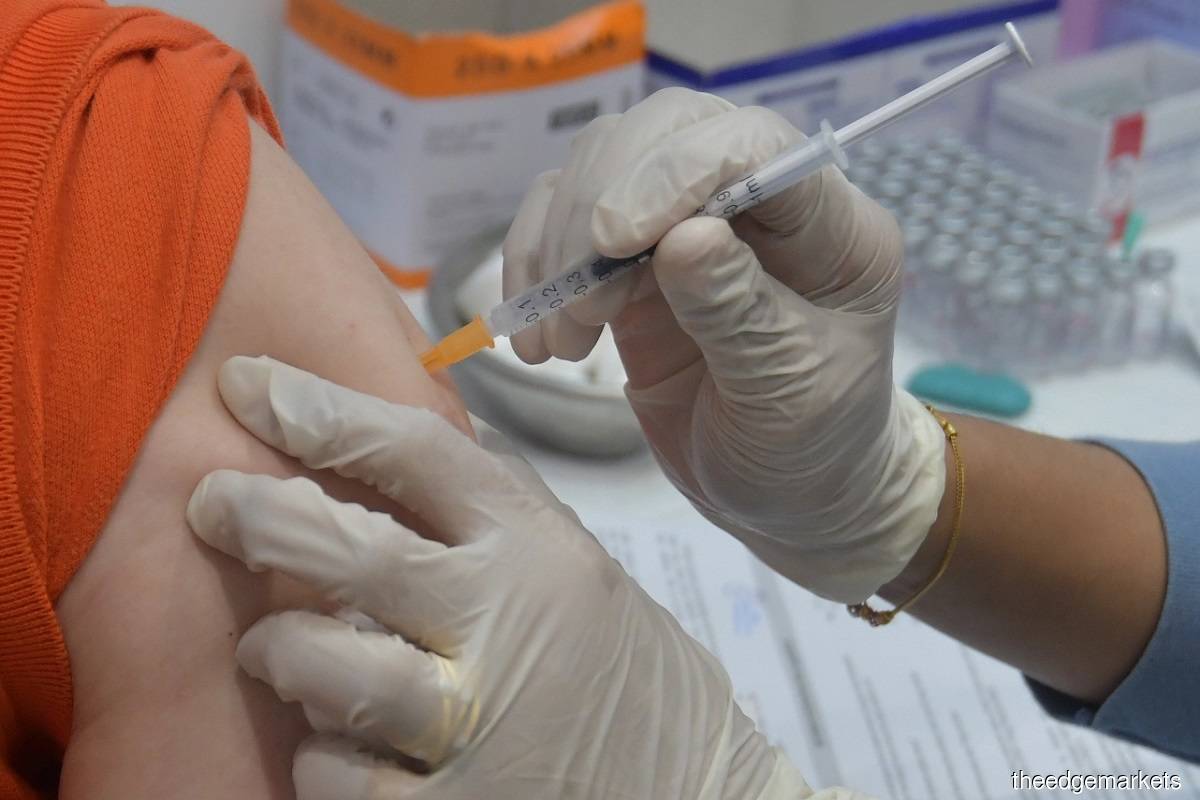 KUALA LUMPUR (Aug 1): A total of 519,111 Covid-19 vaccine doses were administered throughout the nation yesterday (July 31), bringing total doses administered to date to 20.53 million, according to data from the Covid-19 Vaccine Supply Access Guarantee Special Committee (JKJAV) released today.
The number of vaccine doses administered was higher than the 512,097 doses of vaccines administered on July 30, and marked the sixth consecutive day the country administered over 500,000 doses.
In tandem with the increasing number of daily doses, the seven-day moving average also rose further to 516,463 from 501,981 previously.
In July alone, a total of 12.33 million doses were given out, an average of 397,711 vaccine doses a day. July's total was more than double the 5.08 million doses given out in June and nearly eight times the 1.56 million doses administered in May.
Of the 519,111 doses of vaccines given out yesterday, 316,492 went to individuals who received their first dose, while the remainder went to 202,619 individuals who got their second jab.
Follow our Covid-19 vaccination tracker to see where we are in the race to herd immunity.
As of yesterday, a total of 6.72 million people representing 20.6% of the country's population had been fully vaccinated, while 13.82 million individuals or 42.3% of the population had received at least one jab.
Also as of yesterday, a total of 5.72 million people or 92.7% of the adult population in the Klang Valley had received at least one dose of the vaccine, including 2.2 million people or 35.7% who were fully inoculated.
New Covid-19 cases, meanwhile, rose to 17,786 yesterday — the highest daily figure so far — pushing active cases, which carry high transmission risk, to a new high of 189,609. The country's cumulative confirmed Covid-19 infections climbed further to 1.11 million.
The latest cases were detected from the screening of 153,523 individuals in the past 24 hours, indicating a 11.59% positivity rate. The Klang Valley — comprising Selangor, Kuala Lumpur and Putrajaya — recorded 8,478 infections or 47.67% of yesterday's cases. Selangor saw 6,400 new cases, while Kuala Lumpur had 1962 and Putrajaya 116.
Of the new cases, 186 or 71.5% of the total 260 serious cases under Categories 3 to 5 were unvaccinated. Category 3 patients are those with pneumonia, while category 4 patients are those with pneumonia requiring oxygen therapy. Category 5 patients are critical cases requiring assisted ventilation.
A total of 165 Covid-19-related deaths were also reported, raising the nation's death toll to 9,024.
Meanwhile, new recoveries came in at 11,718 yesterday, bringing the cumulative recoveries to 914,639, which translates into a recovery rate of 82.16%.