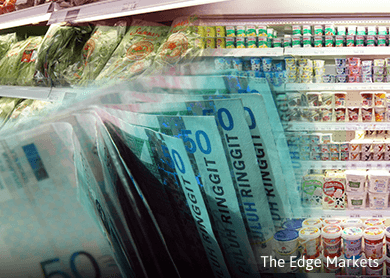 KUALA LUMPUR (Mar 20): Malaysia's inflation, as measured by the consumer price index (CPI), increased a slower rate of 0.1% in February from a year earlier.
In a statement today, the Statistics Department said the CPI growth had slowed mainly on cheaper transport expenses amid lower crude oil prices. February's 0.1% on-year CPI growth compares with the 1% rise seen in January this year.
"This low rate of increase has been attributed by significant decline for transport. Other decreases were Communication and Clothing & Footwear by 0.9% and 0.6% respectively.
"These three groups accounted for 24.0 percent of the overall weight," the department said.
For the first two months of this year, the CPI grew 0.5% from a year earlier.
Compared to a month earlier, February CPI fell 0.6%, attributed to cheaper transport, clothing and footwear besides food and non-alcoholic beverages.
Cheaper household items also contributed to the CPI decline, according to the department.
February's CPI on-year 0.1% growth had come in below a median market forecast of a 0.2% rise, based on a Reuters' survey.
Earlier, Reuters reported that Malaysia's annual inflation rate in February likely cooled to 0.2%, almost nearing deflation despite the Lunar New Year holidays.
Inflation has fallen steeply since November, when it was 3.0 percent. The global slump in oil prices contributed to a lower inflation rate, along with a government campaign to control food prices.
January's inflation came in at 1.0 percent, below expectations, after the government removed fuel subsidies, allowing retail fuel prices to follow market prices lower.