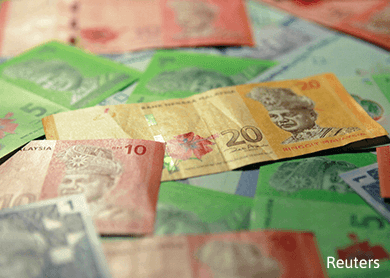 KUALA LUMPUR (Dec 15): The yield on Malaysian sovereign bonds due in a decade rose to the highest level in 10 months on concern that the weakening ringgit will spur sales by overseas funds.
The currency has dropped 3.3 percent so far this month, the worst performance in Asia, as the slump in oil threatens to hurt government efforts to cut the fiscal deficit in the oil exporting nation. Global investors trimmed holdings of Malaysian government bonds to 251.1 billion ringgit ($72 billion) in October, compared with a record 257.2 billion ringgit in July, latest data from the central bank show.
"The weakening ringgit and concern on the impact of falling oil prices on the fiscal deficit is driving some funds to sell Malaysian government bonds," said Nik Mukharriz Muhammad, a Kuala Lumpur-based fixed-income analyst at CIMB Investment Bank Bhd. "The situation is made worse because it's near the year-end, when most funds have closed their books and are not getting fresh funds."
The yield on the 4.181 percent bonds due July 2024 rose five basis points, or 0.05 percentage point, to 4.27 percent as of 11:09 a.m. in Kuala Lumpur, a level last seen on Jan. 28, according to data compiled by Bloomberg. The rate increased 26 basis points last week, the most for a benchmark of that maturity since May last year.
The ringgit declined 0.1 percent to 3.4975 per dollar, data compiled by Bloomberg showed. The currency fell to 3.5073 on Dec. 8, the lowest level since September 2009.
Average Inflation
The price of crude oil dropped below $60 a barrel last week for the first time since 2009 and last traded at $58.27. The decline may cut Malaysia's current-account surplus, which was at 7.6 billion ringgit last quarter, the least since June 2013. The government is aiming to reduce the fiscal deficit to 3 percent of gross domestic product next year from 3.5 percent, having run a shortfall since 1998.
A weaker exchange rate will also push up import prices just as Malaysia prepares to introduce a 6 percent goods and services tax in April. Consumer-price increases will average 4 percent in 2015, the highest in seven years, according to a Bloomberg survey of 21 economists. That compares with 3.2 percent in the first 10 months of this year.