This article first appeared in Enterprise, The Edge Malaysia Weekly, on August 12, 2019 - August 18, 2019.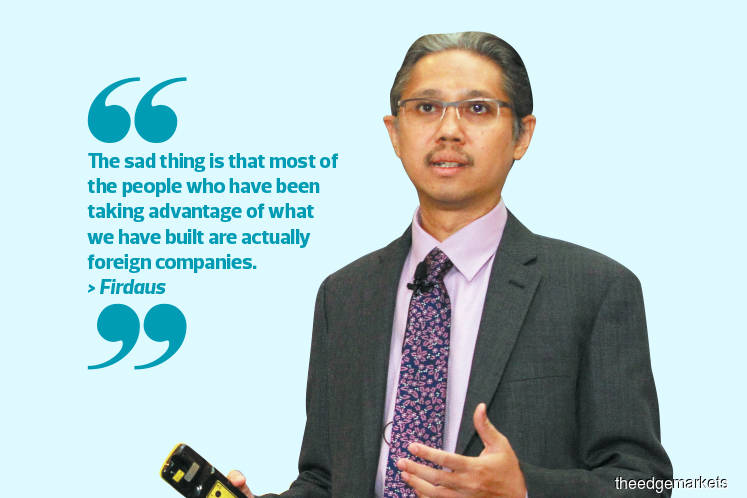 Malaysian companies that want to create connected, intelligent and portable devices should approach SilTerra Malaysia Sdn Bhd, said CEO and executive director Firdaus Abdullah at The Edge SME Forum 2019. He was presenting on the topic, "Transformation on a (shoestring) budget".
These companies can be in sectors such as fashion, medical wearables and transport. In general, high-tech devices will require some degree of sensors, processors, communication chips and power management integrated circuits (ICs), which can be built by SilTerra. It is the only wholly local wafer fabrication plant  in Malaysia.
"In Malaysia, we have our own fab. I get people from Brazil and even India saying they wish they had their own fab so they would not have to travel across the world to build their chips. We have one right here in Kulim Hi-Tech Park. Malaysian companies should use it," said Firdaus, adding that 99% of the foundry's business today comes from overseas.
SilTerra's customers include huge technology companies and small and medium enterprises (SMEs) from countries such as the US, Taiwan and China.
"At one point in time, we were king of the hill in the small panel display driver technology, which are the chips that drive the [functions of the] screen on your phone and your wearables. At the height of it, 20% to 25% of worldwide phones and one in three smartwatches actually had the SilTerra chip in it," said Firdaus.
"The sad thing is that most of the people who have been taking advantage of what we have built are actually foreign companies. To some extent, it is a failure of our own industrial planning. We built a fab but we did not build the application companies that can use the fab."
But it is not that Malaysians do not have the talent to work on these products, he added. "There are a lot of IC design engineers in Malaysia who have worked for multinational corporations such as Intel and AMD. We want those talents to come up with applications and devices and work with us."
Innovating to stay ahead
SilTerra has been called a "white elephant" by some who find it an expensive company to maintain. But Prime Minister Tun Dr Mahathir Mohamad has said it is worthwhile spending money on projects such as SilTerra because the capacity to produce microchips is an industry of the future, according to Firdaus.
SilTerra has had to compete with global foundries, which were investing to create smaller and finer wafers. However, that required a huge amount of capital expenditure (capex). Firdaus estimated that it may take about US$1 billion to go down that path.
"The last major capex [injection] we got was in 2007. I wrote a letter to Khazanah, which gave us US$100 million. Since then, we have been surviving on our own. We are an SME, given the amount of funds that we can deploy. So, what we have to do is move sideways and look at applications, areas where the chips we make can remain relevant for the next five to 15 years," he said.
The company decided to go into emerging areas such as power, MEMS (microelectromechanical systems), photonics and life sciences.
"We found that to increase the functionality of chips, we have to go into other physical domains. So for photonics, we have the electrical domain plus the optical domain. For MEMs, we have the electrical plus mechanical domain. For life sciences, we have the physical, biological and electrical domains. We are also entering the products and services space. We are trying to get away from a dependence on capex," said Firdaus.
For instance, the next-generation photonic chips that SilTerra is building with clients will go into data centres. The company has also built chips for sensors in the automotive industry and power chips for the green technology industry. Its chips have also been used in robotic arms and electric vehicle charges.
Areas of focus
Mobility is one major target area for SilTerra. This is in line with the ongoing demand for electric or autonomous vehicles.
Another of SilTerra's major targets is in life sciences. Already, it has built chips for a DNA sequencing machine and formed a working group with other parties in the healthcare ecosystem.
"We have the PMUT (Piezoelectric Micromachined Ultrasonic Transducer) and microfluidics, which is actually a lab on a chip. If you want to do a blood test, you can just prick your finger, drop the blood onto the chip and stick the receptacle on your phone. You can then get a complete assay of your blood that will be uploaded to the cloud for your doctor or healthcare service provider to see. That product is coming [to market] and it will be big," said Firdaus.