This article first appeared in The Edge Financial Daily, on March 18, 2020.
Click / Tap image to enlarge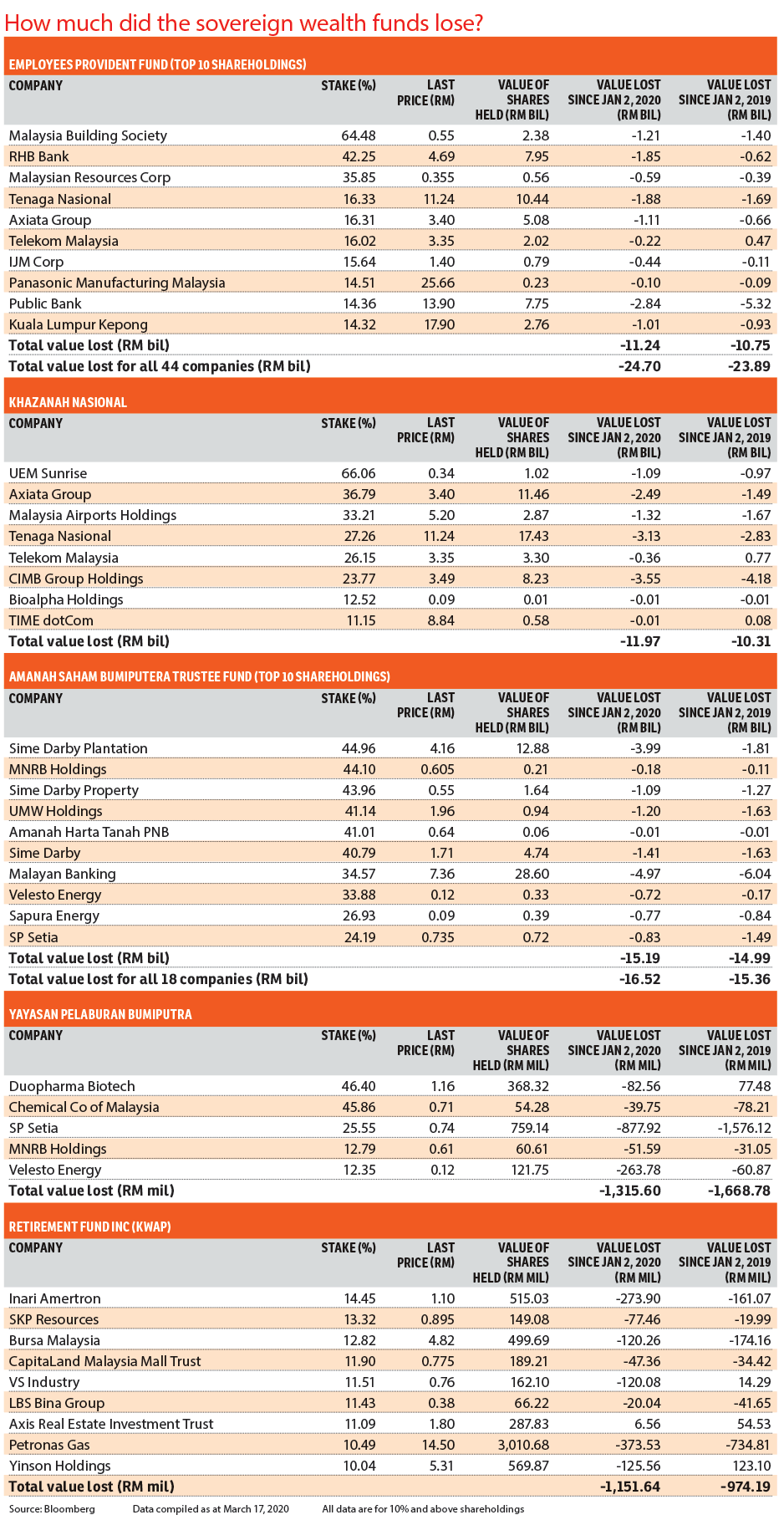 KUALA LUMPUR: No one seems to be able to escape unscathed from the recent global equity rout, with no exception among the country's major institutional funds like the Employees Provident Fund (EPF), Permodalan Nasional Bhd (PNB) and Retirement Fund Incorporated or Kumpulan Wang Persaraan (Diperbadankan) (KWAP).
It is estimated that the four major institutional funds, namely the EPF, PNB, KWAP and Khazanah Nasional Bhd, have in total lost RM55.7 billion since the start of year, in terms of paper loss in their equity investment portfolios, based on data compiled from Bloomberg.
The estimated value that has evaporated from the EPF's equity portfolio (equity holdings of more than 10% in 44 companies) amounted to RM24.7 billion year to date (YTD) based on yesterday's closing price, the Bloomberg data compiled showed.
The provident fund is not alone. PNB, the country's largest asset management company, saw its Amanah Saham Bumiputera Trustee Fund's (ASBTF) equity investment value (shareholdings of above 10% in 19 companies) shrink by RM16.52 billion since the start of 2020.
Likewise, for Yayasan Pelaburan Bumiputra (YPB), another major investment fund under PNB, its equity portfolio has lost about RM1.31 billion in book value.
In the EPF's equity portfolio, Public Bank Bhd, a banking stock perceived to be solid like a rock, is the biggest loser in terms of investment value lost. As much as RM2.84 billion has been erased from the provident fund's books on its equity stake in Public Bank alone in less than three months since January.
To stretch to a longer period since January 2019, the value of the EPF's investment in Public Bank has shrunk even more, by RM5.32 billion, no thanks to persistent selling over the past 14 months. Public Bank, one of the most expensive banking stocks in Asean in terms of price-to-book value, has been on a decline since July last year. The banking stock has slid 28.5% YTD to RM13.90 — the lowest since August 2013.
Indeed, the investment values of three banks, namely Malaysia Building Society Bhd (MBSB), RHB Bank Bhd and Public Bank, in which the provident fund owns a more than 10% stake, have collectively shrunk by RM5.9 billion since the start of the year. The investment value of RHB Bank dropped by RM1.85 billion, followed by RM1.21 billion in MBSB.
On top of that, the EPF also owns 13.78% of CIMB Group Holdings Bhd and a 12.92% stake in Malayan Banking Bhd (Maybank). For the two banking stocks, the investment values evaporated are RM2.06 billion in CIMB and RM1.86 billion in Maybank, based on yesterday's closing against the prices as at Dec 31, 2019.
Over at PNB, the asset manager saw a combined total market value of RM17.83 billion evaporated from ASBTF and YPB in the span of 12 weeks.
ASBTF's equity investment portfolio (shareholdings of more than 10% in 18 companies) lost some RM16.52 billion, mainly caused by a 44.96% equity stake in Sime Darby Plantation Bhd. The value of its shareholding in the plantation group has contracted by RM3.99 billion.
Its another major holding — Maybank — is another big loser in terms of investment value lost. The value of the fund's 34.57% stake in Maybank has declined by RM4.97 billion since the beginning of the year as the banking stock has skidded 14.8% YTD. The fund's stake in Maybank was worth RM28.6 billion as of yesterday.
On the other hand, PNB's YPB that has a 25.55% equity interest in SP Setia Bhd lost some RM877.92 million in slightly less than three months and RM1.57 billion over the 14-month period since January 2019.
The same goes for Khazanah. The government-owned investment fund, which owns a more than 10% equity stake in eight public listed companies, saw some RM11.97 billion wiped off the value of its equity portfolio based on yesterday's closing price. For its 32% stake in CIMB, the investment value has contracted by RM3.55 billion.
ASBTF owns a 26.93% stake in Sapura Energy Bhd and a 33.88% stake in Velesto Energy Bhd, both of which are selling targets in the current equity rout amid a meltdown in crude oil prices. The value of its equity stake in Sapura Energy has shrunk by RM770 million YTD, followed by RM720 million in Velesto, based on yesterday's closing. Sapura Energy's share price has plunged 66.7% to nine sen, while Velesto has tumbled 68.4% to 12 sen YTD.
Civil servant pension fund KWAP has lost RM1.15 billion since the beginning of this year for its more than 10% shareholding in nine public listed companies. The losses were mainly from Petronas Gas Bhd (PetGas), in which it holds a 10.49% stake. The value of its equity stake in PetGas has gone down by RM373.53 million, while its 14.45% stake in Inari Amertron Bhd has shrunk by RM273.9 million YTD.