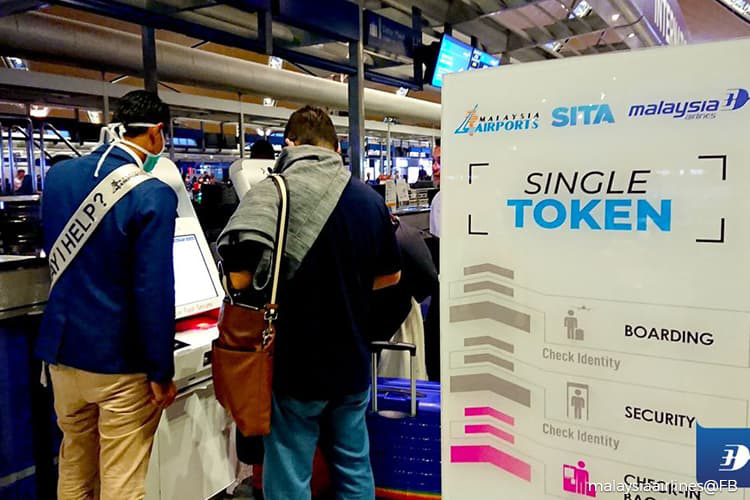 KUALA LUMPUR (March 6): Malaysia Airports Holdings Bhd (MAHB)'s single token journey pilot program, which is currently running at the Kuala Lumpur International Airport (KLIA), has seen some 45% participation rates among its passengers daily.
Under the program, the single token journey concept leverages facial recognition technology to provide passengers with a single identification verification which is used at all airport touchpoints from check-in to the boarding gate.
According to Malaysia Airlines group Chief Operations Officer Ahmad Luqman Mohd Azmi, the airport operator has been receiving good responses from passengers flying to Japan using this technology for boarding purposes.
He said the technology was not new to Japanese passengers and they were familiar with it.
Also, he said this technology has enabled passengers to opt for a biometric token and has given them a seamless boarding experience at the airport.
"According to the study we did for the flights to Japan's Narita and Kansai airports, we are seeing the passengers that opt for biometric token save half of their time for boarding compared to the normal boarding process," he said at a press conference here today.
Ahmad Luqman said the single token journey concept is in line with the group's sustainability program, as the aim of implementing this technology is to reduce the usage of paper.
He said the remaining 55% passengers did not opt for this technology due to personal preference.
The three-month pilot program or so-called proof of concept, which began on Jan 29 this year, involves passengers on two daily Malaysia Airlines flights to Narita International Airport, Tokyo and Kansai International Airport, Osaka.
Malaysia Airlines Bhd has teamed up with aviation information technology company Sita to facilitate the service for passengers.
The objective of the program is to demonstrate the concepts of biometrics features in a real operational environment and to identify gaps and opportunities for improvement in terms of technology, hardware, processes and compliance before full implementation.
The pilot forms part of the Airports 4.0 initiative, which aims to transform KLIA into a smart airport through the use of big data analytics, said MAHB.