This article first appeared in The Edge Malaysia Weekly, on January 6, 2020 - January 12, 2020.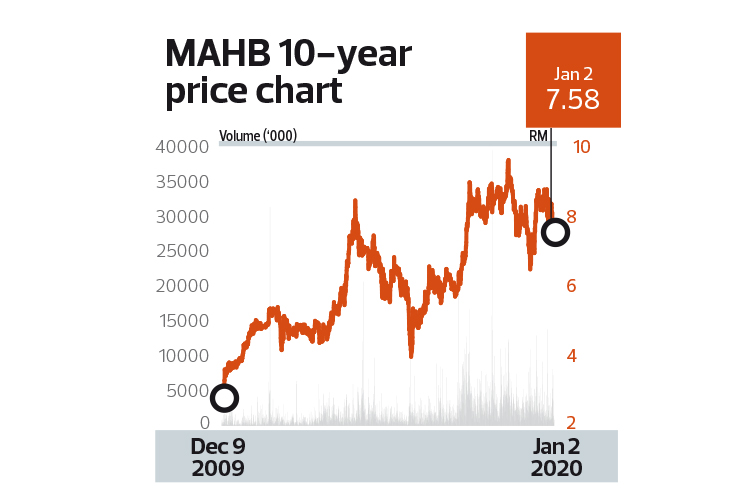 MALAYSIA Airports Holdings Bhd (MAHB) faces an uncertain start to the new decade as the fate of a new framework for the determination of aviation tariffs and a move to liberalise the local airport sector are still up in the air. The stock finished down 0.26% at RM7.58 on the first trading day of the new year, last Thursday.
Shares in the airport operator have declined 9% in the last one year, dropping to a low of RM6.491 on April 11, 2019. The stock has underperformed the benchmark index, which has fallen 4% in the past year to 1,602.5 points last Thursday.
MAHB's stock had a tumultuous year in which it lost RM1.48 billion in market value to RM12.58 billion last Thursday. Likewise, foreign shareholdings have dropped to 39.23% as at March 1, 2019, from 43.25% as at March 9, 2018.
On Aug 30 last year, MAHB's share price plunged 6% amid concern that a passenger service charge (PSC) cut of RM23 for passengers travelling beyond Asean would affect its earnings.
But just as things seemed to have stabilised amid expectations that the implementation of the Regulated Asset Base (RAB) framework would augur well for the group and provide better earnings visibility, news that Transport Minister Anthony Loke was looking at alternatives for the framework sent the counter down 8% on Oct 17, 2019. It saw RM1.09 billion in market value wiped out in a single day.
News of a merger between the Malaysian Aviation Commission (Mavcom) and the Civil Aviation Authority of Malaysia (CAAM) sent its share price 3.8% lower to an intra-day low of RM7.82 on Dec 12, 2019.
An investor who bought 1,000 MAHB shares at RM8.47 per share a year ago and held onto them until now, would have lost RM890 or 11% of his original investment of RM8,470 at Thursday's closing price, excluding dividends for the year of five sen per share.
While stuck in the doldrums lately, this stock has been on fire in the last decade, rising more than 65% from RM4.60 in February 2010. At the same time, MAHB gained RM4.94 billion in market value.
At last Thursday's closing price of RM7.58, the stock was trading at a price-earnings ratio of 27.13 times, higher than the broader market. In comparison, the FBM KLCI was trading at 18.4 times, according to Bloomberg data.
MAHB is still one of the most loved stocks on Bursa Malaysia, based on the highest percentage of "buy" ratings. Of the 20 analysts who cover the counter, 12 are calling a "buy", eight a "hold" and none have "sell" ratings. The average target price for the counter is RM9.06.
Nomura Global Markets Research transport analyst Ahmad Maghfur Usman is the most bullish with a target price of RM10.27.
Trading at 8.6 times/9.3 times FY2019/20 enterprise value-to-earnings before interest, taxes, depreciation and amortisation, he says MAHB's stock compares favourably with its peers at 13 to 14 times EV/Ebitda, such as Airports of Thailand PCL, Shanghai International Airport Co Ltd, Guangzhou Baiyun Airport Co, Auckland International Aiport Ltd and Sydney Airport. His estimates do not factor in the possible implementation of the RAB framework.
CGS-CIMB Research transport analyst Raymond Yap concurs, noting that MAHB trades at 7.7 times its FY2019 EV/Ebitda, compared with peers such as Airports of Thailand with an EV/Ebitda multiple of 27.2 times, Sydney Airport 22.4 times and Airports Corp of Vietnam 11.2 times.
In its first-quarter 2020 investment strategy report issued last Thursday, Kenanga Research has an "outperform" rating on MAHB with a target price of RM9.90, based on FY2020 earnings per share (EPS) of 22 times, which is a 20% discount to regional peers' average to reflect its relatively smaller market capitalisation.
The local research firm considers MAHB an attractive proxy to the propensity for regional air travel due to rising per capita income. "MAHB is well-entrenched because of its monopolistic position as an airport operator in Malaysia, while earnings are protected from downside in the aeronautical segment under the operating agreements."
But do not expect smooth sailing for MAHB, which manages 39 airports in the country, going forward. CGS-CIMB Research's Yap has downgraded MAHB from "add" to "hold" as it seems less and less likely that the 17% aeronautical tariff hike envisioned by Mavcom will happen early this year.
He has also cut his target price to RM8.33 per share from RM9.40 and his core EPS forecasts for FY2020 to FY2021 by 7% as he removes RAB implementation from its model.
Yap also points out that MAHB may be at risk of losing its monopoly status following news that Loke was exploring the public-private partnership model for airport development as an alternative to RAB.
"In our view, the Ministry of Transport (MoT) would prefer to keep airport tariffs low to stimulate tourist arrivals. If [Loke] proceeds with the plan, MAHB may eventually lose its monopoly status as an airport operator, with new players backed by AirAsia Group Bhd and others allowed to build new low-cost carrier terminals around Malaysia. As such, there is potentially more risk to MAHB down the road (not factored into our forecasts yet)," he wrote in his Dec 12, 2019 note.
While Yap is of the view that the LCCT model is a workable one, as neither the government nor MAHB will need to put up capital expenditure and PSCs will be low, the downside is "a mish-mash of unconnected terminals that may make air travel in Malaysia messy".
In seeking clarity on the fate of the RAB, a Mavcom spokesman tells The Edge that the commission is still assessing the next steps for the RAB airport funding model.
"In light of the announcement by the MoT in December 2019 of Mavcom's disbandment, these critical follow-up works will therefore have to be performed by CAAM over the longer term should the RAB proceed.
"The commission is therefore presently evaluating the next steps for the RAB given this new reality. This will need to take into consideration CAAM's readiness to perform these follow-up works and their priorities, especially in light of CAAM's recent downgrade by the US Federal Aviation Administration," the spokesman says.
Globally recognised as an airport funding model, the spokesman says the RAB framework is a long-term multi-period airport funding model that considers the government's fiscal constraints and the long-term nature of an infrastructure business.
"Without proper long-term implementation, clarity and certainty of this funding model, airport operators will be operating in ambiguity and investor confidence would be undermined. As such, these follow-up works are critical in order for Malaysia and its aviation industry to properly benefit from the framework.
"Failure to perform these follow-up works renders implementation of an airport funding model under the RAB framework meaningless."
The spokesman adds that Mavcom believes the RAB should be undertaken meaningfully and professionally if it is to proceed.
MAHB is seen as a cash cow for Khazanah Nasional Bhd and the Employees Provident Fund (EPF), which have a 33.21% and 10.66% stake respectively in the airport operator. Khazanah, EPF and other shareholders received RM215.7 million and RM232.2 million in dividends from the airport operator in 2017 and 2018 respectively. As at Sept 30, 2019, the amount declared was RM82.9 million based on a dividend of five sen per share.
As at Sept 30, last year, MAHB's cash and cash equivalents stood at RM1.42 billion while its borrowings totalled RM5.03 billion. Net profit fell 27% year on year to RM507.53 million in its first nine months ended Sept 30, 2019 in the absence of one-off gains. Revenue rose 7% y-o-y to RM3.87 billion.