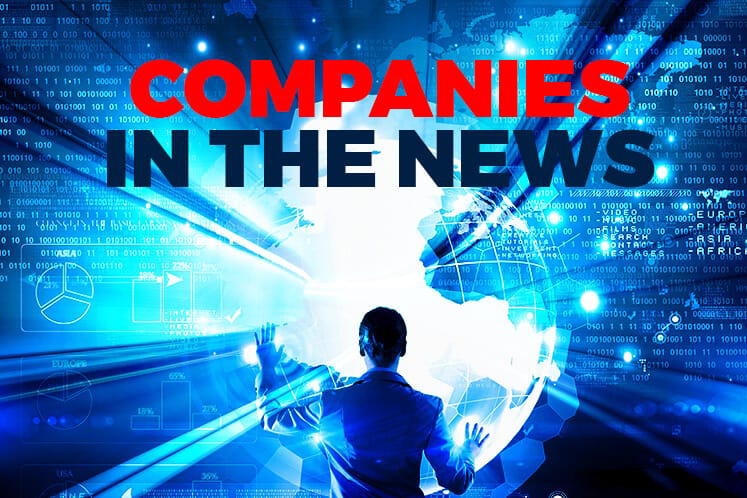 KUALA LUMPUR (Jan 2): Based on corporate announcements and news flow today, companies in focus tomorrow may include: Malaysia Airports Holdings Bhd, Reach Energy Bhd, MQ Technology Bhd, MyEG Services Bhd, Rubberex Corp (M) Bhd, XingHe Holdings Bhd and UMW Holdings Bhd.
Malaysia Airports Holdings Bhd (MAHB) said the agreement to dispose of its 11% stake in GMR Hyderabad International Airport Ltd (GHIAL) to GMR Airports Ltd has been automatically terminated as the purchaser failed to complete its obligation in accordance with the terms of the agreement by Dec 31, 2018.
GMR is the biggest shareholder of GHIAL with a 63% stake, followed by Airports Authority of India (13%), Telangana state government (13%) and MAHB (11%).
Reach Energy Bhd said the Kariman 15 (K-15) vertical exploration well at its Emir-Oil concession block in Kazakhstan was spud on Sunday.
The group is targeting an identified highly graded hydrocarbon trap in close proximity to the northwest flank of the Kariman field. The well could potentially confirm a larger extent of the hydrocarbon resources that can be exploited in the Kariman field.
MQ Technology Bhd has scrapped plans to collaborate with Cambodian Resort And Entertainment Co Ltd (CRE) on the development and management of a Jurassic Theme Park in Cambodia. The memorandum of agreement (MoA) it inked with CRE on Dec 12, 2016 and extended to Jan 2, 2019, has lapsed.
MyEG Services Bhd announced today its sub-subsidiary MyEG Alternative Payment Services Sdn Bhd has received a Letter of No Objection from Bank Negara Malaysia to the launch of its iPayEasy e-wallet.
iPayEasy will be launched in in the second quarter of the financial year ending September 30, 2019.
In January last year, MyEG obtained BNM's approval for the issuance of electronic money via iPayEasy with a maximum wallet limit of RM1,500 per customer.
Rubberex Corp (M) Bhd plans to dispose of its manufacturing operations in China for HK$135 million (RM71.6 million).
Proceeds from the sale will partly be used to repay borrowings, amounting to HK$49.7 million as at Sept 30, 2018. Another RM20.9 million has been earmarked for the expansion and automation of its production lines of nitrile disposable gloves at the group's existing production facilities in Ipoh, Perak.
XingHe Holdings Bhd is proposing to acquire a prawn farm in Tawau, Sabah, along with related facilities and assets, for RM100 million.
The acquisition involves a piece of land measuring 97.9 hectares with a 99-year lease period from Jan 1, 1990 to Dec 31, 2088, at a price of RM12.5 million, and all ponds, other land improvements, buildings, plant and machinery, equipment, motor vehicles, livestock and consumables for RM87.5 million.
UMW Holdings Bhd has commenced the voluntary winding up of four of its subsidiaries under the unlisted oil and gas segment as part of its planned strategic exit.
The subsidiaries that have commenced liquidation are UMW Coating Technologies (Tianjin) Co Ltd, PFP (Shenzhen) Piping Materials Co Ltd, UMW China Ventures (L) Ltd and UMW Offshore Investment (L) Ltd.