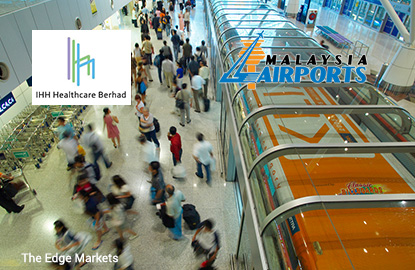 KUALA LUMPUR (July 22): Shares of Malaysia Airports Holdings Bhd (MAHB) and IHH Healthcare Bhd, both of which have operations in Turkey, trended lower today after Turkish President Recep Tayyip Erdogan declared a three-month state of emergency that followed a failed military coup last weekend.
For MAHB, its descent of 4.16% earlier today brought the airport operator's stock to the lowest level since Feb 29. At the noon break, MAHB recouped some losses. It settled at RM5.81, which was 20 sen or 3.33% lower than the previous day. A total of 2.3 million shares exchanged hands.
IHH Healthcare, however, was spared from a dramatic fall. It ceded two sen or 0.31% at the same time, to RM6.46 — within its three-month range of RM6.321 and RM6.679. Its trading volume of 1.33 million was also languid, compared to the tens of millions the counter usually generates.
The Guardian yesterday reported Turkey's parliament approved a bill declaring a state of emergency, following last weekend's coup attempt and informed the Council of Europe of a partial withdrawal from the European convention on human rights.
An analyst said MAHB should be affected by the political instability in Turkey, as the Istanbul Sabiha Gokcen International Airport (ISGA) generates a significant amount of revenue. There were expectations that the airport, the only one outside Malaysia that MAHB currently owns, was going to finally be in the black this year.
CIMB Investment Bank Bhd analyst Raymond Yap said in a note last Saturday (July 16) that Turkey's position as one of the world's most visited countries can be threatened by the country's political instability — "from the Kurdish emergency, to the Islamic State threat, to the military-civilian conflict".
Yap then revised downwards its earnings estimates from ISGA, to only a breakeven level. Just three months ago, he expected MAHB's Turkish airport to make a core profit of RM86.4 million. With that, CIMB's target price for MAHB was reduced to RM7.25, while keeping its "add" call intact, due to the big potential upside.
Many other analysts have also revised downwards their target prices on MAHB, with the average at RM6.25, Bloomberg data showed. Apart from CIMB, only four others are recommending a "buy", while eight advised to "hold" and six, "sell".
As for IHH Healthcare, its average target price currently stands at RM6.83. Eight out of 26 analysts covering the hospital owner and operator, recommend investors to "buy", and five say "sell".
IHH Healthcare's Turkish subsidiary Abicadem Holdings was the second biggest contributor to the group's revenue for the financial year ended Dec 31, 2015 (FY15), at RM2.95 billion or 34.92%. It however incurred a loss in that year, mostly due to pre-operating and start-up loss of RM11.3 million for the newly-opened Acibadem Taksim Hospital.