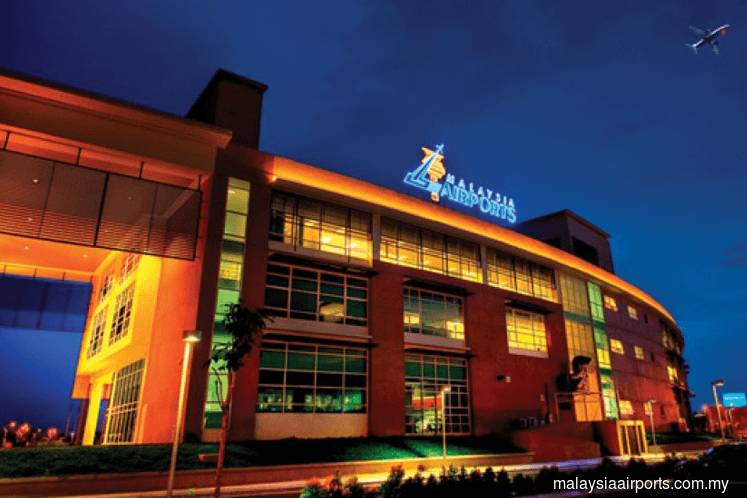 KUALA LUMPUR (Feb 21): Higher total costs dragged airports operator Malaysia Airports Holdings Bhd's (MAHB) net profit in the fourth quarter ended Dec 31, 2017 (4QFY17) down by 16.4% to RM27.86 million from RM33.32 million previously.
The increase in total costs — especially for operations in Malaysia — was mainly due to an increase in amortisation and depreciation, said MAHB.
MAHB said this was "due to the adjustment of rate made in 2016 based on longer operating period from 25 years ending 2034 to an additional 35 years ending 2069". The figure totalled RM194.76 million in 4QFY17, from RM94.53 million in the same quarter last year.
The lower profit translated to losses per share of 0.07 sen in the quarter, from 0.49 sen earnings per share a year ago. Also adding to the losses was a loss of RM1.13 million incurred from continuing operations attributable to owners of the company in the quarter, against RM8.14 million in profit in 4QFY16, MAHB's filing showed.
Partly offsetting the losses was higher revenue in the quarter — up 15.44% to RM1.25 billion, from RM1.08 billion a year ago. Both airport and non-airport operations registered year-on-year revenue growth of 9.5% and 10.5% respectively, said MAHB.
In a separate statement, MAHB proposed a final single-tier dividend of 8 sen per share for the financial year ended Dec 31, 2017 (FY17).
For its full FY17, MAHB's net profit more than tripled to RM236.49 million against RM70.39 million in FY16, mainly thanks to higher revenue despite a 6.8% increase in costs, the group said.
"The increase in the group's costs during the period under review [was] mainly due increase in costs of inventories sold, user fees, repair and maintenance cost, employee benefit expenses as well as provision for doubtful debts," it added.
FY17 revenue rose 11.49% to RM4.65 billion, from RM4.17 billion the year before, again contributed by growth in both airport and non-airport operations.
"Sustained growth in passenger and aircraft movements continued to impact" the group's earnings positively, it said.
Over the year, MAHB's Malaysian operations saw passenger count grow 8.7% to 96.6 million, driven by the visa relaxation measures for Chinese and Indian tourists, increase in Umrah traffic and tourism promotion.
"The air travel demand for domestic sector remained robust based on a high average load of 75.1%, the highest recorded since 2012," it said. Malaysian cargo movements also grew for the first time in 2014, with a 7.9% increase to 955,936 metric tonnes in FY17.
Meanwhile, its operation in Turkey saw 5.7% more passengers at 31.3 million — the first time total passengers in Istanbul Sabiha Gokcen International Airport (SGIA) surpassed the 30 million mark.
On prospects, MAHB has a key performance index target of RM2.09 billion in earnings before interests, taxes, depreciation and amortisation (EBITDA), compared with RM1.9 billion recorded in FY17 — with a highest percentage growth of 59% expected from its Qatar operations.
"2018 holds the promise of being another exciting year for Malaysia Airports," said MAHB. It said Malaysia passenger traffic in 2018 is expected to register 103.7 million passenger movements, against the 96.6 million recorded in 2017.
SGIA passenger count is expected to grow moderately to 34 million passengers this year, it added, no thanks to runway capacity constraints.
Meanwhile, fuel costs, which constitutes between 20% and 40% airline costs, are expected to remain close to current prices, said MAHB.
"Malaysia would continue to benefit from visa relaxation for Chinese and Indian tourists. The 2018 traffic numbers are expected to be mainly contributed by China, India and South East Asia sectors which currently make up 75% of the international traffic.
There is also likely additional travel from relaxed Umrah visa initiatives introduced by the Saudi Government and Malaysia Airlines Umrah Charter operations, it added.
"The group remains committed in delivering high quality services to our stakeholders by embedding a customer-centric culture in airport operations to provide an innovative and digitalised airport experience for passengers, airlines and retailers.
"This is in line with the Total Airport Experience initiative under Runway to Success 2020 in enhancing the airport experience across all touchpoints for our stakeholders," it said.
At the noon break, MAHB rose 3.94% or 34 sen to RM8.96 with 2.02 million shares done.