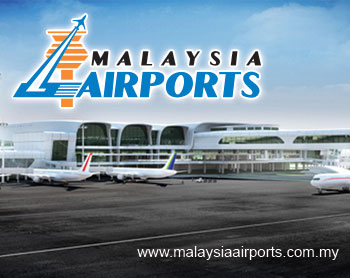 KUALA LUMPUR (Nov 3): Malaysia Airports Holdings Bhd's (MAHB) net profit plunged 98.6% to RM1.61 million in the third financial quarter ended Sept 30, 2014 (3QFY14), from RM112.78 million a year ago, on higher costs incurred by its new low-cost carrier terminal in Sepang (klia2).
In a filing with Bursa Malaysia today, the airport operator said it registered higher depreciation and amortisation costs due to the completion of klia2. Higher finance cost was due to the cost of borrowing incurred for the construction of the terminal.
MAHB also recorded higher utilities cost mainly due to additional consumption on electricity after the commencement of klia2 operation and higher tariff.
On top of expenses related to klia2, MAHB also suffered higher employee benefit expenses due to annual increments and additional recruitments.
Revenue for 3QFY14 also fell 30.5% to RM675.76 million from RM972.7 million a year ago.
MAHB pointed out there were no construction revenue recognised in 3QFY14, following the completion of klia2 and the expansion of the Penang International Airport, compared with RM357.3 million accounted for in the corresponding quarter last year.
"If the construction revenue from (3QFY13) is excluded, the consolidated revenue (for 3QFY14) was 9.8% or RM60.3 million higher than the same corresponding quarter last year," MAHB said.
 
For the nine-month period, net profit stood at RM85.64 million, down 74.9% from RM340.6 million a year ago, while revenue fell 11.6% to RM2.63 billion from RM2.98 billion.
MAHB attributed the significantly poorer profit to higher operating costs, higher depreciation and amortisation, higher finance cost and higher share of losses from jointly controlled entities (JCE).
JCE included the Istanbul Sabiha Gokcen International Airpot and LGM Airport Operations Trade and Tourism Inc.
MAHB said if the construction revenue were excluded, the consolidated revenue was 11% or RM190.6 million higher than the corresponding period last year.
MAHB expects its full-year growth to remain softer than actual traffic growth to date, on its outlook on the industry.
However, MAHB assured it is on track to achieve full-year traffic numbers of over 83 million passengers despite the recent setbacks in the aviation industry.
As at 2.03pm, MAHB shares were up 0.55% at RM7.26, with a market capitalisation of RM9.96 billion.