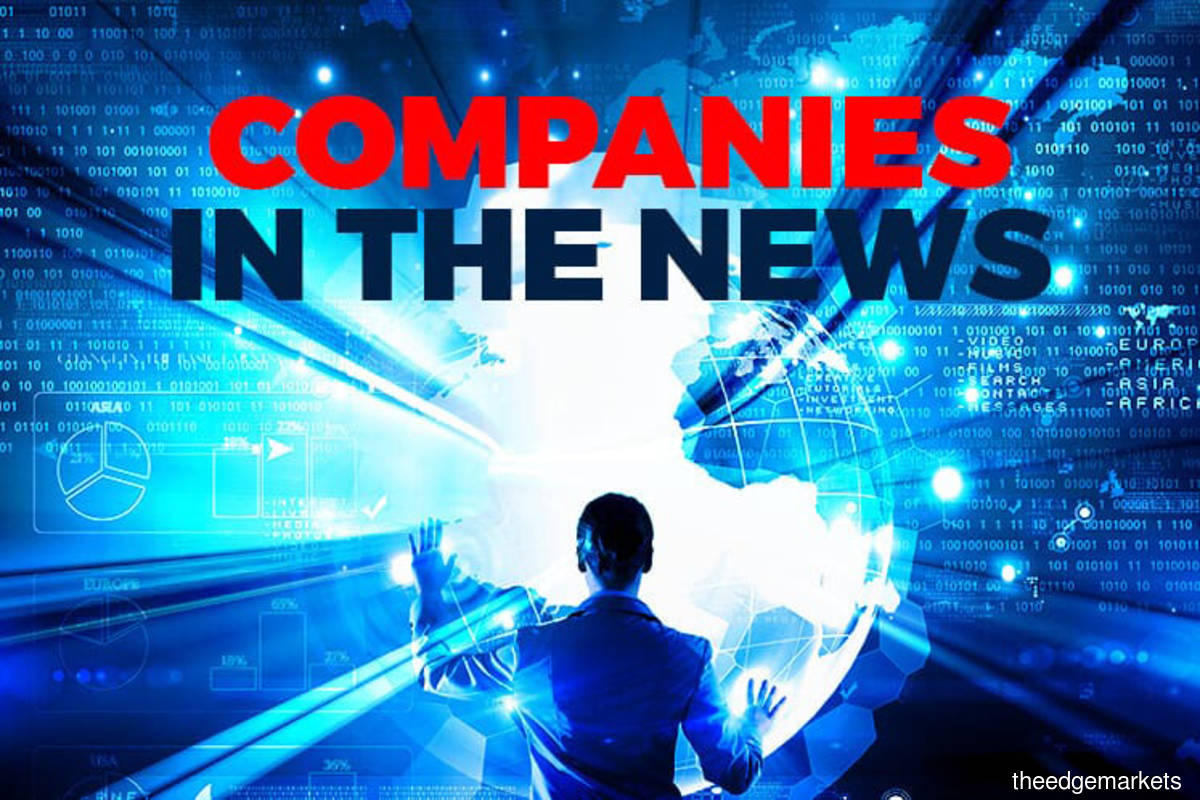 KUALA LUMPUR (Dec 6): Based on corporate announcements and news flow on Monday (Dec 6), companies in focus on Tuesday (Dec 7) may include: Mah Sing Group Bhd, Yinson Holdings Bhd, Jade Marvel Group Bhd, Dagang NeXchange Bhd (DNeX), Ireka Corp Bhd, Bintai Kinden Corp Bhd, KNM Group Bhd, T7 Global Bhd, Kelington Group Bhd and Kerjaya Prospek Property Bhd (KPPROP) . 
Mah Sing Group Bhd's healthcare business unit Mah Sing Healthcare Sdn Bhd has received approval from the US Food and Drug Administration (FDA) to market nitrile examination gloves in the US market. The group said it received 510(K) clearance from the FDA on Dec 4, and it believes global demand for gloves will continue to rise until 2023. 
Yinson Holdings Bhd will issue RM1 billion worth of five-year Islamic medium-term notes on Tuesday, which will pay an annual profit rate of 5.55% under the oil and gas support services provider's Wakalah Islamic bond scheme. The issuance will be used for shariah-compliant purposes including Yinson's working capital and refinancing of the company's existing borrowings.
Jade Marvel Group Bhd has inked an agreement with YHL Foods Sdn Bhd (YHLF) and YHL Jadem Frozen Sdn Bhd (YHLJF) to provide services linked to frozen seafood processing and cold storage facilities, as well as sales. Under the agreement, Jade Marvel will hold 60% of YHLJF, while YHLF shall hold 40% of YHLJF shares. This represents a strategic opportunity for Jade Marvel to expand its businesses into frozen seafood business and provide an additional revenue stream.
Dagang NeXchange Bhd (DNeX) has appointed Muhammad Radhi Azizan and Tun Noor Shahya Tun Abdul Razak to its board of directors. The group said Muhammad Radhi will serve as non-independent non-executive director, while Tun Noor Shahya will serve as independent non-executive director.
Ireka Corp Bhd said it is disposing of its remaining 31.4% stake in Mobilus Sdn Bhd to Hungary-based Greenway Urban Traffic (Europe) Co Ltd (GUTE) for RM1.845 million. The property and construction group had earlier on Nov 30 announced the sale of 19.6% of its then 51% stake in Mobilus to related party Eccaz Sdn Bhd. Ireka said the investment in Mobilus, being a joint venture with GUTE, will require a long gestation period and Mobilus does not currently have any projects on hand.
Bintai Kinden Corp Bhd has proposed to undertake a private placement of up to 20% of its existing issued shares to raise RM35 million, mainly to repay borrowings. The group said the placement will involve the issuance of up to 111 million Bintai Kinden shares, to be placed out to independent third party investors to be identified later at an issue price to be determined later.
KNM Group Bhd has been granted Practice Note 17 (PN17) relief measures in relation to the issuance of Thai bonds, resulting in the company triggering suspended criteria and will not be classified as PN17 affected listed issuer. On Dec 3, KNM triggered an event of default on the principal payment of the bonds issued in Thailand amounting to 2.78 billion baht (RM351.36 million) which had matured on Nov 18, 2021.
Energy solution provider T7 Global Bhd has secured three letters of appointment and awards worth a combined value of RM300 million under its energy division for the operations and maintenance segment and specialist products segment. T7 Global said the contracts were awarded by Petronas, Carigali Hess Operating Company Sdn Bhd and Repsol Oil & Gas Malaysia Ltd. 
Kelington Group Bhd said its wholly-owned subsidiary Kelington Engineering (S) Pte Ltd had has received an estimated RM85 million contract from a customer who is a global leader in engineering and project management of high-technology facilities. Kelington Group however did not specify the names of the customer and the world leader in innovative memory solutions.
Kerjaya Prospek Property Bhd (KPPROP) — via its wholly-owned subsidiary Pixel Valley Sdn Bhd — has acquired 1.97 hectares of freehold land in Seberang Perai Selatan, Penang from Aspen Vision City Sdn Bhd for RM27.57 million. The proposed acquisition will enable the group to focus on its core business of property development and to expand and strengthen its landbank size.