This article first appeared in The Edge Financial Daily, on June 27, 2019.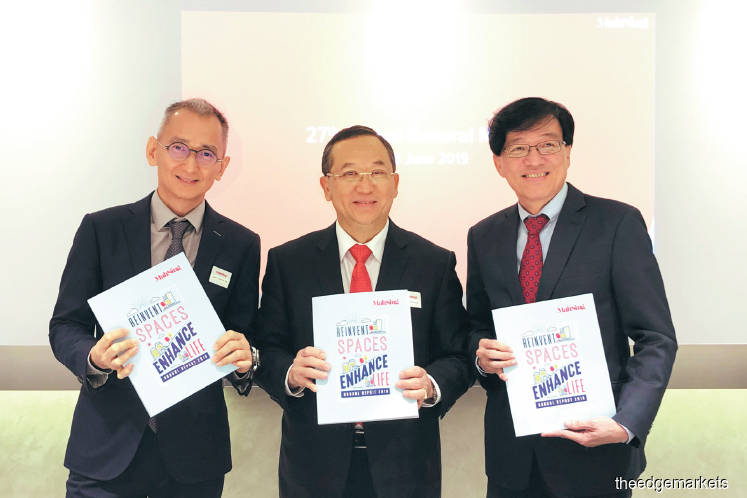 KUALA LUMPUR: Mah Sing Group Bhd is prepared to spend up to RM1 billion on land acquisitions this year, which may include more industrial land banks, in view of opportunities arising from trade diversions due to the ongoing US-China tensions.
The group said now is a good time to lock in potential good land bank that meets its business model and criteria, given the group's healthy balance sheet and the less intense competition between developers.
Speaking to reporters after Mah Sing's annual general meeting here yesterday, group managing director Tan Sri Leong Hoy Kum said the group is eyeing more industrial land to cater to demand from Chinese manufacturers looking to shift base to Southeast Asia.
"At the moment, we have remaining gross development value (GDV) and unbilled sales of RM25.1 billion, which can provide us with earnings visibility for the next eight to nine years. But of course, we will continue to replenish [our land bank].
"We are upbeat to pursue more land acquisitions with a key focus on the affordable segment.
"[The] industrial [segment] is another important area that we are looking at right now, besides residential. With the US-China trade tensions now, a lot of these Chinese manufacturers are thinking of relocating to Southeast Asia, and Malaysia is one of the countries they look at," he said.
Mah Sing's cash and bank balances stood at RM1.3 billion as at the end of March, half of which is free cash flow. It is also prepared to leverage on bank borrowings up to 0.5 times in gearing if needed.
Its land bank totals about 2,099 acres (849.4ha), with GDV and unbilled sales worth RM25.1 billion. Of this RM25.1 billion, 61% are from residential developments and 33% commercial, while the remaining 6% are industrial, spread across Greater Kuala Lumpur, Johor, Penang and Sabah.
Leong said the group understands that the government is considering unlocking value of government-linked land, and as such, the property developer is bullish about pursuing any opportunities to support initiatives to boost home ownership and meet market demand for quality affordable housing in strategic locations.
"This augurs well for our growth strategy as the group is constantly on the lookout for more land banks with key focus in [the] Klang Valley, as it resonates with our aim to expand in areas with large population growth," he added.
Meanwhile, when asked about cement prices, the property developer said its construction cost is still stable.
"We do not know whether cement or concrete prices will rise in the future. But I believe that due to inflation, so far prices secured from our respective contractors are still within expectations. We hope that this situation will prevail for some time," said its chief executive officer Datuk Ho Hon Sang.
Executive director of corporate and investment Datuk Steven Ng, who was also present, pointed out that Mah Sing sees a 1% to 2% impact on its margin for every 40% hike in cement price.
"However, we do a lot of value engineering when we construct. We do modular concepts with not too many layouts or designs. We try very hard to [keep] costs down, which is one of the reasons we [want to] do IBS [industrialised building system]," he added.
The group is still confident of achieving its minimum sales target of RM1.5 billion this year.
"We are in the right segment and most of our projects are transit-oriented developments. And 81% of our projects are priced below RM700,000, catering to the M40 [medium 40%] buyer group," Leong said.