This article first appeared in The Edge Financial Daily, on June 12, 2018.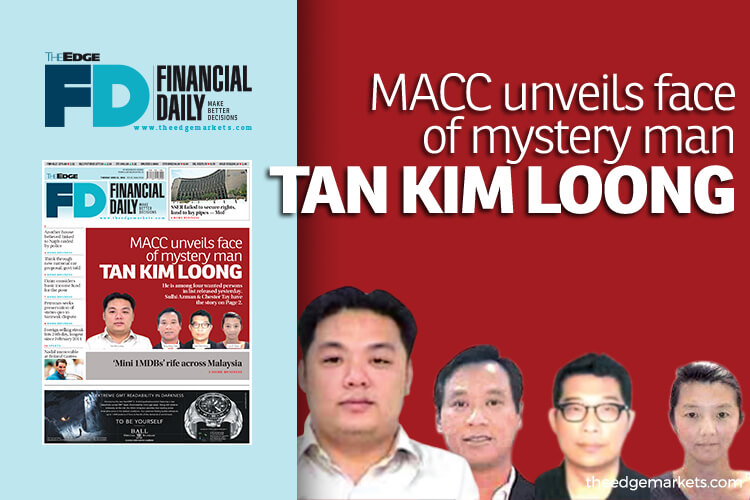 KUALA LUMPUR: The Malaysian Anti-Corruption Commission (MACC) has revealed more details of Tan Kim Loong, the mystery figure who is the signatory of numerous bank accounts overseas through which billions of ringgit that originated from 1Malaysia Development Bhd (1MDB) were laundered.
MACC said it is hunting down Tan together with three other individuals in relation to its investigation of financial irregularities in 1MDB.
"MACC requests that all of the individuals come forward to assist with the relevant investigation," the agency said in a statement released yesterday together with photos of Tan and the three others — Tang Keng Chee, Geh Choh Heng and Loo Ai Swan.
MACC said Tan, 40, has a last registered address at No 20 M Jalan 5/40, Taman Pusat Kepong, Kuala Lumpur. His identity card (IC) number is 780213-14-6207.
Tan was featured in a chart of the "who's who of Malaysians in Jho Low's web" published by The Edge Malaysia weekly yesterday. Businessman Low Taek Jho or Jho Low is the central figure in the 1MDB scandal.
The weekly reported that Tan had on numerous occasions appeared in several bank documents allegedly related to the laundering of 1MDB funds.
The accounts included that of Tanore Finance at Falcon Bank in Singapore, through which an alleged US$681 million went to and from the AmBank account of former prime minister Datuk Seri Najib Razak.
Tan's identity was said to also have been used as an alias for Jho Low but MACC's statement yesterday disproved this.
Tan's role appeared to have been to open bank accounts, which were then operated by Low.
Both Low and Tan are wanted by Singapore authorities, which had issued warrants of arrest in April and May 2016. The duo have been placed on Interpol's "Red Notices" since October 2016.
MACC's statement yesterday came less than a week after the agency issued a notice last Thursday, seeking the public's help in locating Low and Nik Faisal Ariff Kamil Nik Othman, the former managing director of SRC International Sdn Bhd, for questioning in its probe into SRC International.
Meanwhile, Loo was the former general counsel of 1MDB. She was also named in a lawsuit by the US Department of Justice (DoJ), seeking to seize assets worth nearly US$1.7 billion.
MACC in its statement yesterday said that Loo, 45, has a last registered address at 25 Jalan Seri Beringin 2, Damansara Heights, Kuala Lumpur, and her IC number is 730613-14-5160.
Tang, who was identified as 1MDB Officer 1 by the DoJ, was executive director of investments in 1MDB and was accused by the Public Accounts Committee of misleading the board of 1MDB with various presentations made to justify investments by 1MDB. Bank Negara put him on its wanted list in 2015.
According to MACC, Tang's last registered address is 112 Jalan 5/149G, Taman Sri Endah, Kuala Lumpur, and his IC number is 650207-10-6975.
Also on MACC's hunting list yesterday was 47-year-old Geh, whose last registered address is 27 Jalan Setiamurni Satu, Damansara Heights, Kuala Lumpur, and his IC number is 710905-10-5453. Geh was identified as 1MDB's Officer by MACC.
Geh is also the older brother of Geh Choh Hun, 39, who was included in The Edge Malaysia weekly's chart yesterday. The younger Geh is a good friend of Jho Low, and both of them campaigned very hard for the Barisan Nasional in the 2013 general election via the 1Malaysia Penang Welfare Club, which spent millions of ringgit giving cash and dinners. The two Penangites also brought in Korean superstar Psy for a concert attended by Najib.
Meanwhile, in a statement posted on his Facebook page yesterday, Najib maintained that he did not receive any benefit or stolen money from 1MDB or any parties.
"If I am charged for political reasons, I am confident that the court will prove that I am innocent," said Najib. "Unlike the fourth prime minister, my children do not own public-listed companies, luxury supercars worth millions of ringgit and have never been awarded government contracts or did business with the government."