This article first appeared in The Edge Financial Daily, on August 23, 2019.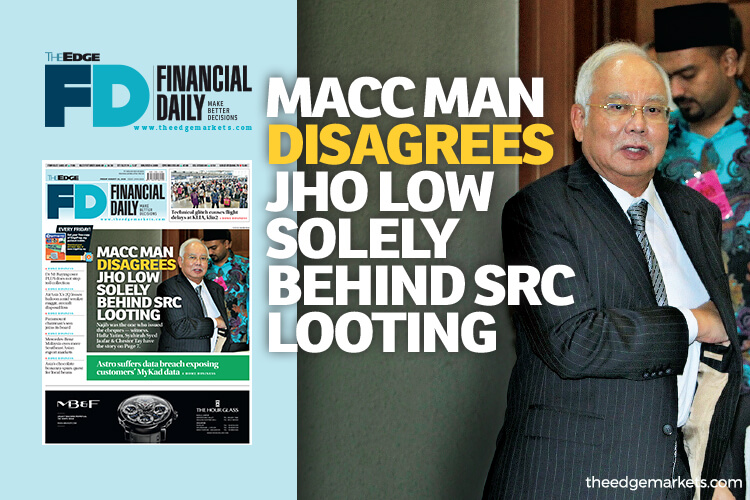 Kuala Lumpur: The investigating officer (IO) probing the misappropriation of funds belonging to SRC International Sdn Bhd yesterday indicated that former prime minister Datuk Seri Najib Razak had more of an interest in the matter than businessman Low Taek Jho.
Cross-examined by Najib's counsel Harvinderjit Singh who was trying to pin the blame on the missing funds solely on the Penang born businessman better known as Jho Low, Senior Assistant Commissioner with the Malaysian Anti Corruption Commission (MACC) Rosli Hussain stressed that it was the former premier that had an interest in SRC's funds.
The 57th prosecution witness  did not budge in his view in both the morning and afternoon sessions despite Harvinderjit's insistence that it was Jho Low and his associates who are responsible for the misappropriated funds.
"Jho Low tak ada kepentingan dalam kes ini, yang ada kepentingan adalah Datuk Seri Najib (Jho Low has no interests in this case, the person who has an interest is Najib," explained Rosli.
On a transaction involving RM10 million into Najib's Ambank accounts, Harvinderjit suggested it was Jho Low who initiated the transfer from SRC to its subsidiary Gandingan Mentari Sdn Bhd, and there on into Najib's accounts, but Rosli disagreed.
"He (Najib) was the one who issued the cheques [thereafter]," observed Rosli.
At times the exchanges between Harvinderjit and Rosli got heated up and appointed prosecutor cum lawyer Datuk V Sithambaram was forced to interject.
In one of the exchanges, Harvinderjit asked Rosli if it was the suggestion of [the late] Datuk Azlin Alias — Najib's then principal private secretary — that Najib be appointed as SRC adviser emeritus following the amendment of the SRC memorandum of articles as there are no documents of his official appointment.
Rosli said he could not verify that as Azlin died (in a helicopter crash in April 2015) and it was not feasible to ask a dead person.
'Suboh came back to Malaysia'
On former SRC director Datuk Suboh Md Yasin's return to Malaysia on May 28 last year, Rosli explained that Suboh left for Indonesia after voting in the 14th general election on May 9, 2018, and subsequently discovered that his passport had been blacklisted by the Malaysian government.
"The MACC sought help from one of the SRC directors for Suboh to come back and we met him on arrival at KLIA and brought him to record his statement.
"He was put up at the Pullman Hotel at his request and the MACC footed the bill [as it wanted] to record his statement," Rosli said, adding in all, the MACC recorded his statement six times — the first in Abu Dhabi in November 2015 with his lawyer present.
He denied Harvinderjit's suggestion of inconsistencies in Suboh's statements when it was first recorded in 2015, and after Najib was charged on July 4 last year.
"His statement was consistent throughout. Do you want me to show it?" Rosli asked.
Suboh's statement was also recorded in Jakarta, together with that of former SRC managing director Nik Faisal Ariff Kamil. Both Nik Faisal and Jho Low have since gone into hiding. They are now on the Interpol red notice list, according to Rosli.
Questions over the Arab donations
Rosli was also asked if the MACC had investigated the purported Arab donations claimed by Najib. He acknowledged there was a purported donation of RM369 million which Najib received allegedly from Prince Faisal Al Turkey, as well as another of RM243 million from the "Riyadh finance ministry", with both amounts deposited in 2011 into Najib's Ambank account ending with the three digits 694.
However, Rosli stressed that he had not further investigated the purported donations as they fell under the purview of another IO (named Aida) because the transactions were categorised under the so-called "Tanore phase" of the 1Malaysia Development Bhd case. Najib faces 25 criminal charges involving the misappropriation of 1MDB funds.
Najib faces seven criminal charges involving the misappropriation of RM42 million belonging to SRC. The defence is expected to wrap up its cross-examination today when the trial continues before Justice Mohd Nazlan Mohd Ghazali.