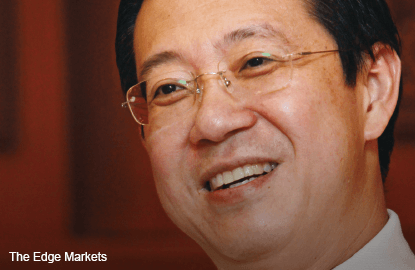 GEORGE TOWN (June 29): Penang Chief Minister Lim Guan Eng was arrested by the Malaysian Anti-Corruption Commission (MACC) at his office in Komtar on Wednesday evening and taken to the MACC headquarters here.
Lim was served a notice for two charges related to gratification as a public officer, and the alleged purchase of his residential bungalow below market price.
 
"Lim has been arrested and taken to the MACC headquarters in Penang and will be charged in the morning at the Penang Sessions Court, under Sections 23 of the Malaysian Anti-Corruption Act 2009 and 165 of the Penal Code," said State Local Government, Traffic Management and Flood Mitigation committee chairman Chow Kon Yeow.
Section 23 of the Act relates to a public officer using its office or position for gratification in making a decision or taking an action whether for himself, a relative or an associate who has a direct or indirect interest in that decision or action.
Section 165 concerns the offence of a public servant obtaining a valuable item, without consideration from a person involved in any proceeding or business transacted by such a public servant.
"The first charge is connected to the rezoning application by Magnificent Emblem Sdn Bhd from agriculture status to residential, but as we know the Penang Island City Council rejected the application," Chow said.
"The second charge relates to the purchase of the bungalow below market value. There is no charge preferred on the Taman Manggis case," Chow told reporters outside Lim's office at Kompleks Tun Abdul Razak (Komtar) here.
About 10 MACC officers were reported to have arrived at Lim's office at about 4 p.m. to serve the documents on him, while he was chairing his weekly executive council (exco) meeting.
Lim allegedly bought his bungalow on Jalan Pinhorn for RM2.8 million, which was below market value, from businesswoman Phang Li Khoon who is alleged to be a shareholder in Magnificient Emblem.
It was reported that Phang allegedly sold the unit to Lim below market value, which is considered an offence by a public official under the Penal Code.
Reports have quoted a valuation of the property for stamp duty made on Aug 27, 2015 as RM4.27 million.
Recent speculations and criticism regarding the bungalow issue began in March, when Umno Tasek Gelugor MP Datuk Shabudin Yahya made a revelation in Parliament.
Shabudin allegedly made a link between Lim's bungalow and Phang, who was accused of having an interest in Kuala Lumpur International Dental Centre Sdn Bhd (KLIDC).
KLIDC, which was selected from a pool of applicants by the State Open Tender Board, was keen on developing a 0.45-hectare Taman Manggis land on Jalan Zainal Abidin that it bought from the state for RM11 million, into a private hospital to promote medical tourism.
The land elicited bad press in 2012, following Penang Gerakan's accusation that the plot was allegedly set aside by the Barisan Nasional (BN) government, prior to 2008 for affordable housing.
BN leaders blamed Lim and his government for allegedly changing the status of the land allocated for public housing.
However, documents from an executive council meeting in 2007 revealed that the BN government had decided against turning Taman Manggis into a public housing development.
Nevertheless, events following Shabudin's statement led to investigations by MACC and the police.
Over the months, Lim rebutted accusations about the deal, emphasising that the sale of the land to KLIDC was via open tender, and that the purchase of his bungalow was done on a `willing buyer, willing seller' understanding.
It should be noted that the MACC's charge is not related to Taman Manggis, rather it connects Lim to Magnificient Emblem's land, with Phang's involvement.
Media reports said Phang, 39, has also been arrested by MACC in Penang, and is expected to be charged on Thursday.
When asked if there would be an interim leader to run the state government in the event Lim is unable to remain as chief minister, Chow said Pakatan Harapan will organise an emergency meeting soon.
"We believe he will be bailed out. The exco will also follow up on it accordingly," he said.