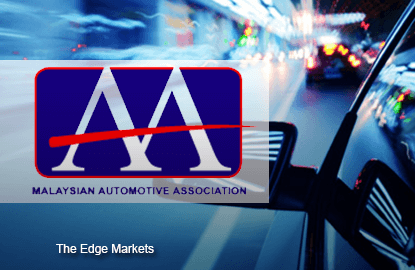 PETALING JAYA (July 28): Malaysia Automotive Association (MAA) has trimmed this year's vehicle sales forecast to 670,000 units, from its original forecast of 680,000 units, on challenging economic outlook that is expected to dampen business optimism and weigh down industry sentiment, said its president Datuk Aishah Ahmad.
"We are considering many factors, some of which include on-going inflationary pressures, fluctuations in oil and commodity prices, foreign exchange rate volatility, as well as subdued business optimism and moderation in consumer's spending due to economic uncertainties and increasing cost of living," she told reporters, after presenting automotive market review for the first half of 2015 (1H2015).
"More stringent lending practices, such as hire purchase loans among financial institutions too does not help the sentiment. This is in view of the high level of household debts," she added.
Despite dull outlook, Aishah said the market is expected to improve in 2H15, as consumers adjust to the effect implementation of the goods and services tax (GST), which she said will return to "new spending normalcy".
In 1H15, total vehicle sales — also known as total industry volume — declined 3.3% to 322,184 units, from 333,156 units in 1H14, on a falling sales in passenger and commercial vehicles, which dropped by 3.5% and 2% respectively.
"Except for January and March this year, the year-on-year vehicle sales trend was consistently lower in 1H15, compared to the same period a year ago," said Aishah.
Next year, Aishah expects total vehicle sales to grow by 2% to 683,400 units.
"This will depend on many factors. But our forecast remains for now," she added.