This article first appeared in Personal Wealth, The Edge Malaysia Weekly, on December 17, 2018 - December 23, 2018.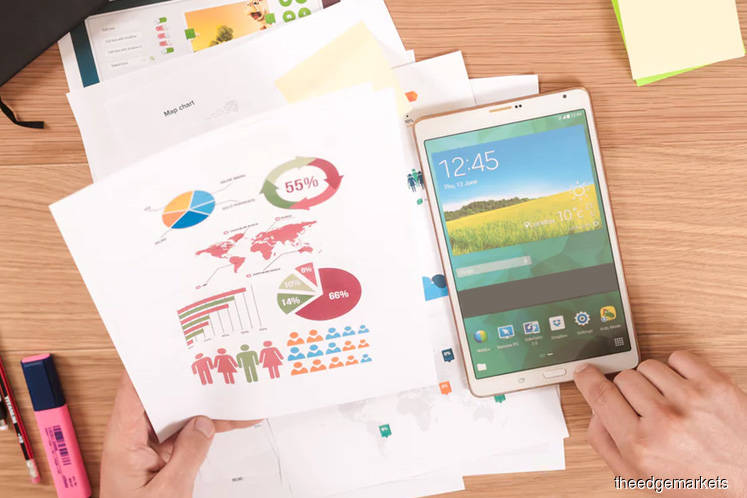 With warnings of slower global economic growth ahead, especially in China, there is concern that luxury consumption will decline as a consequence. While the industry still grew over the past year, luxury sales are expected to see a moderation going forward rather than a severe decline, according to the recently released Wealth Report Asia 2018 by Swiss multinational private bank Julius Baer Group Ltd.
Its Julius Baer Lifestyle Index, which measures the cost of a basket of goods and services typically consumed by high-net-worth individuals (HNWIs) in Asia, posted its best yearly growth on record since the index was launched eight years ago. The 2017/18 index rose 3.34% in local currency terms and 2.91% in US dollars terms, continuing its historical upward trajectory.
"Benign economic conditions over the past two years have supported a recovery for the luxury industry, which returned to growth in 2017 (5% year on year) following a tepid 2016. The personal luxury goods market experienced strong growth last year on the back of robust local consumption and strong tourist purchases," say the authors of the report.
Asia was the strong performer, which was led by China, Japan and Hong Kong. Last year's momentum was carried into the first half of 2018.
The luxury industry's revenue and profitability rely on a healthy global economy. But rising interest rates, which lead to higher inflation globally, are in general good for luxury companies that sell Veblen goods, which are luxury goods that see a rise in demand as the price increases. "Simply put, the status of brands such as Louis Vuitton, Hermès or Armani is underpinned by the prices at which the goods are sold," says the report.
Much of the growth in the luxury goods market is driven by China, where consumers account for more than 30% of the spending in the luxury goods industry and more than 70% of its growth. This occurred despite the slowdown in its economy and the US-China trade war.
"Financial market returns have been lacklustre this year and some industry watchers portend a contraction in global luxury consumption from a China slowdown. While Chinese consumer confidence has weakened, we do not think luxury sales will see a substantive decline, but rather expect a moderation following peak profitability for the sector," say the authors of the report.
Their optimism stems from a bright global economic outlook, policy interventions to support consumption and technology disruptions. One of the factors that could support the growth of the industry is the "reshoring" phenomenon among Chinese consumers.
Reshoring is the assumption that Chinese consumers will shift their purchases towards official onshore sales channels due to government intervention and currency movements, therefore boosting larger luxury companies' domestic businesses. Chinese consumers are more inclined to spend domestically on luxury goods when the yuan is weak, says the report.
"Our reshoring thesis has been strengthened following enhanced supervision from customs authorities, including a crackdown on daigou (individual reseller) channels, passing of a new e-commerce law and tighter regulations. These are all part of government efforts to boost domestic consumption."
The rapid growth of e-commerce and luxury online marketplaces will also create greater pricing transparency, especially in Asia.
Other factors that will affect the luxury industry are inflation and the movements of the US dollar, euro and yuan, which have outsized influence on luxury demand. The rise or fall of equity markets can also have a material wealth effect or psychological impact on consumer spending.
"We remain equity market optimists premised on global economic growth, buybacks, corporate profitability and a no-hard-landing scenario in China. The threat of wealth destruction from a deep stock market correction is unlikely in our opinion," say the authors of the report.
The most expensive luxury goods and cities
According to the latest Wealth Report Asia 2018, some 72% of the 22 items on the Julius Baer Lifestyle Index saw a price increase, with the largest coming from cigars, boarding school fees and men's suits.
Cigar prices rose due to limited supply while boarding school fees, which grew more than they used to, increased due to a surge in demand from students coming from China, Russia and the Middle East. Meanwhile, the cost of business class flights and cars fell the most due to rising competition and generous subsidies for hybrid equivalents.
When the prices of the items on the Lifestyle Index — including business class flights, residential properties, hotel suites, hospital rooms, golf club memberships, lawyer fees and cars — are tabulated for each city, Shanghai emerged as the most expensive city, replacing Hong Kong, to buy six of the 22 items. On the other hand, Kuala Lumpur was the most price-competitive city to buy those items.
In KL, the basket of goods and services fell 3.2% in ringgit terms, which is largely due to a steep decline in the price of luxury vehicles. The decline is a consequence of generous incentives for plug-in hybrid electric vehicles. In US dollar terms, however, the index rose 3.4% due to a strengthening ringgit between July 2017 and July 2018. Ladies' shoes, men's suits and degustation dinners showed the strongest price growth in the city.
"As the most competitive city in our index, purchasing residential properties, staying in hotel suites and buying wine, jewellery, pianos and cars are the cheapest. However, shopping for ladies' shoes and botox treatments are the second most expensive. Men's suits are the third most expensive," says the report.
The authors of the report expect consumer prices to rise 2.5% in 2019 as a result of the Sales and Services Tax.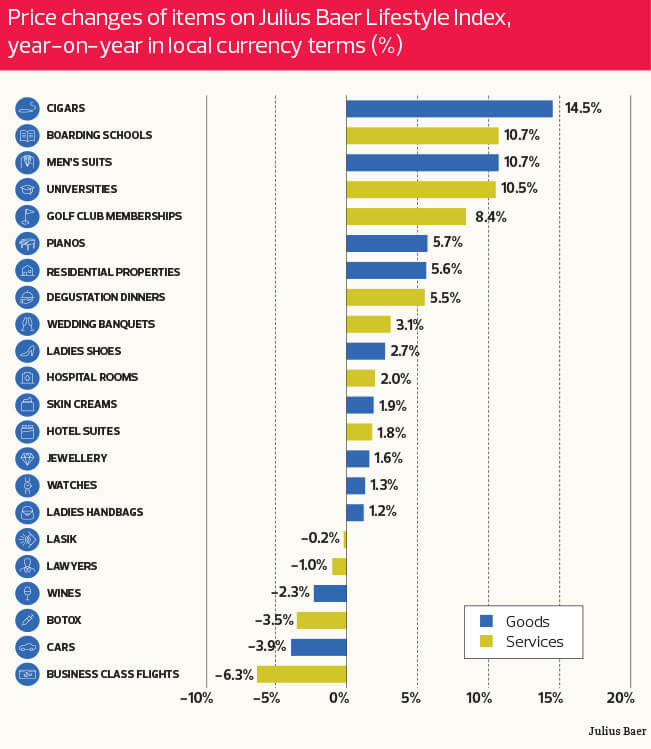 The she-conomy
Globally, women are becoming an economic force to be reckoned with as their purchasing power and wealth are growing. Julius Baer's Wealth Report Asia 2018 highlighted these trends in its "Womenomics in Asia" section, which looked at the influence of women in the luxury goods and wealth management industries.
Buying power of Asian women
Women's spending power has largely increased because more women in Asia are increasingly employed at senior levels. For instance, up to 31% of senior management positions in the region were held by women, compared with 29% the previous year. China and Malaysia have the highest percentage of women in managerial positions, according to the report.
Women in China, particularly the younger generation, have driven this growth of luxury spending. The authors of the report describe it as a shift from the past five years, when men in China dominated luxury sales.
"[It was] mainly luxury watches, due to the practice of gift giving. That has since come to a halt with the anti-graft drive. Instead, female spending on designer handbags and costly perfume took centre stage," they say.
Spending on luxury goods is seen as a long-term investment for mainland Chinese women, they add, which can help them in social and career advancement. The women are also increasingly spending in traditionally male domains such as cars, which are seen as a status symbol. It now constitutes the highest proportion of spending among affluent females in China.
The rising Asian female investor
Many wealthy women in Asia are investing their money. A study by Harvard Business Review, which was quoted in the report, found that more women in Asia were confident in their financial knowledge compared with their Western counterparts.
"As more women generate their own wealth, they are increasingly controlling the deployment of their assets. The vast majority of women surveyed across China (87%), India (80%), Hong Kong (71%) and Singapore (59%) are financial decision-makers in their households, exceeding those in the US (44%)," says the report.
In Hong Kong and Singapore, women are more likely to have a more aggressive portfolio than men. Wealth management teams in Asia also have a higher proportion of female advisers than their US and UK counterparts. For instance, in China, women outnumber men on advisory teams by three to two while in Singapore, around three-quarters of wealth advisers are women.