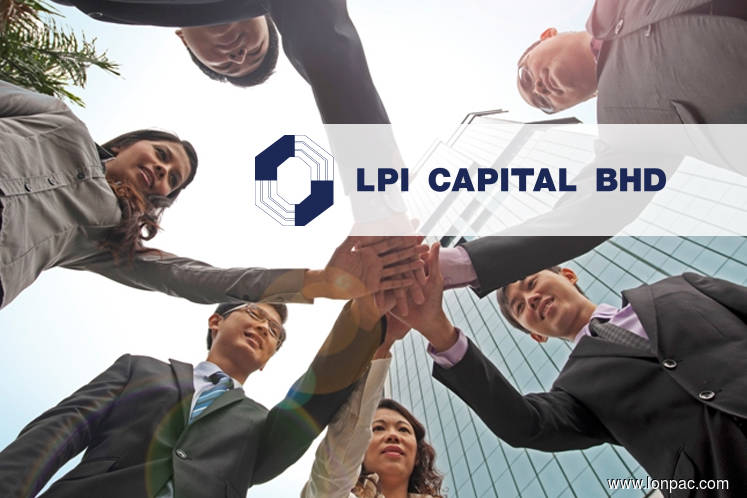 KUALA LUMPUR (Feb 3): LPI Capital Bhd closed its fourth quarter with net profit rising 3.09% to RM86.6 million, from RM84 million a year earlier, thanks to better results from its general insurance business.
Earnings per share for the quarter ended Dec 31, 2019 (4QFY19) rose to 21.74 sen, from 21.09 sen.
The group announced a final dividend of 43 sen per share, bringing its dividend payout for FY19 to RM278.86 million or 70 sen per share, compared with RM270.9 million or 68 sen per share for FY18.
Revenue for the quarter rose 2.63% to RM399.26 million from RM389.03 million a year ago. The increase was mainly driven by growth in gross earned premium of 2.4% or RM9 million from the group's general insurance segment, which more than offset the decline from its investment holding segment.
Its 4QFY19 claims incurred ratio in its wholly-owned insurance unit Lonpac Insurance Bhd remained relatively stable at 40.3% from 39.1% previously, but was three percentage point higher in FY19 as a whole at 43.9%, from 40.9% in FY18.
Lonpac's combined ratio fell in the quarter to 63.5%, from 64.2% in 4QFY18, although its full-year ratio was higher for FY19 at 69.8%, compared with 67.3% in FY18.
Meanwhile, management expense ratio fell both in 4QFY19, and in the full year (FY19), with the ratio at 19.1% in FY19 from 20.1% in FY18.
For the full-year, LPI's net profit rose 2.65% to RM322.36 million, from RM314.05 million in FY18. Full-year revenue rose 5.88% to RM1.6 billion, from RM1.51 billion.
"With rising medical costs and increased frequency of claims, Health & Medical class of insurance continued to report adverse claims experience.
"Lonpac had, however, managed to contain its management expense ratio at 19.1%, and with commission ratio at 6.8%, the combined ratio of Lonpac increased to 69.8% from 67.3%," LPI said.
Shares of LPI Capital fell 16 sen or 1.07% to RM14.80 at market close today, giving the insurer a market capitalisation of RM5.9 billion.