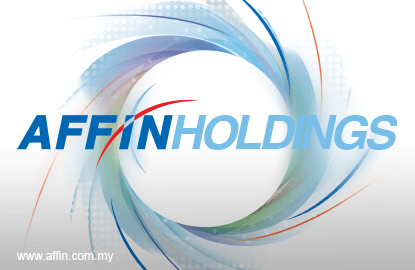 KUALA LUMPUR (May 24): Affin Holdings Bhd's net profit in its first quarter of the fiscal year ending Dec 31, 2016 (1QFY16) surged by 284.13% to RM115.57 million, from the previous corresponding quarter's RM30.09 million, owing mainly to lower allowance from loan impairment and higher loan recoveries.
In a filing with Bursa Malaysia today, the financial institution said the better net profit in the quarter also came from a higher profit share from its associate and an increase in both net interest income and Islamic banking income.
On a per share basis, Affin's earnings came to 5.95 sen — a vast improvement from 1QFY15's 1.55 sen.
Its net interest income of RM229.69 million in the quarter under review was 2.66% higher than last year's RM223.74 million, which was in line with the 3% loan growth it attained in the quarter. Interest income came to RM638.32 million, up 3.29% from 1QFY15.
Affin's Islamic banking income grew at a bigger pace of 7.2% year-on-year to RM58.93 million, from RM54.97 million a year earlier.
Its 1QFY16 income statement showed that it made a write-back of RM1.58 million of impairment losses on loans, advances, and financing. In the previous year, it had made a provision of RM124.12 million, which put a major blow to its bottom line.
In a separate statement, Affin said it achieved an annualised loan growth rate of 3% during 1QFY16, mainly in the segments of syndicated term loans, business term loans, housing loans and hire purchase loans.
Customers' loan-to-deposit ratio was stable at 88.4% as at March 31, 2016, it said. Consumer deposits-to-total deposits ratio was 26.7% for the quarter under review.
However, Affin's loan loss coverage ratio including the regulatory reserves fell to 93.6% as at the end of March 2016, from 98.1% just three months earlier.
Its gross impaired loans ratio also ticked up by eight basis points from the end of December to 1.98% in Mar 31 this year.
"As at March 31, 2016, the Total Capital ratio, Common Equity Tier-1 Capital ratio and Tier 1 Capital ratio of all banking entities within the group were healthy and well above regulatory requirements in line with Bank Negara Malaysia's Capital Adequacy Framework, a reflection of Affin's financial strength," it said in the statement.
Affin's investment banking arm, Affin Hwang Investment Bank Bhd, saw its pre-tax profit fall by some 27% in 1QFY16, as the previous corresponding quarter benefited from higher realised investment gains, the group said.
"For the current quarter under review, the fee income continues to dominate, while improvements in operating expenditure was negated by a drop in initial service charges from the asset management business."
AXA AFFIN Life Insurance Bhd registered a higher pre-tax loss of RM11.6 million in 1QFY16, versus last year's RM2.5 million pre-tax loss, mainly attributable to higher reserves for future policyholders' liabilities as a result of lower Malaysian Government Securities yield, increased overhead expenses as well as claims incurred, Affin said.
Its 34.5% associate AXA AFFIN General Insurance Bhd (AAGI) made a pre-tax profit of RM35.7 million in the quarter under review, up more than 71% from last year's RM20.8 million, primarily due to higher earned premium as a consequence of growth in the health and motor businesses and higher investment income.
Meanwhile its money-broking house Affin Moneybrokers Sdn Bhd made a pre-tax profit of RM500,000, down from last year's RM900,000 mainly due to lower net brokerage income net of lower overhead expenses.
Going forward, Affin said its commercial banking business will focus on both retail and business segments in order to pursue the opportunities available in the domestic economy, "which despite the softer economic growth outlook, still holds the prospects for business growth."
"At the same time, our loan portfolio will be proactively managed," it added.
"We look forward to continue improving on the delivery of our products and services with a focus on transactional banking, in line with our efforts to establish our presence within the ASEAN region and beyond,
"We will also be exploring potential business prospects within the LTAT/Boustead group, in order to capitalise on the synergies that we will be able to achieve through these collaborations," Affin said.
Given the prevailing soft and restricted capital markets, Affin said it remains cautiously optimistic of the growth prospects for its investment banking business for the rest of 2016. It plans to work closely within the banking group and its regional partners, Daiwa Securities Group and Thanachart Securities, to further develop business prospects and realise potential synergies.
It is positive on its life insurance business, citing favourable demographics and relatively low insurance penetration.
At noon break, Affin shares ceded one sen or 0.45% to RM2.19, after having 34,400 units traded. It had a market capitalisation of RM4.26 billion.