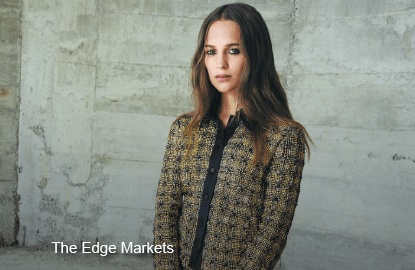 FRENCH fashion house Louis Vuitton's upcoming campaign, "Series 3", is a continuation of its creative director Nicolas Ghesquière's much-lauded visual exploration.
For his third campaign since joining the giant luxury retailer, the former artistic head of Balenciaga collaborates with prominent fashion photographers Jurgen Teller and Bruce Weber, incorporating their unique perspectives into the brand's autumn/winter 2015 collection.
Since coming on board in late 2013 — after a widely-praised run that brought Spanish designer house Balenciaga to the forefront of luxury fashion — Ghesquiere has been making an impression with critics and making true his aim to bring a modern creative vision to Louis Vuitton's women's collections.
Where former director Marc Jacobs had steered the luggage and accessories maker into the world's biggest luxury brand, his successor is now working hard at establishing the Maison as a fashion leader, one that sets the trends.
In a market that has seen consumer tastes become increasingly discerning, Ghesquiere's work is crucial for the evolvement and long-term survival of the brand. That he has been credited by Bernard Arnault for the company's excellent performance in 2014 is no coincidence.
"Series 3" sees Teller's artistic sensibilities coalesces with Ghesquiere's passion for modernist architecture, with a shoot that takes place near Barcelona at a sculptor's utopian home. The German photographer captures Ethiopian-born model Liya Kebede, who is joined by Fernanda Ly and Angel Rutledge, along with actress Jennifer Connelly and Swedish rising star Alicia Vikander.
The campaign marks Vikander's debut as the Maison's new muse, joining Connelly and actress Michelle Williams as the face of the brand. At just age 26, the lanky former dancer has starred opposite Jude Law in Anna Karenina, starred in US cult hit Ex Machina, and featured in no less than eight movies this year, including Guy Ritchie's next film, The Man From U.N.C.L.E., with Henry Cavill, The Danish Girl opposite Eddie Redmayne, Tulip Fever opposite Christoph Waltz and Judie Dench, and The Light Between Oceans opposite Michael Fassbender and directed by Derek Cianfrance.
On the other hand, the legendary Weber shot Freja Beha, Rianne van Rompaey and Julia Merkelbach at an old airfield, using his signature black and white film-style. Expressing Louis Vuitton's embodiment of the traveller, the abstract graphics create a cinematic narrative.
The women of the autumn/winter campaign were hand-picked by Ghesquiere to present the equal yet diverse faces and nationalities that he wants to define the Louis Vuitton ideal.
The advertising campaign is accompanied by two videos, shot by Teller and Weber,
respectively, which can be seen on YouTube at the Louis Vuitton channel.
This article first appeared in The Edge Financial Daily, on July 14, 2015.