This article first appeared in The Edge Financial Daily, on April 25, 2018.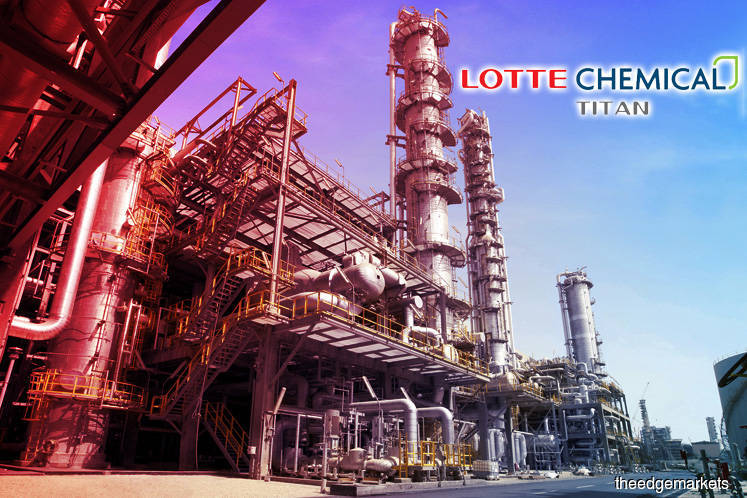 KUALA LUMPUR: Lotte Chemical Titan Holding Bhd (LCT) believes its margins will remain largely unaffected by the rising crude oil price, on the back of favourable supply-demand dynamics in the petrochemical industry.
"Our business is a margin game. As long as there is demand coupled with a limited supply, our margin will be maintained. Currently, there is limited supply capacity, and there are no new plants coming on stream until 2019," LCT executive vice-president of corporate planning Philip Kong Chock Hoon said at a press conference held after the group's first annual general meeting here yesterday.
He added that the group had forecast crude oil to hover between US$50 (RM195.50) and US$70 per barrel this year. Yesterday, oil traded above US$75 per barrel, its highest since November 2014.
"That [range] is fine with our industry. For so long, there has been demand for our products. We believe with such demand, the market can absorb any price increase in our polymer prices," said Kong.
For the financial year ending Dec 31, 2018 (FY18), the petrochemical player — down on its luck last year — expects to see its production capacity improve to 90% from 73% previously, as the utilisation rate across its plants normalises following a statutory turnaround conducted last year.
The group will also see additional contributions from its TE3 fluidised naptha cracker project commissioned in December 2017, and its PP3 project, currently 91% complete, with full commissioning expected in the second half of this year.
In April 2017, LCT faced an unplanned 13-day water supply cut at its plant in Johor, following which the group saw a huge decline in production volume that eroded earnings. A fire later broke out at its Pasir Gudang plant in September.
"We have now built additional water tanks in our facilities. We also had meetings with Syarikat Air Johor and the Johor state executive council, and they have given us their commitment to maintaining the integrity of water supply moving forward," Kong said.
He added that the group had also introduced new standard operating procedures for the construction and operation of new plants. The fire incident was minor, causing only an estimated loss of not more than RM50,000, he said.
Meanwhile, the group said it could make a final investment decision (FID) on its integrated petrochemical facility in Indonesia by year end, as it is now at the tail end of its feasibility studies.
"We hope to make a final investment decision by the end of this year or early next year, depending on the two studies' completion. Once that decision is made, we will commence construction work," said Kong.
He said the group is looking to build a naptha cracker with a capacity of one million tonnes, next to its existing plant in Merak, Cilegon, Banten province of Indonesia.
The mega project, estimated to cost between US$3 billion and US$4 billion, will take about three to four years to complete.
Indonesia remains a crucial market for the group, as it is a net importer of petrochemicals backed by a huge population of nearly 300 million, said Kong.
"When we sell in Indonesia and Malaysia, we enjoy a slight premium over international prices. [So] we are looking at duplicating our Malaysian facilities in Indonesia, and increasing the capacity as well."
According to LCT's prospectus, the integrated petrochemical facility investment is to be partially funded via proceeds raised from its initial public offering back in July 2017.
Malaysia and Indonesia are LCT's principal markets, accounting for approximately 70% of its revenue as at end-FY17. The balance is contributed by China, the Indian subcontinent, and other Southeast Asian countries at 10% each.
LCT shares yesterday closed two sen or 0.32% up at RM6.23 — still below its issue price of RM6.50 at its July 2017 listing — with a market capitalisation of RM14.16 billion.