This article first appeared in Personal Wealth, The Edge Malaysia Weekly, on August 5, 2019 - August 11, 2019.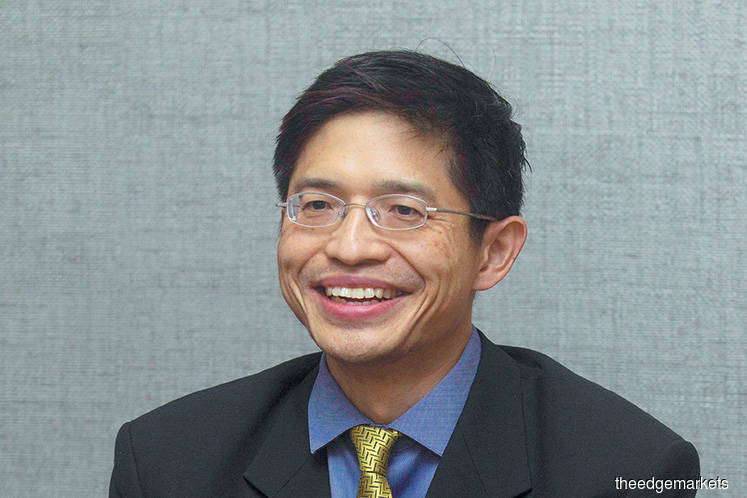 Real estate investment trusts (REITs) are sometimes thought of as a dull, defensive asset class that is not involved in the exciting growth trends powering today's global economy, compared with other alternative asset classes. However, Koh Shern-Ling, portfolio manager at Principal Real Estate Investors, says this not true as some of the interesting structural themes in global REITs today include e-commerce, cloud computing and telecommunication towers.  
According to him, these themes are not appreciated investors at large as most of them think of REIT investments as just owning retail or office properties. "There are a lot of opportunities right now, but investors may ignore them as they do not think these are exciting. They also do not think there is a lot of growth in REITs. I think it is time for investors to look at these themes and see how they can benefit from these," says Koh.
He was speaking to Personal Wealth on the sidelines of the recent International Institutional Investor Series 2019, organised the Malaysian Association of Asset Managers. He was one of the panellists in the session, "The New Dynamics in the Battle of the Asset Classes".
Principal Real Estate Investors is the property arm of Principal Global Investors. Koh is responsible for researching listed real estate securities in Asia-Pacific for the team's global strategies.
E-commerce has grown exponentially in recent years. The latest data provided online statistics and market research portal Statista shows that global e-commerce sales are projected to grow to US$4.88 trillion 2021. E-commerce players would need warehousing and logistics services to store, move and deliver goods. So, this is a big growth area, particularly last-mile logistics, says Koh.
"Last-mile logistics refer to the final step of the delivery process, from a distribution centre or facility to the end-user. Typically, these services are concentrated in urban areas, but these areas are often already built up. So, the people really benefiting from this are those who were farsighted enough to go in and buy up plots of land [in urban areas]. This, we think is one of the biggest structural themes," he adds.
The second area of opportunity revolves around cloud computing. Koh points out that there are now more people working remotely than ever, made possible cloud computing technology. In its Feb 28 report, International Data Corp forecast that worldwide spending on public cloud services and infrastructure would reach US$210 billion this year, up 23.8% from last year.
"Due to the economics of utilising cloud computing, there is a huge demand for data centre space. Initiatives such as Made in China 2025 will only drive this demand further," says Koh.
Made in China 2025 is a strategic plan aimed at moving the country away from being the "world's factory" and transitioning to produce higher-value products and services. This big push has led to a movement among Chinese companies looking to build their own capabilities internally, especially in technologies related to artificial intelligence and imaging, says Koh. This will require huge cloud storage capacity, hence increasing the demand for data centres.
The third structural theme is telecommunication towers, says Koh. Built primarily to hold telecommunication antennas, most people living in urban areas typically live within a 1km radius of a telecommunication tower. The number of these towers is only going to grow, especially in the light of new technologies such as the fifth-generation (5G) wireless system, he adds.
Koh points out that some REITs own these towers and charge telecommunication companies rent for placing their antennas. The number of antennas depends on the technology, antenna performance, coverage and capacity required.
"Telecommunication towers will play a vital role in enabling 5G rollout. Higher speeds mean more towers and more towers mean more rent," he says.
Market-wise, the company is looking at countries that offer a good combination of value, dividends and growth, says Koh. One market it favours is Australia as the REITs are generating a dividend yield of 4% to 5% on average.
"It is a fairly big market. Players there are able to buy land, develop it and generate decent returns because the cost of funding in Australia is actually coming off. It is possible to generate growth of up to 5% on top of the funding cost," he adds.
"As it is an established REIT market, it has a very good corporate governance framework and fund managers are very good at capital management. This means they really fight to keep the share price supported. If the share price comes off and they think it is too cheap, they will buy back the shares. If the share price is too expensive, they will issue equity. That is why we generally like the Australian market."
Another market that he thinks is interesting is Europe. He points out that after the European sovereign debt crisis, which reached its peak between 2011 and 2012, the demand-supply dynamic has been favourable. "The banks were hit quite hard back then. As a result of the crisis, there has been less supply in Europe. Having just come out of the crisis, players there are taking a generally cautious stance.
"Having said that, we are wary of the trade uncertainties. Europe tends to be quite export-driven, especially countries such as Germany. But we like the region from the standpoint of good prices, very little reinvestment and new supply, coupled with demand picking up."
What about the emerging markets? Koh acknowledges that the US Federal Reserve's decision to cut interest rates would likely cause the US dollar to be weaker, which would bode well for these markets. Thus, the firm favours markets such as the Philippines and Indonesia. "We think there is a lot of hope for governments there to cut interest rates, benefiting residential developers in those countries," he adds.
The firm also likes Mexico as the yields are quite high and rents are in the US dollar. "Additionally, there is decent growth because they are now quite integrated with the US," says Koh.
While Japan is a favourite of many investors, it is not a market that stands out due to its lack of growth, he says. On top of being in a deflationary environment, the market is facing demographic challenges — a quarter of the population is over the age of 65.
"There is just no growth in Japan. The only driver there is the fact that the Bank of Japan is keeping interest rates low. There is yield, but we would prefer a market that has both yield and growth," says Koh.
He acknowledges that the firm has struggled to buy into the Malaysian market due to its small REIT universe. "For some retail investors, it works. But for bigger funds, it is very difficult as the market is so small, trapping all the liquidity and causing valuations to get a bit out of hand. That is why I think investors need to look beyond Malaysia and explore opportunities in global REITs," says Koh.