This article first appeared in Enterprise, The Edge Malaysia Weekly, on March 12, 2018 - March 18, 2018.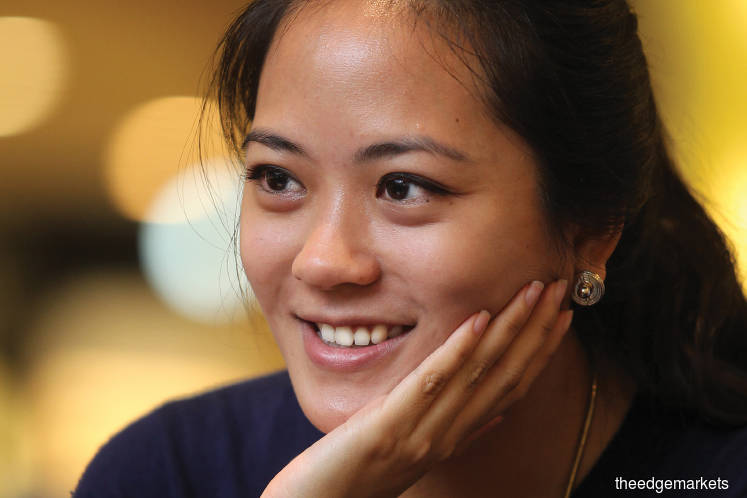 There is growing demand for same-day deliveries in the e-commerce market, and GoGet may  just be the answer to the prayers of the local online business community. As the e-commerce penetration rate in the country is expected to reach 4% to 5% of the total retail market this year, co-founder Francesca Chia tells Enterprise that the marketplace for errands aims to help businesses shape up by accelerating their deliveries while empowering "GoGetters" in the Klang Valley.
GoGet's new express delivery service promises to pick up items within 60 to 90 minutes and deliver them in the next 60 minutes as part of its service-level agreement. Customers can expect to receive their items within two hours, on average, from the moment they check out on the website.
With the launch of this service, GoGet hopes to work with e-commerce companies that want to push same-day or even next-hour (for groceries) deliveries. The fastest delivery so far is an impressive 14 minutes, thanks to a fully integrated technology used to find GoGetters in the proximity to provide the quickest delivery.
Chia says GoGet is the only entity that is able to provide this on-demand, same-day delivery in Kuala Lumpur and that it is changing the game as it enhances the customer experience by leaps and bounds. "We hope a lot of businesses can move from next-day to next-hour delivery with us. Their ability to do this is even more seamless because we have application programming interfaces (APIs) to integrate with, which allow us to find the nearest GoGetter in the area.
"Essentially, APIs connect GoGet's platform to any third party's platform. The moment their platform gets an order, it sends a request to our system and we are able to push out the action on our system. A GoGetter will then pick up the item and deliver it to the desired destination."
GoGet is able to send status updates to the third party's system, which enables the merchant and the customer to track the delivery via a tracking link. However, it is up to the merchant to share this information with the customers or to withhold it.
"As the third party, they can decide whether to keep the tracking information for operations or share it with their customers. The tracking service also shows the GoGetter's distance from the delivery destination," says Chia.
Celcom, through its recently launched (Jan 30) and fully digital mobile brand Yoodoo, has made GoGet its premium delivery partner to exclusively carry out the two-hour delivery of SIM cards in the Klang Valley. Chia says Yoodoo, which allows customisable mobile network plans, only operates online. That means customers only need to order their SIM cards on Yoodoo's website and GoGet will deliver them.
"When Yoodoo accepts an order from a customer, it pings GoGet's system and a GoGetter will deliver the SIM card. The fastest we have done is 14 minutes from checkout," she says proudly.
A double-win strategy
As a platform to find an on-demand workforce, GoGet provides businesses with part-timers who can carry out basic tasks, ranging from picking up and dropping off items to doing simple administrative tasks and moving boxes during peak periods, says Chia. "You can see how a business can call on a reliable part-timer in the area, doing away with the need to hire a full-timer. Our aim is to allow businesses to scale their operations, without scaling their full-time costs."
She says GoGet helps small and medium enterprises (SMEs) do on-demand deliveries and save on overhead costs. A full-time salary for a despatcher is about RM1,500 per month while petrol would set a business back at least RM140 a month, not to mention insurance, road tax and toll charges.
"Our calculations show that it costs about RM3,500 a month to have an in-house despatch person with a car. It is, of course, much cheaper to have a motorcycle. But the types of items you can deliver will be limited to non-perishable and non-fragile ones," says Chia.
"To make these costs justifiable, you would need to ensure that the cars are on the road most of the time just to break even. If the cars are idle half of the time and doing only a few deliveries a day, it will be costly for the business."
With GoGet, not only can businesses make more same-day deliveries, it is also cheaper because the GoGetters bear the cost of fuel, toll charges and car maintenance. Merchants only have to pay the job fees, which vary depending on the volume of jobs requested and the distance.
"As a business, you share a GoGetter with other businesses so the costs are spread out. If a merchant requests to have at least 80 deliveries, then we will charge a flat rate of RM7 per delivery within the Klang Valley, and we usually do the deliveries within four hours. This minimum number of deliveries works because the density helps us gain efficiencies as we do not have distribution centres and warehouses like the traditional courier companies," says Chia.
To sustain the marketplace, GoGet takes a 15% cut from every job. GoGetters who do frequent deliveries are rewarded with a 5% bonus. The company also charges merchants a 10% management fee when they sign up to allow them to buy credits. There are currently 600 merchants using GoGet.
"We provide them with top-tier GoGetters who are experienced and trained for business. We offer them insurance and a 100% guarantee for despatch jobs between Monday and Friday, from 8am to 5pm," says Chia.
"These companies are able to use the people in the neighbourhoods around them as their extended teammates. This bodes well for the labour market due to the flexibility, empowerment and inclusion it brings."
Towards an inclusive job market
Ultimately, more individuals who find it difficult to find stable employment will be able to enter the job market or earn additional income through platforms such as GoGet, says Chia. As a two-sided marketplace, GoGet aspires to empower Malaysians who do part-time jobs to generate income through a trusted and flexible solution.
"What this means is that instead of having traditional part-time jobs — such as being a waiter or doing eight-hour shifts — a part-timer can work for an hour or two while helping out the community and businesses to pick up and drop off things. They are able to move away from being paid the minimum wage and working long hours, as well as the tedious process of securing a job. With GoGet, they can get paid instantly by doing jobs they choose and have a more flexible work schedule," says Chia.
Chia tells of a stay-at-home mother who managed to secure full-time employment under a GoGet merchant. As she was out of the job market for about four years, it was harder for her to get rehired because employers were not confident about her skills.
"She came to me to get verified as a GoGetter. This is an example of a workforce not being inclusive because of traditional frictions in the labour market that make it difficult for these people to be included," says Chia.
"After a while, the lady did a lot of GoGet jobs and saved enough to take up a pastry course. From there, she learnt how to bake and she kept doing GoGet jobs for bakeries. She kept meeting bakery owners and pastry chefs who were also GoGet merchants and one of them hired her as an in-house baker."
Opportunities abound in the gig economy and GoGetters (numbering about 6,000 at the moment), as opposed to "runners" according to Chia, are very enterprising. "They go out there to grab opportunities and do honest, hard work."