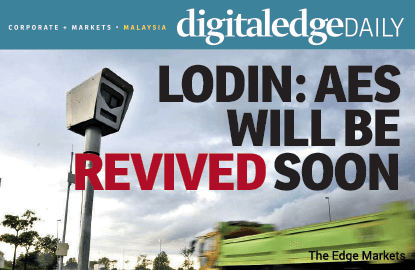 KUALA LUMPUR: The controversial Automated Traffic System (AES), which tracks traffic offences via cameras installed on highways, will be re-rolled out soon, according to Boustead Holdings Bhd deputy chairman-cum-managing director Tan Sri Lodin Wok Kamaruddin.
An announcement on the relaunch of AES will be made soon, likely within the next one to two weeks. More details will be released by then, he told the media on the sidelines of the GLC 2015 Open Day last Friday.
Lodin, who is also the chief executive of Lembaga Tabung Angkatan Tenteran (LTAT), commented that there should be a "positive" outcome of the AES roll-out this time. He noted that Boustead would share the developments of the AES project once it is ready.
To recap, in a surprising twist, Boustead came into the picture in March this year to buy into the concession that runs the operation of the AES. The conglomerate, controlled by LTAT, bought a 50% stake in a vehicle called Irat Properties Sdn Bhd, which had taken over both Beta Tegap Sdn Bhd and Automated Traffic Enforcement System (ATES) Sdn Bhd, the original holders of the AES concession.
Boustead paid a total sum of RM250 million cash to acquire the 50% equity interest in Irat Properties. However, it is not known how much Irat Properties had paid to buy both Beta Tegap and ATES from their original shareholders.
LTAT holds the remaining 50% stake in Irat Properties.
Lodin said that the arbitration case between the concessionaires of the AES and the federal government had been "mutually settled". "I can say it (settlement) is mutual on both sides," said Lodin.
The concessionaires of the AES were seeking compensation after the federal government decided to halt the project due to a public outcry and the apprehension of the police force.
Beta Tegap and ATES obtained a 66-month concession period, effective from Dec 9, 2011, with the option to extend for another five years at the government's discretion. During the concession period, their revenue is to come from the payment of summonses by traffic offenders caught under the AES, based on a certain preset revenue-sharing formula with the government.
As the project had failed to take off, ATES was seen recording an after-tax loss of RM20.61 million for the financial year ended June 30, 2014 (FY14), and its consolidated net liabilities were RM47.12 million.
Beta Tegap's after-tax loss for FY14 ended June 30, 2014, was RM22.58 million, and its consolidated net liabilities were RM32.8 million.
Then deputy finance minister Datuk Ahmad Maslan, who is now the deputy international trade and industry minister, told Parliament back in 2013 that Beta Tegap and ATES had both invested RM717 million to buy 300 AES cameras, with the government planning to get another 310 installed.
This article first appeared in digitaledge Daily, on August 10, 2015.