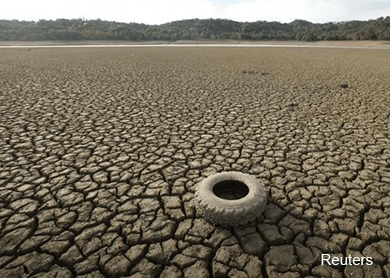 KUALA LUMPUR: As some parts of the world are already affected by El Nino, Malaysian oil palm planters said they are not yet certain that the weather phenomenon will develop here this year as the Australian Bureau of Meteorology is forecasting a moderate-to-strong event coming our way.
"I have not given it (El Nino) much thought. We have been playing the El Nino charade for the past two years. Who knows if this El Nino is another one that is crying wolf?" Sarawak Oil Palms Bhd chief operating officer Eric Kiu Kwong Seng told The Edge Financial Daily.
"Last year, everyone spoke about El Nino. I think it was taken more seriously at that point because there was also a water shortage issue in Selangor.
"It was very dry and our palm oil production was lower by 5% to 10% than our projections. This year, we are not seeing the same sense of urgency," Kiu added.
Kim Loong Resources Bhd managing director Gooi Seong Lim is also unperturbed by news of the next El Nino, relegating the matter to "next year's problem".
"I have not seen any signs of El Nino so far. If it comes, it will be next year's problem and there is nothing you can do to stop it," Gooi told The Edge Financial Daily.
"But we will look into it with greater detail towards the end of this year," he added.
However, TH Plantations Bhd chief executive officer Datuk Zainal Azwar Zainal Aminuddin feels that the El Nino phenomenon is "not to be taken lightly" as it affects crop production in the immediate, medium and longer terms.
"Both Malaysia and Indonesia, the world's two largest producers of crude palm oil (CPO), lie within the equatorial Pacific region, the region most prone to the effects of El Nino should it recur," said Zainal.
"[El Nino] will lead to a marked decrease in production yields, possibly up to a 20% to 30% impact on fresh fruit bunch yields in severe episodes of drought, and concurrent decrease in oil extraction rates.
"Even after one-and-a-half to two years later, the impact would still be apparent and oil palm plantations that are in their prime mature may be most affected," he said.
Planters overwhelmingly agree that an El Nino will give the current depressed CPO market a much needed push, but this will come at the expense of lower production yields.
"At the current CPO price level and the high inventory we are seeing, I think that CPO price could come under more pressure and go as low as RM2,000 per tonne. In that sense, El Nino is positive for prices even if it means production levels are lower," Gooi said.
Zainal estimates that CPO could trade within the range of RM2,300 to RM2,400 per tonne should El Nino materialise, but a surge in price would not happen immediately.
"We do not discount the possibility of a price rally in the later part of the year, spilling onto next year, once the effects of El Nino are felt.
"We also expect the prices of soy, sunflower, rapeseed and other competing vegetable oils to be positively affected," he said.
History, too, supports this school of thought.
According to a note issued by PublicInvest Research, CPO price rose 22% during an 11-month weak-to-moderate El Nino back in 2009. Further back, an eight-month long weak occurrence boosted the CPO price by 39.1% in 2006, while a 10-month moderate-to-strong El Nino run in 2003 caused the CPO price to spike 40.6%.
Still, analysts are of the view that it is too soon to forecast how much planters would stand to benefit from a higher CPO price as a result of the El Nino "event" or how the CPO price will react.
CIMB Research plantation analyst Ivy Ng, who has a "neutral" call on the sector, said she has yet to review her CPO price forecast to take into consideration the El Nino effect.
"It is difficult to forecast what kind of earnings impact an El Nino will have on planters at this point because we cannot predict the weather. Different planters have different exposure in different sites in different parts of the world."
"The El Nino has been classified as 'high probability', but has not reached its peak. So, we prefer to be conservative and only factor that into our earnings projections when we see it devolving," Ng said.
"The impact of the El Nino on CPO price itself will depend on the severity of the weather and stock buffer at that point. As it stands, there is some stock buffer [from high inventory]. If El Nino is a minor event, the impact of CPO price will be minimal. If it is a major event, then we will see huge volatility in CPO prices," she explained.
Plantation companies have seen their earnings fall in the quarter ended March 31, 2015 (1Q15) on depressed CPO prices.
Felda Global Ventures Holdings Bhd, the world's largest palm oil producer, saw its net profit plummet 97% to only RM3.58 million in 1Q15. For 1Q15, Sarawak Oil Palms (fundamental: 1; valuation: 0.8) reported a 83.8% drop in net profit to RM5.45 million, while Kim Loong (fundamental: 2.8; valuation: 2.4) saw its net profit fall 30.8% to RM13.73 million for the three months ended Jan 31, 2015.
TH Plantations (fundamental: 0.5; valuation: 0.8), however, posted a 15.3% jump in net profit to RM6.58 million in 1Q15.
---
The Edge Research's fundamental score reflects a company's profitability and balance sheet strength, calculated based on historical numbers. The valuation score determines if a stock is attractively valued or not, also based on historical numbers. A score of 3 suggests strong fundamentals and attractive valuations. Go to www.theedgemarkets.com for more details on a company's financial dashboard.
This article first appeared in The Edge Financial Daily, on June 1, 2015.