This article first appeared in The Edge Malaysia Weekly, on September 24, 2018 - September 30, 2018.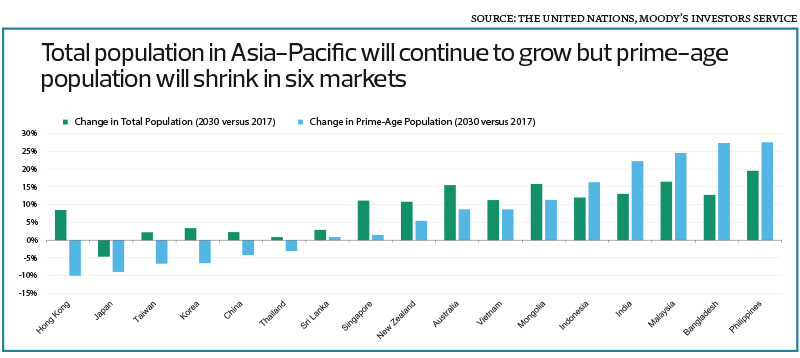 PRIME-age" populations — comprising those aged 25 to 64 — are set to shrink in many Asian countries over the next decade and this will pose challenges for banks as it means their core customer base will dwindle and, in turn, hurt profits, says Moody's Investors Service.
"Our analysis indicates that banks in Hong Kong, Japan, South Korea and Taiwan will face challenges stemming from population ageing, while growth in young populations will present opportunities for banks in India, Indonesia and the Philippines," Christine Kuo, a senior vice-president at the rating agency, says in a Sept 18 report she authored on banks in Asia-Pacific.
Between 2017 and 2030, prime-age populations will decline in six of the region's 17 key markets — Hong Kong, Japan, Taiwan, South Korea, China and Thailand — by 3% to 10%, according to the report, titled "Demographic changes will bring new challenges and opportunities in next decade".
Where does Malaysia stand? "Malaysia falls in somewhere in the middle. From a demographic trends perspective, it is actually quite favourable for Malaysia because it will see a rather significant increase in the prime-age population," Kuo tells The Edge in a phone interview.
Between 2017 and 2030, Malaysia, along with the Philippines, Bangladesh, India and Indonesia, will see the strongest growth in prime-age populations, ranging from 16% to 28% — faster than the pace of total population expansion in each of these countries, she says. Malaysia's prime-age population growth is seen at 25%.
"But Malaysia is not as strong as some of the other markets I highlighted (India, Indonesia and the Philippines) as its total dependency ratio is projected to increase slightly, while for the other markets, it is declining. Also, Malaysia's bank account penetration rate [at 86% last year] and leverage levels are already quite high," she explains.
The total dependency ratio measures the pressure on working populations from non-working populations.
According to Moody's, Malaysia's household leverage, as a percentage of gross domestic product, stood at 67% in 2017, as did its corporate leverage. In comparison, household and corporate leverage in the Philippines stood at 9% and 41%, respectively.
Those in the prime-age group are core customers for banks as, given their larger savings and higher incomes, they are more likely than retirees or fresh graduates to use banking products and services that generate better profitability for lenders. These include credit cards, personal loans, mortgages and wealth management.
Retirees tend to draw down their savings, as is the case in Japan, while younger people often do not have sufficient income or savings to become profitable bank customers, Kuo points out in the report.
A shrinking of core customer pools in ageing markets is credit negative for banks because it will hurt profits, she says.
"In these markets, pricing competition among banks will intensify as some banks offer more attractive interest rates or fees to lure new customers from competitors. As a result, although some banks may outperform others, overall profit margins for the sector will decline," she says.
In addition, markets with rising proportions of retirees will show slower economic growth, which will also prove detrimental to bank profits.
Banking systems under profitability pressure will focus on cost management.  "As cashless transactions become increasingly common, banks can scale down branch networks and reduce the number of automated teller machines (ATM) without compromising the quality of customer service," Kuo says.
Of the fast-ageing markets, Japan and Hong Kong have the largest number of commercial bank branches relative to the size of their populations, while South Korea and Taiwan have the most ATMs.
Banks facing shrinking customer pools will focus on tapping underserved customers by developing new products for them, while trying to get their existing customers to borrow more and increase the use of fee-generating services. However, achieving either will be challenging in some fast-ageing markets, says Kuo.
Meanwhile, favourable demographic trends are expected to benefit banks the most when accompanied by income growth and technological advancements.
"Countries where income is growing fast along with prime-age populations while dependency ratios are declining will benefit the most from demographic changes. India, Indonesia and the Philippines fit this bill. For banks in Indonesia and the Philippines, technological advancements will remove a key obstacle to customer acquisitions," says Kuo.
Save by subscribing to us for your print and/or digital copy.
P/S: The Edge is also available on Apple's AppStore and Androids' Google Play.