This article first appeared in Digital Edge, The Edge Malaysia Weekly, on June 14, 2021 - June 20, 2021.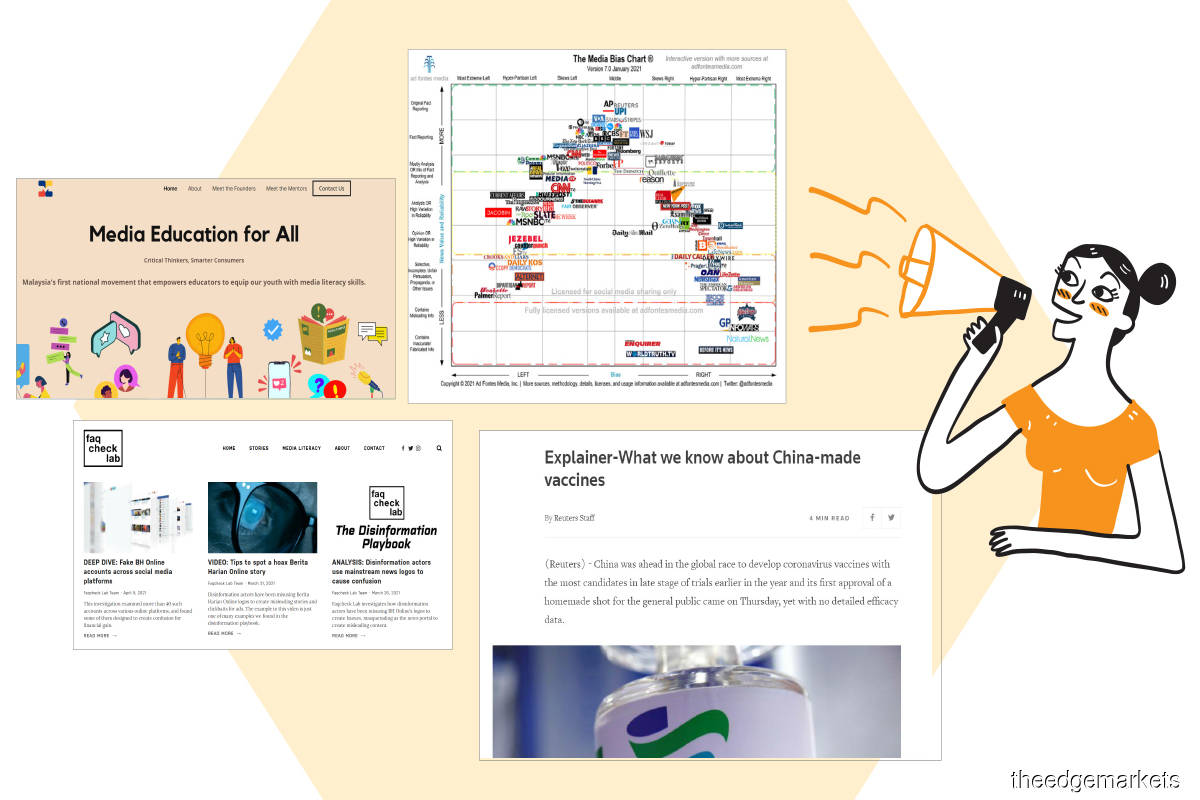 Many of us have experienced the panic that comes from seeing our friends or family share some video or link that appears a little suspect to us over WhatsApp. Yet, how do we tell them that the news may be fake or out of context without arousing their ire?
We live in an era of information overload. But not all of this information is accurate, resulting in the proliferation of fake news. It takes a lot of effort to fact-check every news item. If you want to go further, you have to verify the source of the news and the method in which the facts are obtained.
What is even more terrifying is the weaponisation of "fake news" by authoritarian governments, who may claim that anything remotely critical of those in power is untrue.
Here are some tips to cultivate media literacy in today's world:
 1  Ascertain the source of the news
Is the article from a credible news agency? How did it find the information? Who owns the news agency? What kind of biases might the owner have? What is the agency's track record? Bloggers and YouTubers generally provide personal opinions instead of reporting facts; some government-owned media around the world are prone to censorship and parroting official views. This image is a media bias guide in the US created by Ad Fontes Media. 
 2  Use fact-checking websites
This is more commonly available in countries such as the US, where snopes.com, factcheck.org and politifact.com are dedicated to debunking misinformation. In Malaysia, two available sources are Free Malaysia Today and the Faqcheck Lab.
 3  Media Education for All (ME4A)
This initiative was set up by Arus Academy and The Fourth. It aims to promote media literacy among youth by training teachers. According to its timeline, it is currently developing courses for the teacher training platform.
 4  Check and double-check before sharing
Sometimes we are tempted to immediately share a link to an article or video that stirs our emotions. But our feelings could be manipulated by the catchy headline, compelling narrative or heart-wrenching snippet of video that might actually be out of context. So, before you share, give yourself a minute to calm down and verify the facts. Check where the information is sourced from. 
 5  Google 
Google and see if anyone else is reporting on the matter, and how the narratives or opinions differ. Find out what people are saying about the topic and try to understand the piece of news in the right context. Nothing is as simple as it seems.
Explainers by reputable news organisations (image from Reuters) can be helpful in letting readers understand the timeline and context of an issue.