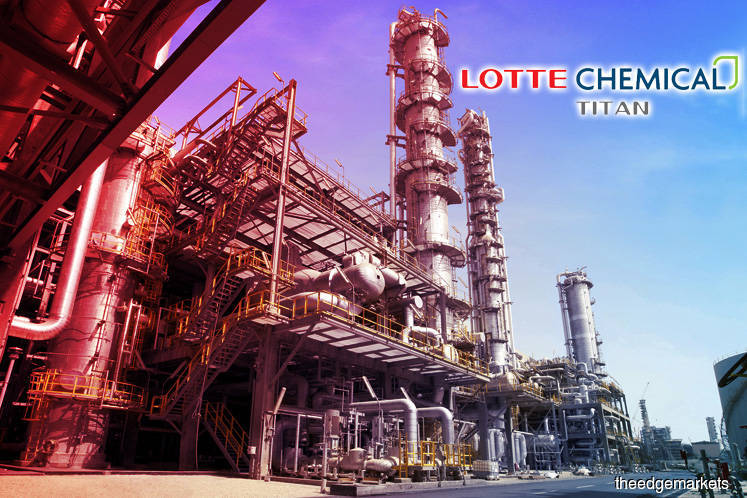 KUALA LUMPUR (Dec 19): Lotte Chemical Titan Holding Bhd (LCTitan) sees no material effect on the group's business operations or financial condition from the penalties imposed by the Securities Commission Malaysia (SC).
In a filing to Bursa Malaysia today, LCTitan noted the latest decisions of the SC, and said the group's board of directors is conducting internal reviews and seeking external advice on the matter.
Yesterday, the SC maintained its decision to reprimand and impose penalties on LCTitan and its two executive directors for the failure to inform the regulator of material developments prior to the company's listing in July last year, after dismissing review applications by LCTitan and other relevant parties.
The penalties imposed amounted to RM2.19 million in total.
The parties reprimanded are the issuer LCTitan and its executive directors Lee Dong Woo and Lee Kwan Ho, reporting accountant Ernst & Young (EY), and the principal adviser to the listing exercise Maybank Investment Bank Bhd (Maybank IB).
The SC had imposed a RM560,000 penalty on the group for the alleged breaches. The commission had also reprimanded and fined the two executive directors RM441,000 each for alleged breaches.
Additionally, the SC had reprimanded and imposed a fine of RM297,500 on EY and a fine of RM450,000 on Maybank IB for their failure to carry out appropriate due diligence on LCTitan.
Meanwhile, the application to the SC by three LCTitan independent non-executive directors Tan Sri Abdul Rahman Mamat, Tan Sri Dr Rafiah Salim and Ang Ah Lek to review the imposition of reprimand was allowed and the reprimand was set aside, said the SC, adding that the non-independent non-executive director Cho Seongtaeg's further reply in relation to his application for review is still pending.
To recap, LCTitan did not reveal to the SC that the 11 days of water cuts at its plant in April had resulted in a significant impact on the group's earnings.
Shortly after its debut on Bursa on July 11, LCTitan announced that its net profit slumped 72% to RM113.62 million for the second quarter ended June 30, 2017 (2QFY17). Quarterly revenue fell 11.2% to RM1.78 billion from RM2 billion on lower sales volume arising from Hari Raya festivities. The company's share price took a nosedive after the unpleasant surprise, falling by a third to RM4.10, compared with its initial public offer (IPO) price of RM6.50.
Notably, LCTitan's IPO was the biggest since 2012.
Although LCTitan had disclosed the water supply disruption in its IPO prospectus, the significance of the impact was not made clear as the market did not expect the incident would have taken a heavy toll on its profit.
In its prospectus, the group said it suffered a period of shutdowns between two and 11 days in April, with its plants restarting operations on a staggered basis. The shutdowns resulted in a 75 kilotonne decline in production volume.