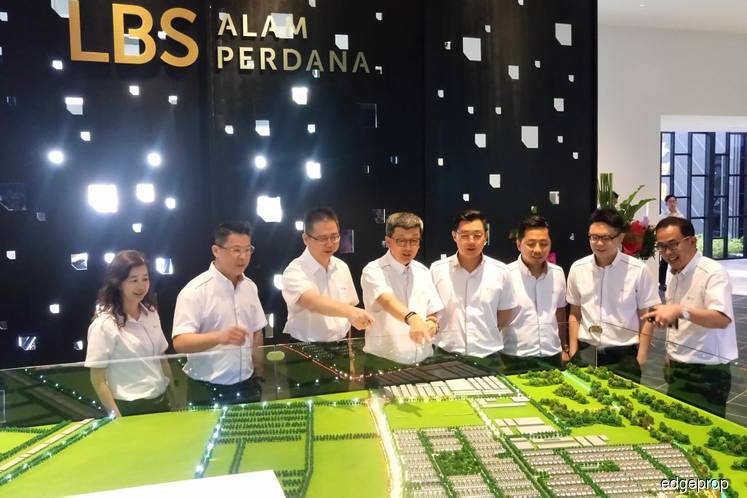 IJOK (Nov 8): LBS Bina Group Bhd's latest township project Alam Perdana in Puncak Alam, Selangor will be launched this weekend.
The developer is confident that phase 1 will be fully taken up within six months of the launch, according to group managing director Tan Sri Lim Hock San at a media briefing today.
Located in Ijok, Alam Perdana is a 470-acre leasehold township development that will be developed over eight phases. It has a GDV of RM2.7 billion.
The first phase of Alam Perdana comprises Simfoni Perdana and Irama Perdana homes, which will be open for sale this weekend.
Simfoni Perdana offers 980 units of 2-story townhouses with unit built-up size of 1,191 sq ft. The selling price starts from RM368,000.
Lim said that "512 of the townhouses are under Perumahan Penjawat Awam 1Malaysia (PPA1M) and the rest are open to the public. We will also build 631 units of Rumah Selangorku in this township".
Irama Perdana consists of 673 units of 2-storey terraced houses with an average built-up size of 1,208 sq ft and tagged from RM479,900.
Lim added that phase 1 has a GDV of RM652 million and is slated for completion in the first half of 2019, while the whole township is aimed for completion in eight to 10 years.
"One of our very successful township developments is Bandar Saujana Putra [in the south of Klang Valley] which is 90% developed. We plan to duplicate the success of Bandar Saujana Putra at Alam Perdana based on our three solid pillars — affordability, connectivity and community," Lim said.
Alam Perdana is located in the northwest of the Klang Valley. It is well connected via the KL-Kuala Selangor Expressway, Guthrie Corridor Expressway, New Klang Valley Expressway, North-South Highway and the upcoming Damansara-Shah Alam Expressway.
LBS is also planning the development of another new township located in Cyberjaya south. "We are looking to launch it in the second quarter of 2018," Lim said.
He added that the company is on the right track to achieve its 2017 sales target of RM1.5 billion.
"I'm optimistic about the Malaysian economy. I believe we can achieve 6% GDP next year. I believe properties will sell when the economy is good. We should be launching more projects next year," Lim said.