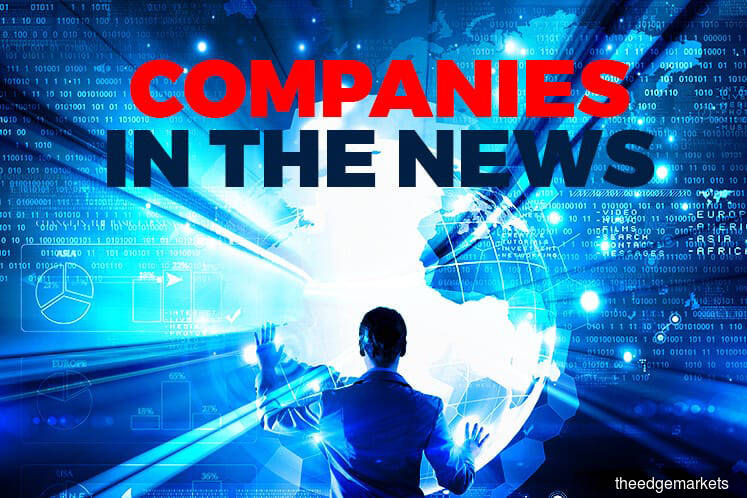 KUALA LUMPUR (Jan 11): Based on corporate announcements and news flow today, companies in focus tomorrow (Jan 12) may include: LBS Bina, Ta Ann, R&A, Uzma, Atlan, Amtek, HLT Global, CIMB and BAssets.
LBS Bina Group Bhd has launched its first property project in 2018, a planned RM954.7 million condominium development in Bukit Jalil. LBS had earlier said it was eyeing property sales of RM1.8 billion this year.
The development, known as Residensi Bintang Bukit Jalil, features a 47-storey north tower and 50-storey south tower on a 2.19ha (5.47-acre) land. The tract is near the Bukit Jalil City Mall and Paradigm Garden City Mall.
The project comprises 1,342 condominiums. Construction of the project will be undertaken by its 55%-owned subsidiary MGB Bhd for completion by mid-2022.
Ta Ann Holdings Bhd has proposed to acquire a 30.1% stake in Sarawak Plantation Bhd for RM169.9 million or RM2 a share.
The acquisition of the stake from Cermat Ceria Sdn Bhd is in line with its plan to further expand its oil palm plantation business and gain larger market access in Sarawak.
Guidance Note 3 (GN3) company R&A Telecommunication Group Bhd has filed a court action against former director Francis Tan Hock Leong and six other parties.
This comes after the group lodged a police report against Tan on Dec 29, 2017 for attempting to withdraw a previous police report made by the group relating to unauthorised transactions worth RM4.2 million in April 2017.
R&A has filed a notice of application in the High Court against Tan, Nexgram Holdings Bhd, and Nexgram directors Mazru Mat Yusof, Helmi Faisal Fuad, Datuk Donald Lim Siang Chai, Fu Lit Fung and Zaharin Ahmad Zamani.
Just two days ago, Uzma Bhd won three umbrella contracts from Petronas Carigali Sdn Bhd. Today, it announced another contract from Petronas Carigali to supply a 340K and 460K Hydraulic Workover Unit.
It was awarded to its wholly-owned subsidiary Uzma Engineering Sdn Bhd (UESB). The tenure of contract is three years starting from Dec 22, 2017 till Dec 21, 2020, with an extension option of one year.
The umbrella contract does not constitute a commitment for any specific work and the execution of the umbrella contract depends on work orders to be issued to UESB from time to time at Petronas Carigali's discretion. Hence, there is no form value for the umbrella contact.
Atlan Holdings Bhd's net profit plunged 90% to RM1.61 million for its third quarter ended Nov 30, 2017, from RM16.68 million in the previous year, due to foreign exchange loss.
Quarterly revenue grew 2.5% to RM186.07 million from RM181.62 million a year ago.
Despite the lower earnings, Atlan declared a third interim single dividend of 10 sen per share, bringing the total dividend to 21 sen per share so far. The interim dividend is payable on March 15.
For its cumulative nine-month period, net profit declined 46% to RM22.68 million from RM41.94 million a year ago. Cumulative revenue fell slightly by 2% to RM602.73 million from RM613.02 million a year ago.
Apparel International Sdn Bhd, an indirect wholly-owned subsidiary of Amtek Holdings Bhd, has entered into an agreement with Crocodile International Sdn Bhd (CISB) for the disposal of its Crocodile brand inventory, accessories and retail fixed assets for about RM8 million.
The deal also involves the termination of the license agreement for distributing and retailing the "Crocodile" brand men's apparel and small leather goods in Malaysia.
The tentative sale consideration of RM8 million will be fully satisfied by CISB to Apparel International in cash.
The proposed disposal is expected to result in a loss on disposal of about RM2.2 million for Amtek.
Glove-dipping line maker HLT Global Bhd wants to diversify into the rubber glove manufacturing business and has proposed to acquire a controlling stake in a glovemaker for RM33 million.
HLT has inked a heads of agreement with Suntel International Co Ltd, Kan Mei Yoong and Lee Sow Yin to acquire 55% in HL Rubber Industries Sdn Bhd.
The purchase is to be satisfied via the issuance of 113.79 million new HLT shares at 29 sen apiece — subject to a definitive agreement to be finalised later.
CIMB Group Holdings Bhd will trim its stakes in two asset management joint venture with Principal Financial Group for RM470.3 million.
CIMB has agreed to divest its 20% stake in CIMB-Principal Asset Management Bhd to Principal International (Asia) Ltd, and 10% stake in CIMB-Principal Islamic Asset Management Sdn Bhd to Principal Financial Services Inc (PFI).
Upon the completion, Principal Financial Group will increase its ownership stake to 60% with CIMB retaining 40% ownership in the entities.
CIMB is expected to recognise a gain on disposal of about RM950 million.
Berjaya Assets Bhd (BAssets) has increased its stake in 7-Eleven Malaysia Holdings Bhd to 4.63% after acquiring a 0.34% stake from the open market for an average price of RM1.54 per share or a total of RM5.72 million.
The acquisitions enabled the group to increase its investment in 7-Eleven Malaysia, which operates the 7-Eleven convenience store chain in the country.
BAssets said its wholly-owned subsidiary Sublime Cartel Sdn Bhd had acquired a total of 3.72 million shares in 7-Eleven Malaysia during the period from Nov 13, 2017 to Jan 10. This brings BAssets' total shareholding to 51.38 million shares in the retail chain operator.