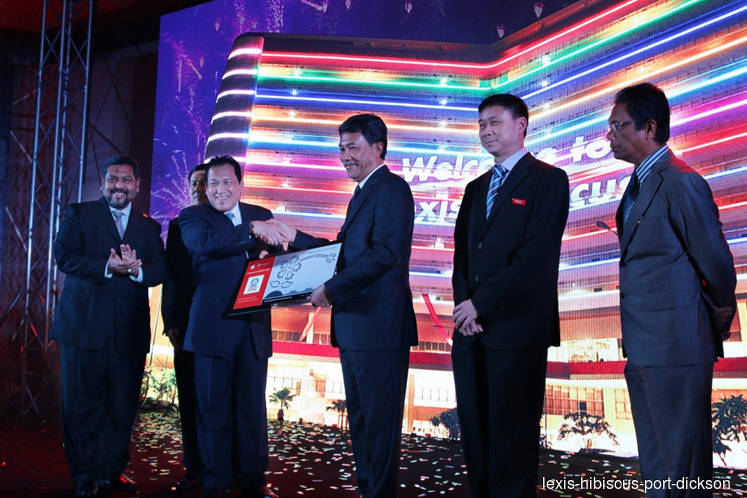 PORT DICKSON (Aug 1): Hotel resort Lexis Hibiscus Port Dickson saw its official opening yesterday.
Currently the largest resort in Port Dickson, Negeri Sembilan, offering 639 spacious pool villas, each villa has its own private dip pool and steam room. The villas — 522 are on water while 122 are located in the tower block — offer spectacular views of the open sea.
The 5-star resort is developed by Kuala Lumpur Metro Group and managed by Lexis Hotel Group.
In a press release following the official opening yesterday, Lexis Hotel Group said Port Dickson continues to see a healthy demand for upscale accommodation from travellers, covering business and leisure segments.
The brand currently manages four properties, namely Lexis, Grand Lexis, Lexis Hibiscus — all three located in Port Dickson — and Lexis Suites Penang, situated at the Pearl of the Orient.
The properties within Lexis Hotel Group have attracted more than 3.6 million tourists from across 126 countries, comprising 50% of overseas guests.
The group said the encouraging occupancy and guest portfolio is fuelled by demand from tours, corporate and MICE (Meetings, Events, Conventions and Exhibitions).
Located about an hour's drive from Kuala Lumpur International Airport (KLIA) and nestled along Pasir Panjang beach, Lexis Hibiscus Port Dickson sprawls into the Straits of Malacca and resembles the national flower of Malaysia.
Meanwhile, Negeri Sembilan Mentri Besar Datuk Seri Utama Mohamad Hasan, who officiated the opening, said the state government is diversifying its economic portfolio and relying less on its core industrial and manufacturing activities and more towards service-based industries such as hospitality and tourism, to shield itself against any economic uncertainties.
"We do not want people to come to Port Dickson only during weekends, but on weekdays as well. This is where the MICE segment comes in to give the much-needed support so that hotels and resorts here are regularly filled with customers," he added.