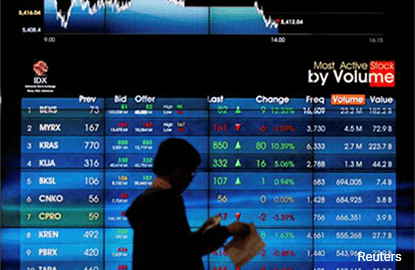 (Jan 16): Most Southeast Asian stock markets fell on Monday after reports that Britain is prepared to make a "hard" exit from the European Union, rekindled fears about the impact of the impending move.
Prime Minister Theresa May will call on Britons to reject the acrimony of the Brexit referendum in a speech on Tuesday that some newspapers have billed as setting the stage for a "hard Brexit". 
Investors will scrutinise May's speech for clues on whether she plans to prioritise immigration controls and bilateral trade deals in a "hard Brexit".
Sentiment was also hit as U.S. policy uncertainty lingered, ahead of President-elect Donald Trump's inauguration this week.
 
Singapore shares fell as much as 0.8%, dragged down by consumer services and telecom stocks. Singapore Press Holdings Ltd declined 3.3%, while StarHub Ltd fell 1%.
Philippine shares were up after three straight sessions of falls, led by consumer stocks. Conglomerate JG Summit Holdings Inc and SM Investments Corp gained 1.5% and 0.8% respectively.
The market declined in the last three sessions due to profit-taking, "so it has regained some strength today", said Manny Cruz, an analyst with Manila-based Asiasec Equities Inc. 
"I think it's the same way with the Indonesian market."
Indonesian shares were marginally up after five consecutive sessions of declines, on the back of gains in telecom services and consumer staples.
Taye Shim, research head at KDB Daewoo Indonesia, ruled out any positive catalyst or news from local markets for the rebound in the Philippine and Indonesian markets, saying: "It's simply a technical rebound." 
Indonesia's exports and imports rose on an annual basis for a third straight month in December, but at a slower pace than in November, the statistics bureau said on Monday.
SOUTHEAST ASIAN STOCK MARKETS:
Change at 0428 GMT
| | | | |
| --- | --- | --- | --- |
| Market | Current | previous close | Pct Move |
| Singapore | 3005.84 | 3025.07 | -0.64 |
| Bangkok | 1572.32 | 1575.24 | -0.19 |
| Manila | 7268.96 | 7238.52 | 0.42 |
| Jakarta | 5279.789 | 5272.983 | 0.13 |
| Kuala Lumpur | 1667.17 | 1672.5 | -0.32 |
| Ho Chi Minh | 679.12 | 685.06 | -0.87 |
Change this year
| | | | |
| --- | --- | --- | --- |
| Market | Current | End 2016 | Pct Move |
| Singapore | 3005.84 | 2880.76 | 4.34 |
| Bangkok | 1572.32 | 1542.94 | 1.90 |
| Manila | 7268.96 | 6840.64 | 6.30 |
| Jakarta | 5279.789 | 5296.711 | -0.32 |
| Kuala Lumpur | 1667.17 | 1641.73 | 1.55 |
| Ho Chi Minh | 679.12 | 664.87 | 2.10 |