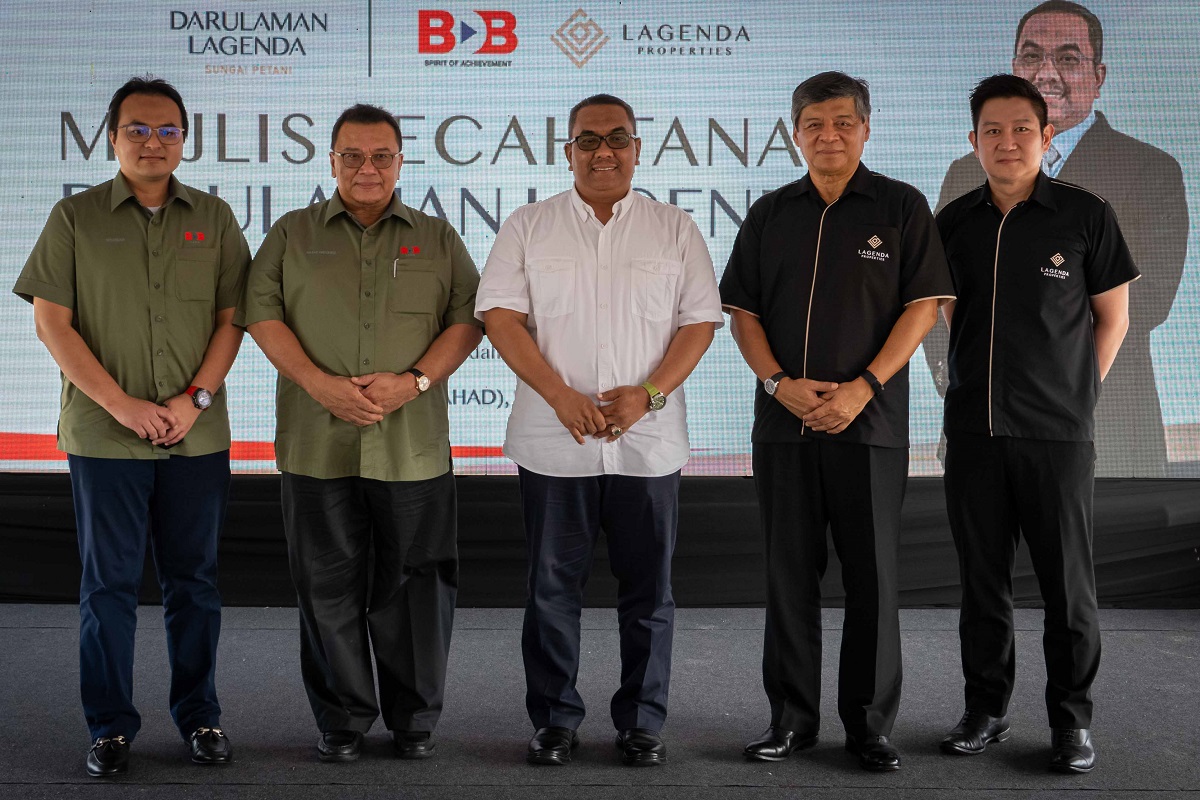 KUALA LUMPUR (Sept 2): Lagenda Properties Bhd and Bina Darulaman Bhd (BDB) announced that they will jointly develop an affordable township development — Darulaman Lagenda — in Sungai Petani, Kedah, during a groundbreaking event on Aug 29.
With a gross development value of RM593 million, the three-phase township development is the largest affordable township development in Kedah with more than 2,500 landed homes. It also marks Lagenda Properties' first township development in the state.
The first phase of Darulaman Lagenda consists of 282 landed homes with selling prices below RM250,000 per unit.
"Future affordable housing development should be tailored towards townships that enable homeowners to enjoy quality and communal living experience. Lagenda Properties, with our pricing strategy and lifestyle focus, is committed to delivering our strategic and sustainable plan. This will positively contribute towards the 12th Malaysian Plan spearheaded by the Ministry of Housing and Local Government to deliver 500,000 affordable homes, benefiting the underserved community," said Lagenda Properties chairman Tan Sri Ahmad Kamarulzaman Ahmad Badaruddin in a press statement.
While the township is geared at addressing the existing demand for affordable homes among the low- and middle-income households, Ahmad Kamarulzaman said it is also targeted towards achieving the "One Family One Home" aspirations of Lagenda Properties.
"Moving beyond Perak into Kedah is a timely and strategic move for us — as we see more and more people in Kedah struggling to afford a home to call their own. With our expertise in affordable development and BDB's strength in Kedah, we are confident that this is just the first step in alleviating or at least mitigating somewhat the affordability crisis in the surrounding area," stated Lagenda Properties managing director Datuk Jimmy Doh.
He added that Lagenda Properties further adds value to its townships by placing sustainability at the forefront of its developments. "Our townships are always planned out to be strategically located, spacious and eco-consciously designed to ensure ample green spaces and community areas catered to various age groups and are equipped with all the necessary amenities for quality living. Backed by homes with a quality build, our townships include facilities such as clubhouses, football fields, badminton courts, swimming pool, cycling and jogging tracks, giving a quality of life to our buyers not usually attainable at this price point."