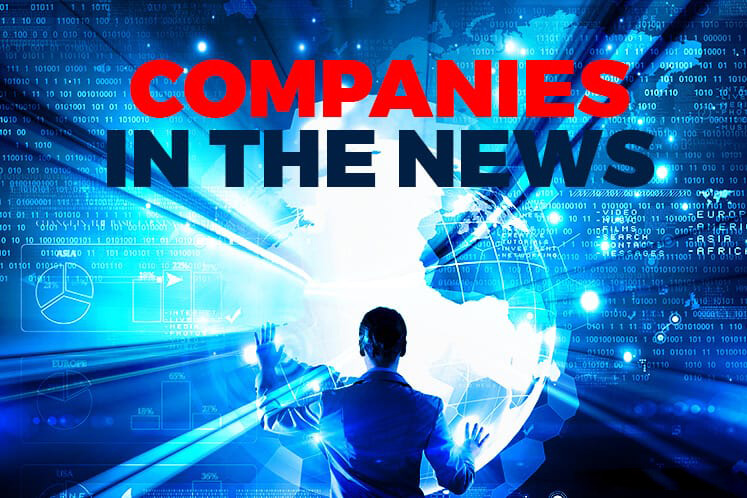 KUALA LUMPUR (April 1): Based on corporate announcements and news flow today, stocks in focus on Tuesday (April 2) may include the following: KUB Malaysia Bhd, Wah Seong Corp Bhd, Alam Maritim Resources Bhd, Coastal Contracts Bhd, Scientex Bhd, Daibochi Bhd, Sunway Construction Group Bhd and Yinson Holdings Bhd.
KUB Malaysia Bhd has redesignated former Minister of Finance II Datuk Seri Johari Abdul Ghani as its non-executive chairman, replacing Datuk Ahmad Ibnihajar, who has been redesignated as an independent and non-executive director.
Johari was previously a non-independent director in KUB. He currently has an indirect interest of 178.07 million units of ordinary shares in KUB, via JAG Capital Holdings Sdn Bhd.
Wah Seong Corp Bhd said its indirect 60%-owned subsidiary WDG Resources Sdn Bhd has been appointed as the sole authorised dealer of the Mitsubishi generator series in Malaysia.
The unit was granted dealership for series MGS-B, MGS-C, and MGS-HV in Malaysia by Japan's Mitsubishi Heavy Industries Engine System Asia Pte Ltd, effective from today and expiring on June 1, 2020.
Alam Maritim Resources Bhd has bagged a US$59 million (RM240mil) contract for the procurement, construction and installation of a pipeline system.
The contract is for the Tembikai Non Associated Gas (TNAG) development by Vestigo Petroleum Sdn Bhd, a wholly-owned subsidiary of Petronas Carigali Sdn Bhd. The duration of the contract is from March 5 until completion of the work, which is expected in the fourth quarter of this year.
Coastal Contracts Bhd announced today its units have bagged three charter contracts worth RM28 million in total. The charter contracts — awarded to its wholly-owned subsidiaries — are for two units of offshore support vessels and one unit of other vessel.
Scientex Bhd has garnered valid acceptance of 61.89% shareholdings in Daibochi Bhd through its mandatory general offer in the form of a share swap. Under the MGO, which closed at 5pm today, Daibochi shareholders had the option to swap 5.5 of their shares for one Scientex share.
Sunway Construction Group Bhd (SunCon)'s indirect unit Sunway Builders (Myanmar) Co Ltd (SBM) has entered a Memorandum of Understanding (MoU) with Myanmar firm Capital Construction Limited (CCL) to develop major infrastructure and construction projects in Myanmar, signalling the leading Malaysian construction player's foray into the Southeast Asian country.
The partnership will see SunCon and CCL, the construction arm of Myanmar conglomerate Capital Diamond Star Group (CDSG), jointly bidding for projects such as mixed-used developments, offices, hotels and hospitals in Yangon and Mandalay, as well as external infrastructure projects over the next three years.
Meanwhile, SunCon separately announced that its unit Sunway Construction Sdn Bhd had received an RM99.5 million letter of award by Sunway Marketplace Sdn Bhd for the proposed construction of a hotel based in Medini Iskandar, Johor Baru. Sunway Marketplace Sdn Bhd is an indirect subsidiary of Sunway Bhd, which in turn is a major shareholder of SunCon, making it a related party transaction.
SunCon added that the total new projects secured by SunCon Group this year including the project above amounts to RM967.2 million out of SunCon's target of RM1.5 billion.
Yinson Holdings Bhd's unit has acquired Singapore-based liftboats operator Ezion Holdings Ltd (EHL) by striking a deal with EHL's lenders. Yinson said Yinson Eden Pte Ltd (YEPL) made the acquisition by entering into a conditional debt conversion agreement and conditional option agreement with EHL.
Upon completion of the debts conversion, YEPL will hold a minimum 70% stake in EHL's enlarged share capital. Yinson said YEPL intends to retain the listing status of EHL.