This article first appeared in City & Country, The Edge Malaysia Weekly, on March 2, 2020 - March 08, 2020.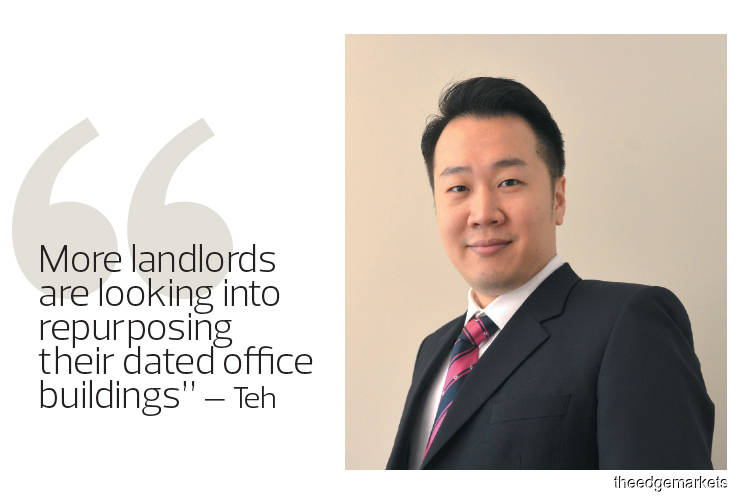 Photo by Knight Frank Malaysia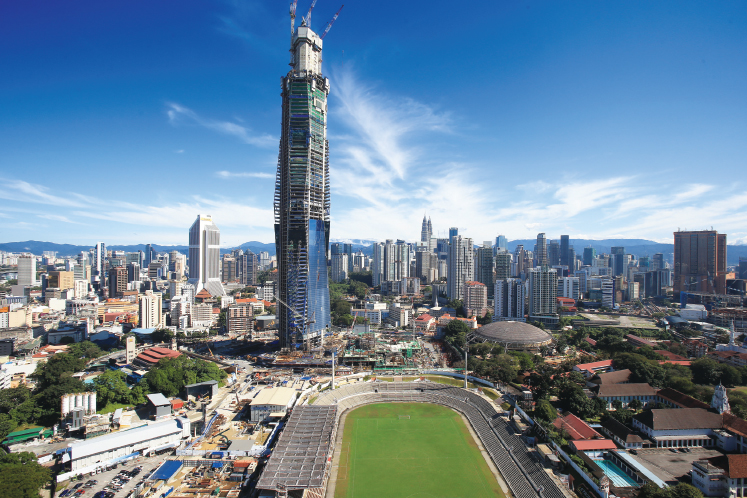 PNB Merdeka Ventures Sdn Bhd, unveiled the show gallery of Merdeka 118 last September
Photo by Mohd Izwan Mohd Nazam/The Edge
Click / Tap image to enlarge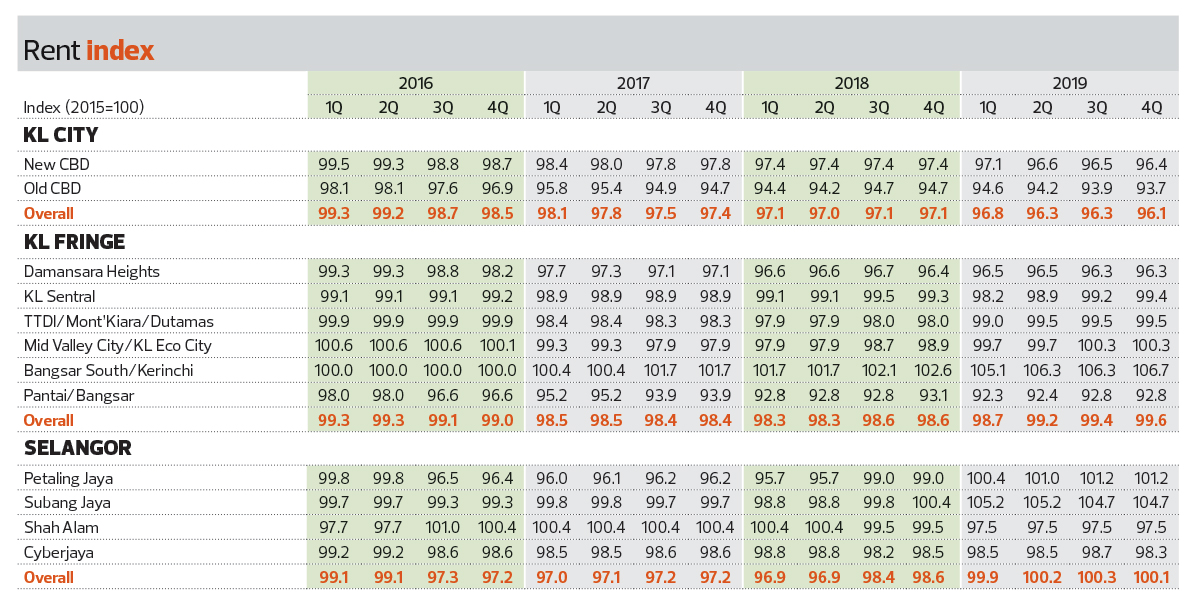 Click / Tap image to enlarge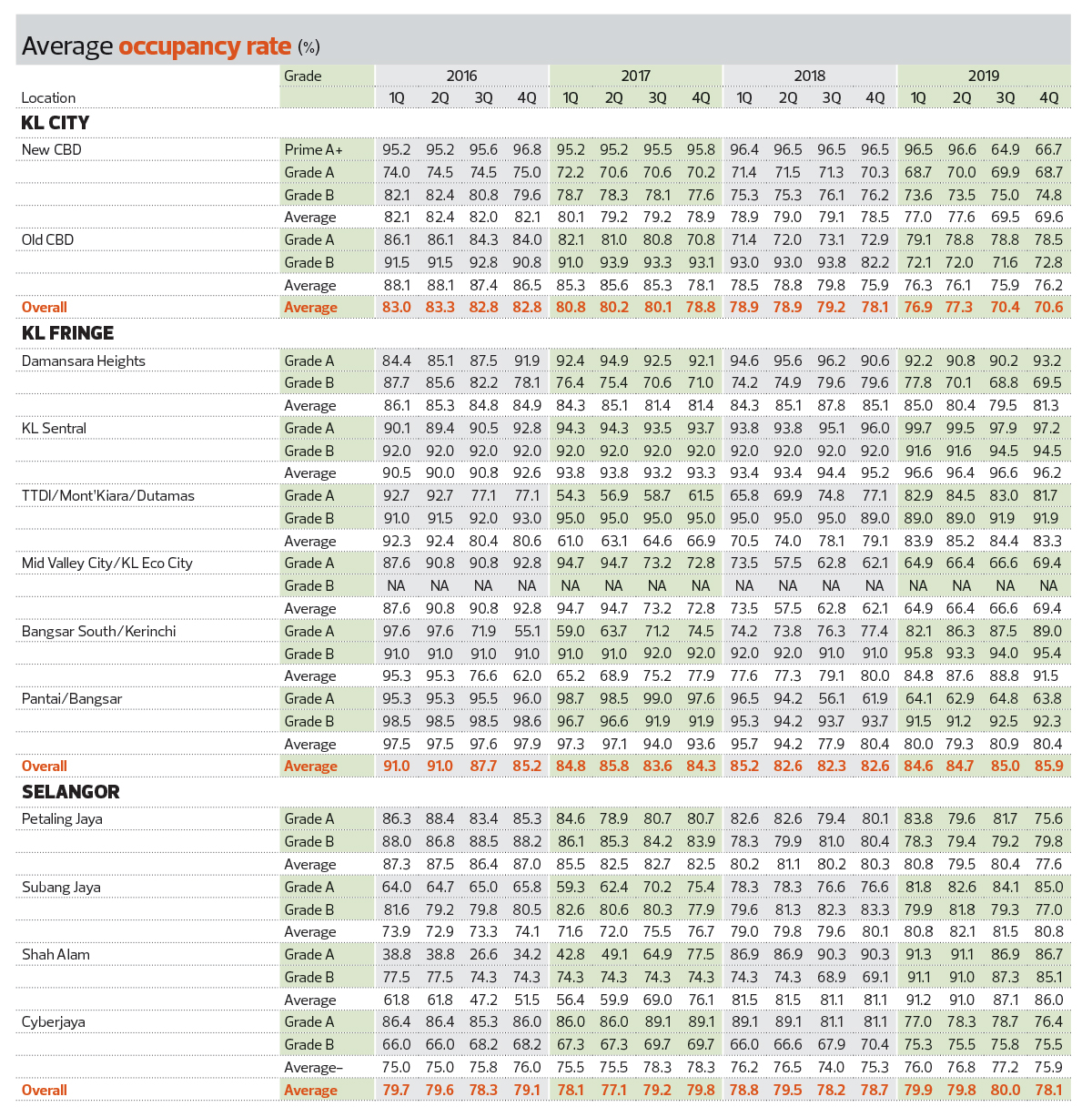 Click / Tap image to enlarge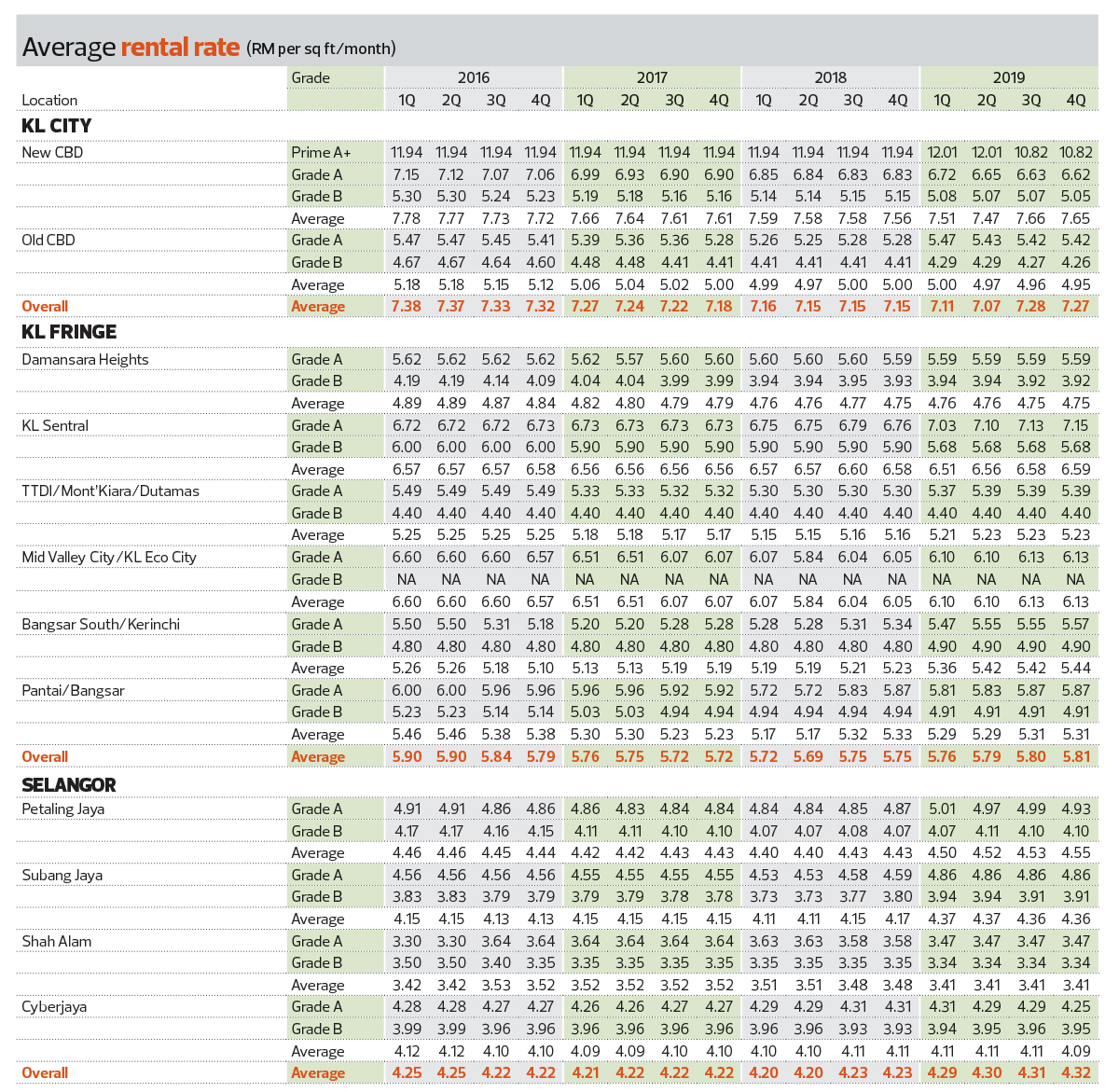 Click / Tap image to enlarge

Amid the high incoming supply in the short to medium term, the rental and occupancy rates of office buildings in KL city are expected to remain under pressure, while the office market in KL fringe and Selangor is expected to hold steady, supported by strong domestic and regional occupier demand.
According to Knight Frank Malaysia executive director of corporate services Teh Young Khean in presenting The Edge/Knight Frank Kuala Lumpur and Selangor Office Monitor 4Q2019, the current estimated supply in KL city, KL fringe and Selangor stand at 55.69 million sq ft, 29.45 million sq ft and 22.92 million sq ft respectively. This brings the total estimated supply to 108.06 million sq ft.
There is an estimated 13.76 million sq ft under construction in KL city (7.83 million sq ft), KL fringe (3.15 million sq ft) and Selangor (2.79 million sq ft). Knight Frank projects an increase of 12.7% in supply between 2020 and 2022.
"Moving forward, more landlords are looking into repurposing their dated office buildings depending on the location and surrounding developments, among other factors. They are also more motivated to offer competitive and customised leasing packages to retain existing [tenants] and attract new occupiers as well as increase the competitiveness and occupancy level of their buildings," says Teh.
Meanwhile, the co-working/shared serviced office segments are expected to expand further in the near future due to changes in workplace trends.
"Mobility, flexibility and cost continue to be the main pull factors for SMEs (small and medium enterprises) and new entrepreneurs. To improve productivity and encourage a healthy work-life balance, more organisations are also trying to bring jobs closer to homes and reduce traffic congestion arising from home-work commutes," says Teh.
He believes the investment incentives announced in Budget 2020, coupled with concerted efforts by InvestKL, are expected to encourage more inbound investment from Fortune 500 companies and "global unicorns" in the high technology, manufacturing, creative and new economic sectors over the next five years. This is expected to have positive spillover effects on the country's economy and real estate market.
In the World Bank Doing Business 2020 report, Malaysia moved up to 12th position among 190 global economies, from 15th previously, supported by ongoing reform initiatives. The country scored 81.50 points and has considerable advantages in terms of location, infrastructure quality and resources while KL remains a key investment destination with strong and stable fundamentals, says Knight Frank.
Malaysia was also ranked 27th in the Working Abroad Index 2019 in the Expat Insider 2019 report, up from No 30 in 2018. The index includes 64 countries with at least 75 respondents each. The six rating factors in three sub-categories are career prospects and satisfaction, work and leisure, and economy and job security.
Marginal movements
"In 4Q2019, the average achievable rental rates and occupancy rates of office space in KL city and KL fringe were relatively stable with only marginal movements observed. Meanwhile, the average achievable rental rate of office buildings in Selangor continued to hold steady despite a slight dip in the overall occupancy rate," says Teh.
In KL city, the average rental rates of sampled new CBD Prime A+ and of CBD Grade A offices remained unchanged in 4Q2019, standing at RM10.82 psf and RM5.42 psf respectively. How­ever, new CBD Grade A offices saw a 0.2% decrease in average rental rates from the previous quarter, down to RM6.62 psf.
Meanwhile, KL Sentral and Bangsar South/Kerinchi in KL fringe saw increases of 0.3% and 0.4% to RM7.15 psf and RM5.57 psf respectively quarter on quarter. The rental rates for Damansara Heights (RM5.59 psf), Taman Tun Dr Ismail (TTDI)/Mont'Kiara/Dutamas (RM5.39 psf), Mid Valley City (MVC)/KL Eco City (KLEC) (6.13 psf), and Pantai/Bangsar (RM5.87 psf) remained unchanged from the previous quarter.
In Selangor, the average rental rate in 4Q2019 for Subang Jaya (RM4.36 psf) and Shah Alam (RM3.41 psf) remained flattish while the rental rate in Petaling Jaya increased marginally to RM4.55 psf from RM4.53 psf in the previous quarter.
In Cyberjaya, the average rental rate was marginally lower at RM4.09 psf from RM4.11 psf in the previous quarter. The overall average rental rate in Selangor went up to RM4.32 psf from RM4.31 psf quarter on quarter.
The overall average occupancy rates in KL city increased marginally by 0.2% to 70.6% quarter on quarter. New CBD saw a 0.1% increase to 69.6%, while old CBD rose 0.3% to 76.2%.
KL fringe also saw a marginal increase in overall average occupancy rate, up 0.7% to 85.7% in the previous quarter. Damansara Heights (up 1.8%), MVC/KLEC (up 2.8%) and Bangsar South/Kerinchi (up 2.7%) recorded average occupancy rates of 81.3%, 69.4% and 91.5% respectively. However, KL Sentral (down 0.4%), TTDI/Mont'Kiara/Dutamas (down 1.1%) and Pantai/Bangsar (down 0.5%) trended down to 96.2%, 83.3% and 80.5% respectively.
The quarter under review saw tenant movements to Menara Millennium in Damansara Heights, Mercu 2 in KLEC and Vertical Corporate Tower B in Bangsar South.
Meanwhile, the overall average occupancy rate in Selangor dipped to 78.1% from 80% quarter on quarter. Petaling Jaya recorded a drop in average occupancy rate from 80.4% in 3Q2019 to 77.6% in 4Q2019. This is due to tenant movements from The Crest and Wisma AmFirst.
The occupancy rates in Subang Jaya and Shah Alam also dipped from 81.5% to 80.8% and from 87.1% to 86% quarter on quarter respectively. In Cyberjaya, the occupancy rate dropped to 75.9% from 77.2% the previous quarter following tenant movements from Wisma Mustapha Kamal.
Also in 4Q2019, Kuala Lumpur registered positive net absorption of about 194,600 sq ft, mainly due to improved take-up in selected office buildings in KL fringe. Selangor posted a net absorption of about +275,200 sq ft. The newly completed Tropicana Gardens Office Tower, which is the new corporate headquarters of Tropicana Corp Bhd, is about 80% occupied.
"Well-located office buildings with seamless connectivity to public transport, such as Mercu 2 @ KLEC and Vertical Corporate Tower B in Bangsar South, continue to attract tenants and enjoy commendable take-up rates," says Teh.
Notable announcements
* PNB Merdeka Ventures Sdn Bhd, a wholly-owned subsidiary of Permodalan Nasional Bhd, unveiled the show gallery of Merdeka 118 last September. The integrated development has a floor area of over three million sq ft and will comprise a grade A office tower, Park Hyatt Hotel and about one million sq ft of retail space.
* The 492m Exchange 106 by Mulia Property Development Sdn Bhd has received partial certificate of completion and compliance for the lower zone of the building up to level 57. The tallest building in the country has about 2.6 million sq ft of space and the first tenants have been moving in gradually since last December.
* GuocoLand (M) Bhd, a sister company of Tower REIT, will set up the HLX Integrated Innovation Centre, occupying 65% of the total 385,215 sq ft net lettable area (NLA) in Menara HLA in Jalan Kia Peng. The 32-storey building was only a third occupied as at June 2019. The centre will offer co-working and co-living spaces. Tower REIT is also looking to revamp the two-block Plaza Zurich in Bukit Damansara, which was 64% occupied as at June 2019.
* KL33 Properties Sdn Bhd, the owner of KL33 (formerly Menara Prudential) in Jalan Sultan Ismail, is looking for a buyer for the office building. The recent asset enhancement initiative has increased the NLA by 20% to 195,943 sq ft. The owner is reportedly asking for RM1,100 psf.
* Great Eastern Life Assurance (M) Bhd has called for bids through a tender exercise for Menara Weld and The Weld Shopping Centre in the city centre. A reserve price of RM270 million for both assets has been set, which works out to RM675 psf.
* Expert Rewards Sdn Bhd, through the Private Markets Department of the Employees Provident Fund, has sought approval from City Hall to convert Wisma KFC into a 430-room luxury-class hotel. The shareholders of Expert Rewards are Royal Group Capital Pte Ltd (50%), Wasimah Bashir Ahmed Osmanbhoy (30%) and NMM Pte Ltd (20%).