This article first appeared in The Edge Malaysia Weekly, on July 15, 2019 - July 21, 2019.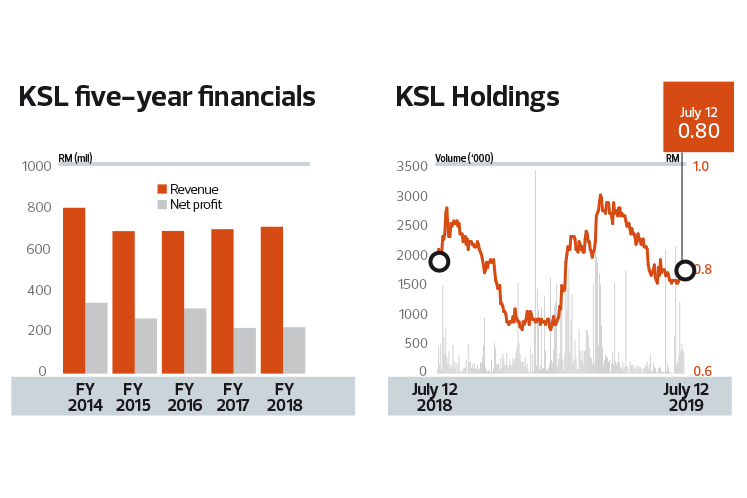 THE last few months have seen the founders of KSL Holdings Bhd acquiring more shares in the Johor-based property developer, at a time when its share price can be considered rather depressed.
The low-profile Ku brothers, through Gorgeous Horizon Sdn Bhd — one of their two private investment vehicles — have been buying more KSL shares on the open market, bringing the company's shareholding to 8.3% as at July 2 from a mere 1.14% on March 29.
The Ku brothers also control Premiere Sector Sdn Bhd, which is KSL's single largest shareholder with a direct 31.81% stake, according to its latest annual report.
The three brothers — executive chairman Ku Hwa Seng, group managing director Khoo @ Ku Cheng Hai and executive director Ku Tien Sek — collectively hold at least 41.54% in KSL as at July 3.
On his own, Tien Sek purchased more shares as recently as July 8, a filing with Bursa Malaysia shows.
The recent movements have left observers wondering what the KSL founders have in mind for the group, which has churned out healthy profits over the years.
A source close to the founders tells The Edge that Gorgeous Horizon has been mopping up extra shares of the group in recent months to shore up its share price.
KSL's share price surged to hit a multi-year high of RM2.34 per share in September 2014 — the year it posted its highest-ever earnings. Since then, it has fallen by 64% to close at 80 sen last Friday, giving the company a market capitalisation of RM824.82 million.
The stock is currently trading at 0.29 times net asset value per share of RM2.80, and at an attractive 3 to 4 times historical PER.
Set up more than 30 years ago, KSL has only posted one loss-making quarter since its listing in 2002. In the financial year ended Dec 31, 2018 (FY2018), KSL saw its net profit rise 1.6% year on year to RM224.09 million from RM220.31 million as revenue climbed to RM709.45 million from RM697.55 million in FY2017.
Its balance sheet is also healthy, with cash balances of RM296.14 million as at March 31, 2019, against short-term and long-term borrowings of RM24.31 million and RM145.55 million respectively. It has net cash of RM126.28 million.
One of the jewels in the group's property investment crown is the one million sq ft KSL City Mall, which is integrated with the 906-room KSL Hotel and Resort in Iskandar Puteri, 7km away from the Johor-Singapore border.
Together with another four-star hotel KSL Hot Spring Resort in Johor, recurring income from property investment contributed RM100.5 million or 30.98% to the group's FY2018 operating profit of RM324.44 million.
The group also has several ongoing property development projects, including five in Johor as well as the Bandar Bestari township in Klang, Selangor. It is also developing the RM2 billion KSL Esplanade Mall in Klang, which is set to be one of the town's largest shopping centres upon completion in 2021.
As at end-2018, KSL had 2,300 acres of land bank in prime locations in Segamat, Batu Pahat, Muar, Mersing, Johor Baru, Kuala Lumpur and Klang.
Despite its stellar position, however, the group has largely flown under the radar of investors.
The lack of interest in the counter could be due to the group not paying dividends for the past three years. In FY2014, it paid a 10 sen dividend per share or a total of RM93.1 million, but reduced its payout to two sen per share, or RM20 million in total, in FY2015. Since then, it has not declared any dividend.
Compared with the Bursa Malaysia Property Index benchmark PER of around 12 times, KSL's share price should be triple its current level at RM2.40 — representing a 200% upside.
Meanwhile, the remuneration of the group's directors has climbed gradually from RM34.89 million in FY2014 to RM38.43 million in FY2018, or about 17% of the group's FY2018 net profit.
Concurrently, the group received the nod from shareholders to buy back up to 10% of its issued shares in May. To date, KSL has retained 20.29 million shares or 1.96% of its 1.04 billion issued share capital as treasury shares.
The recent share acquisition may have been to prevent KSL's share price from retreating further. At the same time, the founders seem to have positioned themselves well to tighten their grip on the group, considering it is even more undervalued now than just a few years ago.