This article first appeared in The Edge Financial Daily, on March 4, 2019.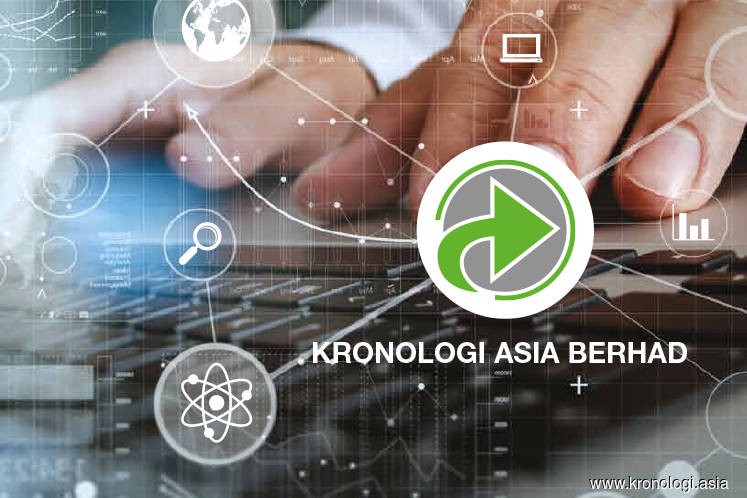 KUALA LUMPUR: Enterprise data management (EDM) solutions provider Kronologi Asia Bhd, which has received shareholders' nod to acquire information technology (IT) infrastructure company, Sandz Solutions (Singapore) Pte Ltd last Thursday, is confident of achieving another double-digit earnings growth in its financial year ending Dec 31, 2019 (FY19).
Tan Jeck Min, an executive director as well as the largest substantial shareholder in Kronologi with a 13.82% stake, said the acquisition of Sandz is expected to be completed by the next two months.
The group's net profit for its FY18 jumped 35.5% to RM16.35 million from RM12.06 million, as revenue expanded by about 13% to RM163.07 million from RM144.37 million on higher sales volume in Singapore, and contribution from Quantum Storage (Hong Kong) Ltd, which it acquired in December 2017.
"Once [the acquisition of Sandz is] completed, depending on when the completion takes place, the additional profit will definitely add to the group, it is a way we grow the company. At the same time, we are also putting focus on organic growth," Tan told The Edge Financial Daily when met after the extraordinary general meeting where shareholders' approval was secured to acquire Sandz.
Kronologi proposed to acquire Sandz in December last year for RM75 million, to be satisfied via the issuance of 123.57 million new Kronologi shares at 56.65 sen apiece, and RM5 million cash.
Sandz provides IT infrastructure solutions services in the Philippines through its subsidiary Sandz Solutions Philippines Inc. The planned acquisition comes with a warranty from the vendors that Sandz would achieve a profit after tax of US$1.5 million (RM6.11 million) for FY19.
Kronologi has said the acquisition will complement its existing business segments and allow it to expand into the Philippines through Sandz, and that both parties will be able to leverage on each other's expertise.
"We always strive for better contribution, over and above their profit guarantees, from our previous acquisitions. In each geographical region, we are working very closely with the local team to ensure they [the previous acquisitions] will deliver growth," Tan said. But it helps that the group's past purchases have not failed to meet their profit guarantees, said Tan.
In fact, following a string of acquisitions in recent years, Kronologi's net profit has grown over five times since it posted a net profit of RM3.05 million in FY15.
It bought the remaining 80% stake in Quantum Storage (India) Pte Ltd in 2016, and Quantum Storage HK in 2017. More recently, Kronologi announced it had, in November 2018, invested US$3 million into Quantum China Ltd (QCL) for a 16.67% stake. The key objective for the group's investments in these companies is to expand its presence in the region, including India, Hong Kong, Taiwan and China, said Tan.
On China, he is upbeat about prospects in that country and the large market will provide a huge growth potential for Kronologi in the future. Hence, he said: "With the right timing and right rationale, consideration for further investment [in QCL] will be down the road."
The completion of Sandz's acquisition will result in Sandz's current owner — Desert Streams Investment Ltd, which is controlled by Enrique Galang Velasco — becoming Kronologi's single largest shareholder with a 23.65% stake. Tan's shareholding will then be diluted to 10.55% from 13.82%. But Tan said Velasco is unlikely to join Kronologi's board, but will instead be part of the management team to help grow Kronologi's business.
Meanwhile, Kronologi's board of directors has decided to reward its shareholders with the group's first dividend payout of two sen per share in respect of its FY18, following the group's sustained earnings growth over the past few years. This involves a payout of RM8 million and a payout ratio of 48.93%. The decision was made after reviewing the group's cash flow.
"We have no plans to set up a dividend policy for now, because we have plans to push for further growth. [But] we will always keep dividend in mind if our cash flow allows us to do so," said Tan. The proposed dividend is subject to shareholders' approval at the group's forthcoming annual general meeting.
Kronologi's cash and bank balances stood at RM69.44 million as at Dec 31, 2018, almost double the RM35.1 million it had in FY17. Borrowings, meanwhile, stood at RM32.87 million as at end-FY18.
Kronologi shares settled unchanged at 62.5 sen last Friday, which gave the group a market value of RM249.26 million. In the past 12 months, the stock has retreated 17.2%.