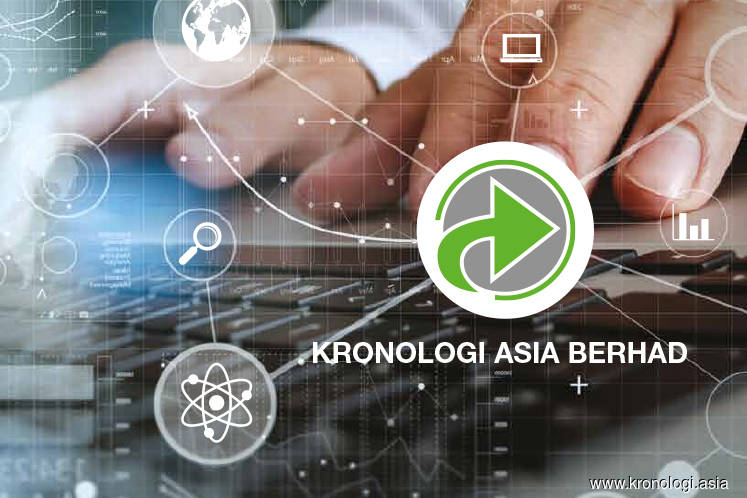 KUALA LUMPUR (Feb 25): Kronologi Asia Bhd, an ACE Market-listed on-site and off-site enterprise data management (EDM) and data storage solutions firm, is leveraging opportunities it sees amid challenges like the prolonged Hong Kong protests and US-China trade tensions, as well as the more recent Covid-19 outbreak.
Such incidents have led to higher video surveillance requirements and heavier streaming of video broadcasts, which bode well for the group's business, according to its chief executive officer Edmond Tay Nam Hiong.
In particular, with the viral outbreak, there has been increased use of technology such as genomics data in handling the disease and to seek a potential vaccine for the virus, which has propped up demand for unstructured data or data that is video, or video-like.
All these have led to more purchases of its solutions by customers, Tay told reporters via a video conference call today on its latest financial results.
"I think the situation [external environment] is [always] evolving. Before the virus [outbreak], we had the protests in Hong Kong and the US trade war and China, yet we continue to experience growth — as demonstrated by our numbers.
"The way we look at this [present situation] is that it is both a danger and an opportunity for us. As long as the virus is kept in control and does not blow up into a worldwide pandemic, I think it is also an opportunity for us. The fortunate thing for us is that the industry that we are in is fairly unique," he added.
Kronologi's business is not just in Malaysia. Its customer base is spread out across other Asian countries like Singapore, the Philippines, Hong Kong, Taiwan, and India too.
It has a diversified customer base that comprises airports, airlines, port operators, food and beverage companies, banks, financial institutions, stock exchanges, smart cities, government agencies and telecommunications, as well as media and broadcasting companies.
Kronologi recorded a 14% year-on-year rise in net profit at RM18.57 million in its financial year ended Dec 31, 2019 (FY19) from RM16.26 million previously, as revenue jumped 44% to a record high of RM235.50 million from RM163.07 million.
It attributed the increased earnings to its recent acquisition, Sandz Solutions (Singapore) Pte Ltd, and higher contribution from its India operations. It also noted, however, that FY18 had incurred higher interest, depreciation and tax expense.
The stronger FY19 profit came despite a 35% y-o-y drop in the group's fourth quarter net profit to RM3.04 million from RM4.68 million, mainly due to lower margin, higher interest expenses and depreciation due to geographical expansion. This was despite revenue growing 65.3% to RM69.27 million from RM41.90 million.
"In 2019, there wasn't any project that was impacted. However, we did face margin stress due to the allocation of tighter budgets from customers as they have had to spend elsewhere to handle the [impacts arising from the] trade war or protests, and now, the virus outbreak.
"If it does not become a full-blown pandemic, I think this is a short-term impact to the economy. We have a good eight months to go for this year (FY2020) still and I think the kind of business we are in will not feel a direct impact. We are cautiously optimistic that we will still experience growth this year, in the same magnitude seen in FY19," Tay added.
Shares in Kronologi settled six sen or 7.32% lower at 76 sen as of writing. The stock has risen over 50% since last May, from its 50 sen-level then, to now bring it a market capitalisation of RM408.55 million.