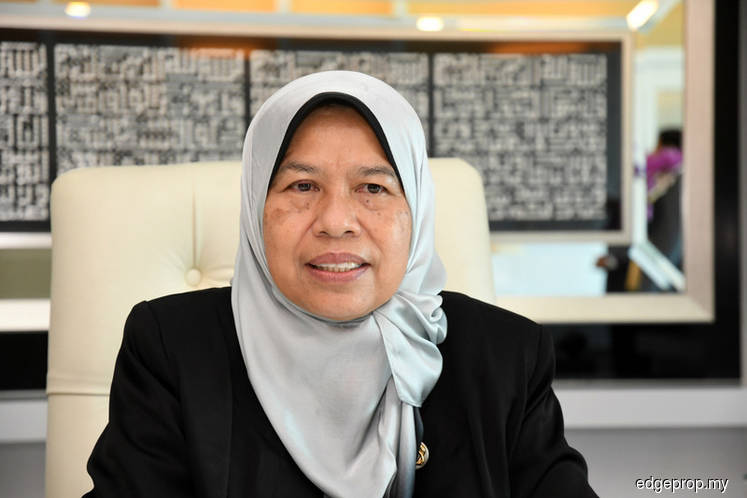 PETALING JAYA (Aug 28): The decision to ban foreign buyers of units in Country Garden Holdings' Forest City development in Johor is not official yet, said Housing and Local Government Minister Zuraida Kamaruddin.
In a Malay Mail report, she urged Country Garden Pacificview Sdn Bhd to write to her ministry to discuss the conditions for selling the units in Forest City to non-Malaysians.
She added that any decision must also involve the Finance Ministry and the Johor government.
"For the time being, it is still undecided if they can sell property to foreigners. We must assess [the situation] and then provide the prime minister with a report," she said.
Replying to a question on whether Country Garden Pacificview was now banned from selling units in the mega-project to foreign buyers, she said the prime minister's remark was plain.
However, there has been no official statement on the matter from the Prime Minister's Office besides his verbal response to reporters, she added.
Yesterday, Dr Mahathir announced that foreigners will not be allowed to buy property at the Forest City mega project in Johor or be granted visas to live there.
Reuters reported Dr Mahathir saying that: "One thing is certain, that city that is going to be built cannot be sold to foreigners."
"Our objection is because it was built for foreigners, not built for Malaysians. Most Malaysians are unable to buy those flats."
However, there were no details over how he planned to prohibit the sale of the units to non-Malaysians and the issuance of visas.
His announcement follows an Aug 16 meeting at Parliament with Country Garden Holdings chairman and founder Yeung Kwok Keung.
Yeung had expressed his confidence in Dr Mahathir's leadership of the country and interest in increasing investments into Malaysia.
Hours after Dr Mahathir's proclamation, Country Garden had responded by saying that all its property transactions comply with all Malaysian laws and regulations and have the necessary approvals to be sold to foreign purchasers.
It also denied issuing Permanent Residency to foreign buyers of units in Forest City.
Currently, foreign investors are allowed to buy properties worth at least RM1 million in Johor.
Meanwhile, a long-term residency visa is granted via the Malaysia My Second Home (MM2H), but purchasing a property is not a requirement to qualify for the programme.
Bloomberg noted that almost 30% of successful applicants of the programme, which was launched in 2002, were Chinese nationals.
The sudden announcement has taken several parties by surprise, such as the Johor state exco.
According to the state's Housing and Rural Development Committee chairman Dzulkefly Ahmad, the federal and state governments had not discussed the matter and had urged all parties to not jump to conclusions over the prime minister's statement, reported The Star.
He also pointed out that the previous state government had set up international investment zones for foreign investors.
These include Medini Iskandar, where special exemptions are in place to attract talent from overseas.
Meanwhile, the daily also quoted property consultants who warned of dire implications on the state's property market as it will hurt sales of existing launches by Country Garden and other developers – both foreign and local – in the state, and deter individual and institutional investments from abroad.