This article first appeared in The Edge Malaysia Weekly, on February 22, 2021 - February 28, 2021.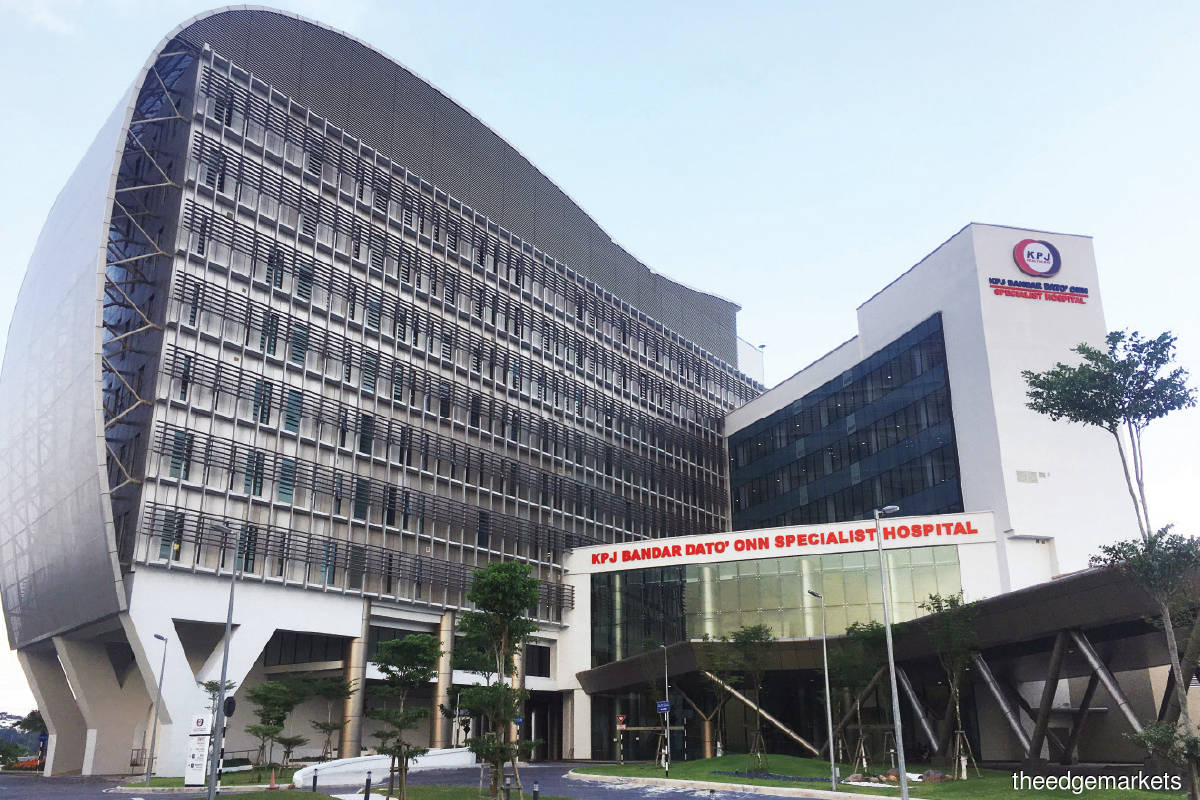 LOWER-than-expected bed occupancy rates (BORs) affected the recovery of KPJ Healthcare Bhd in what it deems as a "washout year" for the healthcare industry despite operating in the most resilient of industries known to withstand tough economic conditions.
The country's largest listed private healthcare group by capacity closed its financial year ended Dec 31, 2020 (FY2020) with a net profit of RM110.44 million, nearly half the RM211.37 million reported in FY2019, as revenue fell 12% year on year (y-o-y) to RM2.4 billion from RM2.74 billion.
This was mainly due to the unprecedented impact of the Covid-19 pandemic and consequent movement restrictions on inpatient demand as BORs slumped to a record low at the peak of the first Movement Control Order last year.
With many opting to delay surgeries or appointments to later dates, KPJ's BOR fell to a record low of 25% in April before recovering to 52% in September after restrictions were eased.
The recovery momentum, however, slowed in 4Q2020 when the government reimposed the Conditional Movement Control Order. KPJ ended the year with a BOR of 41%.
In addition to the external uncertainties posed by the pandemic, KPJ's full-year performance was dragged down by an impairment loss of RM24.1 million in 4QFY2020, mainly comprising a RM16.2 million loss from the revaluation of land in Jeta Gardens, Australia; an equity investment loss of RM3.6 million; and a RM3.5 million decrease in share of profit from associates (mainly contributed by Al-Aqar Healthcare REIT).
Still, Ebitda (earnings before interest, taxes, depreciation and amortisation) margins remained stable, notes the group's president and managing director Ahmad Shahizam Mohd Shariff, thanks to the cost optimisation measures initiated during the year. Ebitda margins fell slightly to 22.5% in FY2020 from 23.4% in FY2019.
Although the number of inpatients fell 25.6% y-o-y in FY2020 to 246,529, the impact was offset by a lower-than-expected fall in surgeries, which declined 14% y-o-y, says Ahmad Shahizam, pointing to the necessity of surgeries regardless of external conditions. He adds that higher revenue from its pathology laboratory arm Lablink (M) Sdn Bhd due to increased Covid-19 testing also helped to soften the impact on the group's revenue.
"Now that we've seen how the system can be really stressed by very low activity like in 2QFY2020, we know what to look out for and how to optimise the way we manage things. Cost management is important and this is one of the reasons why we were able to manage in terms of the drop in margins," Ahmad Shahizam tells The Edge after the release of the group's 4QFY2020 and FY2020 results last Thursday.
Looking ahead, he remains positive on KPJ's prospects, taking into account the government's anticipated rollout of the national Covid-19 vaccination programme, which points towards a gradual improvement for the healthcare group's occupancy rates over the next 12 months. The group also has a presence in Bangladesh, Thailand and Indonesia.
To expedite recovery, the group has embarked on a transformation programme, says Ahmad Shahizam. This includes revamping the senior management team, organising its hospitals into regional clusters for better management and changing the revenue recognition method in its financial statements, which are now presented as net of fees paid to medical consultants.
This approach will better align the group with the common practice in the healthcare industry, making its financial disclosures more comparable with its peers and help investors understand the company's growth better, he says. "People could not see the harvest of all the investments we had made in the past.
"Now that we're consolidating and doing all this transformation work, the numbers will start to come through very clearly in the subsequent quarters. That progress will start to become visible. More importantly is that as people see and recognise it, they will realise that KPJ is so significantly undervalued compared with our peers, that there should be a change in how people look at us."
Analysts covering the stock share the same sentiment, with most having the view that the healthcare group's FY2020 performance came in within house and consensus expectations.
In a report last Friday, CGS-CIMB Research reiterates its "add" call on KPJ, though with a slightly lower target price of RM1.14, as it remains positive on the group's long-term prospects due to the steady growth in domestic healthcare demand, even with near-term uncertainties due to the Covid-19 pandemic.
At KPJ's current share price, the stock remains undervalued, says RHB Research, which has upgraded its call to a "buy" and a higher target price of RM1.23. "At 98 sen, the FY2022 price-earnings ratio of 24 times is at a 40% discount to its regional peers. This is unwarranted, given the better earnings outlook between FY2021 and FY2023," it says in a Feb 19 note.
Shares of KPJ ended two sen or 2.04% higher at RM1 last Friday to give the group a market capitalisation of RM4.44 billion.