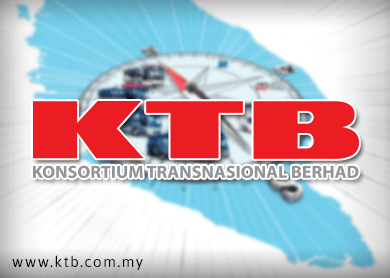 KUALA LUMPUR (Feb 17): Public bus operator Konsortium Transnasional Bhd expects to post a full-year revenue of RM280 million in financial year ended December 31, 2014 (FY14), chairman and managing director Tan Sri Mohd Nadzmi Mohd Salleh said.
This would mean a 17 per cent rise in revenue from the  RM239.96 earned in FY13. However, Mohd Nadzmi said the numbers were not finalised yet at this juncture.
During 9MFY14, Konsortium Transnasional's (fundamental: 0.45; valuation: 0.3) net profit fell to RM3.74 million while revenue was lower at RM163.35 million.
Today, Mohd Nadzmi said:"Even with this new stream of revenue (from stage bus), the group is cautious on its prospects due to the upcoming implementation of the goods and services Tax (GST) in April, as it would post a negative impact to the group's bottom line."
"The industry is highly regulated, including our bus fares, which means our operating expenses will be charged for GST, but at the same time we cannot pass the burden to the consumer, so we have to absorb it ultimately," he told reporters after Konsortium Transnasional's extraordinary general meeting (EGM) today.
As such, he said the company hoped Malaysian regulators would review inter-state express bus fares, which had not been reviewed since 2008.
Konsortium Transnasional's stage-bus operations will be closely watched. Mohd Nadzmi said the firm was expecting a 20% increase in stage-bus business revenue over FY14 numbers.
 
FY14 stage bus revenue might have come in at RM70 million, he said.
"Stage bus represents about one quarter of our entire revenue, which could be around RM70 million for FY14.
"With the newly-awarded SBST (Stage Bus Services Transformation) contract, we will see another new stream of revenue in FY15,"  he said.
The Land Public Transport Commission has awarded the SBST contract to Konsortium Transnasional.
Under the contract, Konsortium Transnasional will provide stage-bus services in Negeri Sembilan, starting from April this year.
At the EGM, Konsortium Transnasional shareholders approved the group's proposed capital reduction and rights issue. The capital reduction will see the reduction in the par value of
Konsortium Transnasional shares to 10 sen each from the current 50 sen.
The company's rights issue involves 604.2 million new shares on the basis of three rights units for every two existing shares held.
Konsortium Transnasional is scheduled to announce its 4QFY14 and full-year financials this month.
Today, Konsortium Transnasional shares fell one sen or 3% at 12:30pm to settle at 32 sen for a market capitalisation of RM128.9 million.
The stock has gained 12% this year, outperforming the KLCI's 3% rise.