This article first appeared in City & Country, The Edge Malaysia Weekly, on May 17, 2021 - May 23, 2021.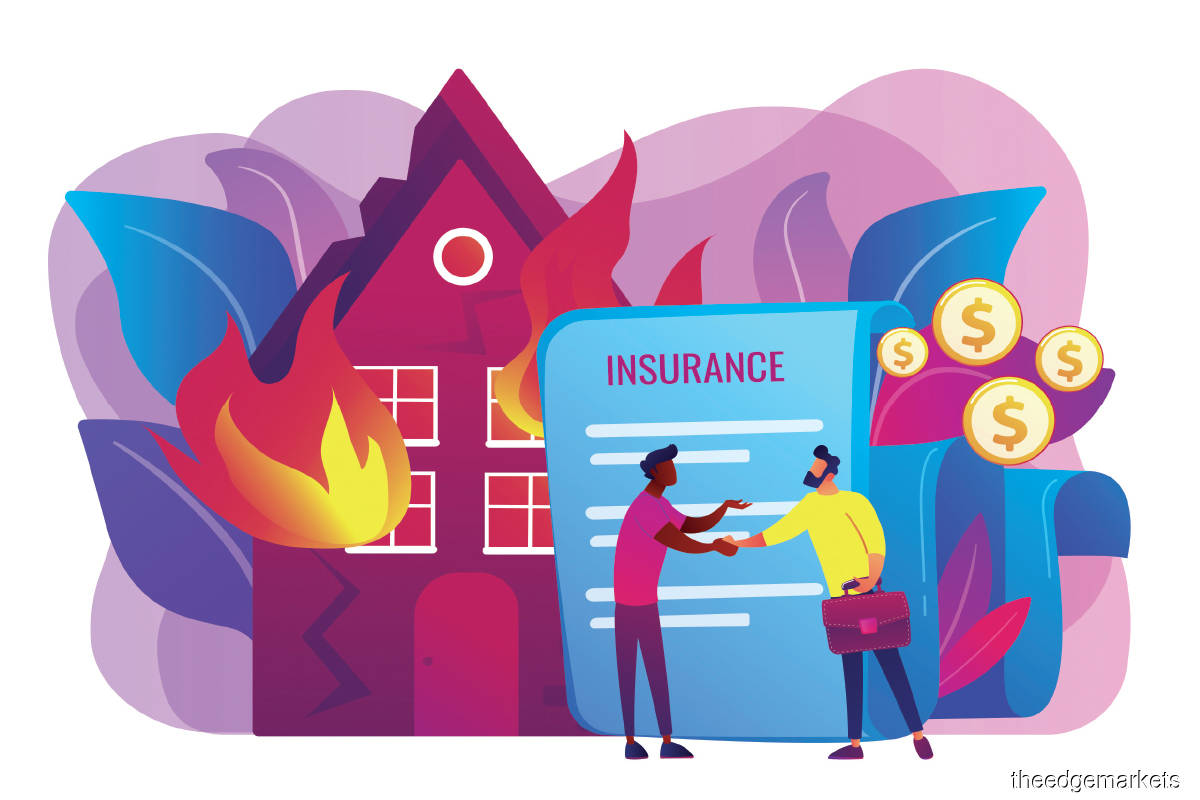 After purchasing a new house, buyers usually budget for renovation as well as fittings and furniture, but property insurance is seldom on the list. Many may think it is a waste of money to buy insurance, but it takes only one incident — a burst pipe, fire, damaged or stolen furniture, or a runaway tenant — to burn a hole in the pocket.
According to Persatuan Insurans Am Malaysia (PIAM), property insurance comes in the form of fire, houseowner and householder policies (see "Types of property insurance"), providing coverage for fire as well as damage to the property and contents of the home.
If you live alone, having each insurance would be helpful, but it may get complicated if you rent out your unit and there is damage to the property. According to Metro Homes Realty Bhd executive director See Kok Loong, after a tenancy ends, that is when disputes start.
"One of the disputes is related to damages to the content or the fittings of the unit," says See. "The landlord and the tenant will argue about who should pay for the damages. Most real estate agents would take a video or photo of the contents of the unit and attach them to the tenancy agreement and inventory list.
"But, normally, the inventory list isn't detailed enough to identify all the damages. So, after one year, the tenant will say the damages were already there, whereas the landlord might say the damage was done by the tenant and will deduct the cost from the rental deposit." The tenant would be unhappy and this could lead to further disagreements and issues.
Having observed that this matter was happening more regularly, See studied the various issues and realised that property insurance, specifically content insurance, could help.
"Insurance has evolved over the years. You do not have to insure for the full value. Now, there is something called first-loss," he says.
According to Investopedia, a first-loss policy provides only partial insurance. "In the event of a claim, the policyholder agrees to accept an amount less than the full value of damaged, destroyed or stolen property. In return, the insurer agrees not to penalise the policyholder for under-insuring their goods or property — for example, by not raising rates on renewal premiums," the website says.
According to See, some policy premiums can start from as low as RM70 a year, but he advises seeking better coverage from insurers in the market. The key thing is to know that the risk of damage is passed on to the insurance companies, and this will give landlords peace of mind that their property is taken care of in case of a serious incident to the property.
Landlords of high-rise strata units who think their unit is covered by the master insurance policy under the management should note that coverage is mainly for the cost of repairs to the building and common areas and not to the contents of individual units.
Owners and tenants, who may have expensive items in the unit, may consider getting content insurance in case of damage or theft.
When it comes to making a claim, former PIAM CEO Mark Lim, who stepped down as CEO in November last year and is now in Singapore starting a consultancy, highlights that different insurance companies have different claim procedures, but there are general procedures people can take. Lim says: "Notify your insurance company in writing with full details as soon as possible. Early notification is required to avoid any prejudice to your claim. You must also take the necessary measure to mitigate further loss or worsening of the situation.
"If temporary repairs are required to stop further damage, you should ensure that these are carried out immediately and the bills of work carried out should be kept as part of your claim. If the repairs required are of a permanent nature, you should obtain estimates of the repairs required and send them to your insurance company for approval before commencing with repairs.
"You must submit your claim with all supporting information and documents to your insurance company. You should cooperate fully with the adjusters or investigators appointed by your insurance company to assess your claim."
Lim advises owners of property to ensure that it is adequately insured, taking into account renovations and enhancements to the property. For strata-titled properties, such as apartments or condominiums, he says the joint management board or committee is required to take up a master insurance policy and you should get a copy of the individual certificate for your property to ensure it meets your requirements.
He says: "The houseowner or householder policy does not cover loss or damage due to subsidence, landslip as well as riot, strike and malicious damage. However, you can cover these exclusions with payment of additional premiums.
"Extensions are also available to cover loss of rent and liability to third parties for accidents in your house. Householder policy does not cover loss from theft if there is no evidence of forced and violent entry into or exit from the premises."
If the tenant has absconded, See advises that a police report be made, for example, if there is theft or the tenant has left without paying rent and there are damages. You also need a stamped tenancy agreement, as it is considered evidence to be submitted to court if there is a legal case. Content-wise, all relevant documents must be on hand to prove you have suffered loss.
At the end of the day, shop around and find out exactly what each policy provides and you may find that paying a little a year will help stand you in good stead if anything untoward happens and also lets you rest assured that your savings are not affected.
Types of property insurance
Basic fire policy (tariff*)
This policy covers your building and/or contents from loss or damage caused by fire, lightning and domestic gas explosion. The coverage could also be extended to include special perils, with additional premium, as specified below. The premium rates, wordings, coverage, terms and conditions, including clauses and endorsements of a standard fire tariff policy, are subject to the Revised Fire Tariff issued by Persatuan Insurans Am Malaysia. 
Under Bank Negara Malaysia's tariff liberalisation framework, however, insurers are also allowed to introduce non-tariff fire insurance products with variations in coverage, terms and conditions. Policyholders are advised to refer related enquiries to their agents or insurers.
Fire policies can be extended to cover the following perils with additional premium:
•      Aircraft damage;
•      Earthquake and volcanic eruption;
•      Storm tempest;
•      Flood damage;
•      Explosion;
•      Impact damage;
•      Bursting or overflowing of water tank apparatus or pipes;
•      Riot strike and malicious damage;
•      Electrical installation Clause B (for business plants and machinery);
•      Bush/lallang fire;
•      Subsidence and landslip;
•      Spontaneous combustion (for stocks);
•      Damage by falling tree or branches and objects therefrom;
•      Sprinkler leakage; and
•      Smoke damage.
Houseowner policy
This policy provides comprehensive coverage compared to the basic fire policy for residential properties (private dwellings, condominiums, apartments or flats). It covers loss/damage to buildings arising from fire, lightning and domestic gas explosion including specified perils as below.
Householder policy (tariff)*
The coverage is the same as the houseowner policy except that it covers household contents instead of buildings.
Coverage for houseowner and householder policies
The houseowner and householder policies provide cover for loss or damage to your building and/or contents caused by any of the following perils:
•      Fire, lightning, thunderbolt, subterranean fire;
•      Explosion;
•      Aircraft and other aerial devices and/or articles dropped therefrom;
•      Impact by any road vehicles or any animals not belonging to or under the control of the insured or any of his family;
•      Bursting or overflowing of water tanks apparatus or pipes;
•      Theft, but only if accompanied by actual forcible and violent breaking into or out of a building or any attempted threat;
•      Hurricane, cyclone, typhoon, windstorm;
•      Earthquake, volcanic eruption; and
•      Flood, but excluding loss or damage caused by subsidence and landslip.
*Tariffs are sets of fixed price lists created under insurance acts to streamline and control premium charges and policy wordings
PIAM