This article first appeared in City & Country, The Edge Malaysia Weekly, on April 13, 2020 - April 19, 2020.
Click / Tap image to enlarge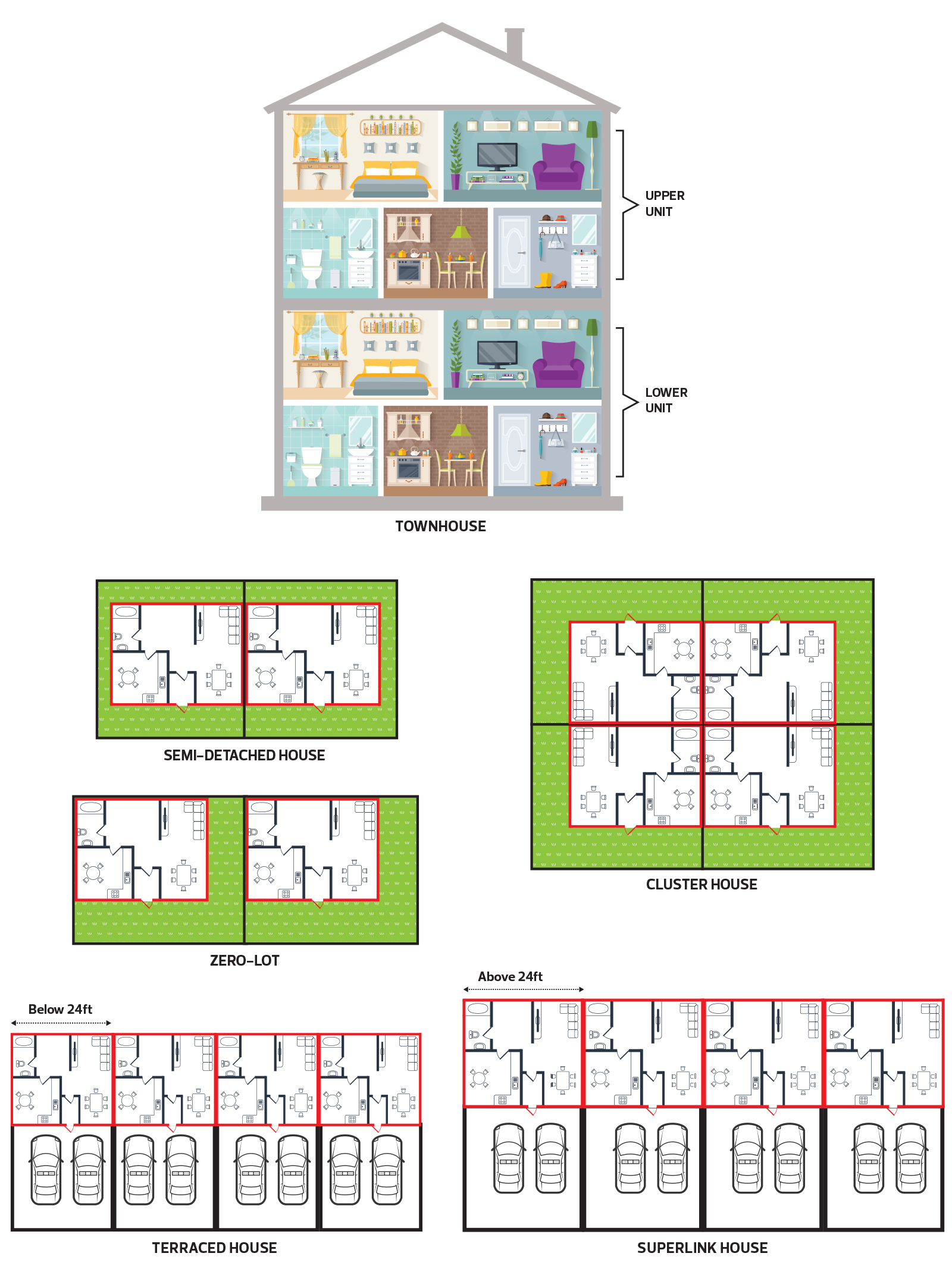 Malaysians often come across wide-ranging terminology that describes various types of landed property in the country. It includes "bungalow", "cluster house", "superlink house" and "zero-lot".
According to CCO & Associates (KL) Sdn Bhd director Chan Wai Seen, most of these terms are unofficial, but they provide a general understanding of the property types offered by developers.
Semi-detached house: Also called semi­dee, a semi-detached house is linked to another house on one side. The other side of the house comprises open space and/or a garden. It is a popular type of residential property in Malaysia.
Zero-lot: It is a newer type or concept of detached house, whereby the house is built to the side of the land as opposed to the centre of the land. By positioning the building to the side, it provides more open space on the other side.
Cluster house: Chan observes that in most cluster house developments, four houses are linked together. Each house will have vacant land at the side, which is similar to that of semi-detached houses, but without the empty land at the back of the house. Cluster houses are linked with other houses at the back and on one side of the house. Cluster houses are well received in the market because this design offers more windows and side doors compared with conventional terraced houses. In general, a cluster house is more affordably priced than semi-detached houses, and cost about the same or slightly higher than terraced houses.
Terraced/link house: This type refers to houses that are positioned side by side in a row. It is one of the most affordable landed residential property types in the country.
Superlink house: This is a large terraced house that usually comes with a wide frontage of 24ft and above. Superlink houses are always priced above conventional terraced houses but lower than semi-detached houses.
Townhouse: It is similar to terraced houses, whereby houses adjoin each other in a row. The difference is a townhouse, usually a 3 to 4-storey building, is divided and sold as two units — as upper and lower units that are accessible from the ground floor. Townhouses are issued with strata titles and affordably priced compared with terraced houses, while allowing the occupants to enjoy the living environment of a landed house.