This article first appeared in City & Country, The Edge Malaysia Weekly, on February 8, 2021 - February 14, 2021.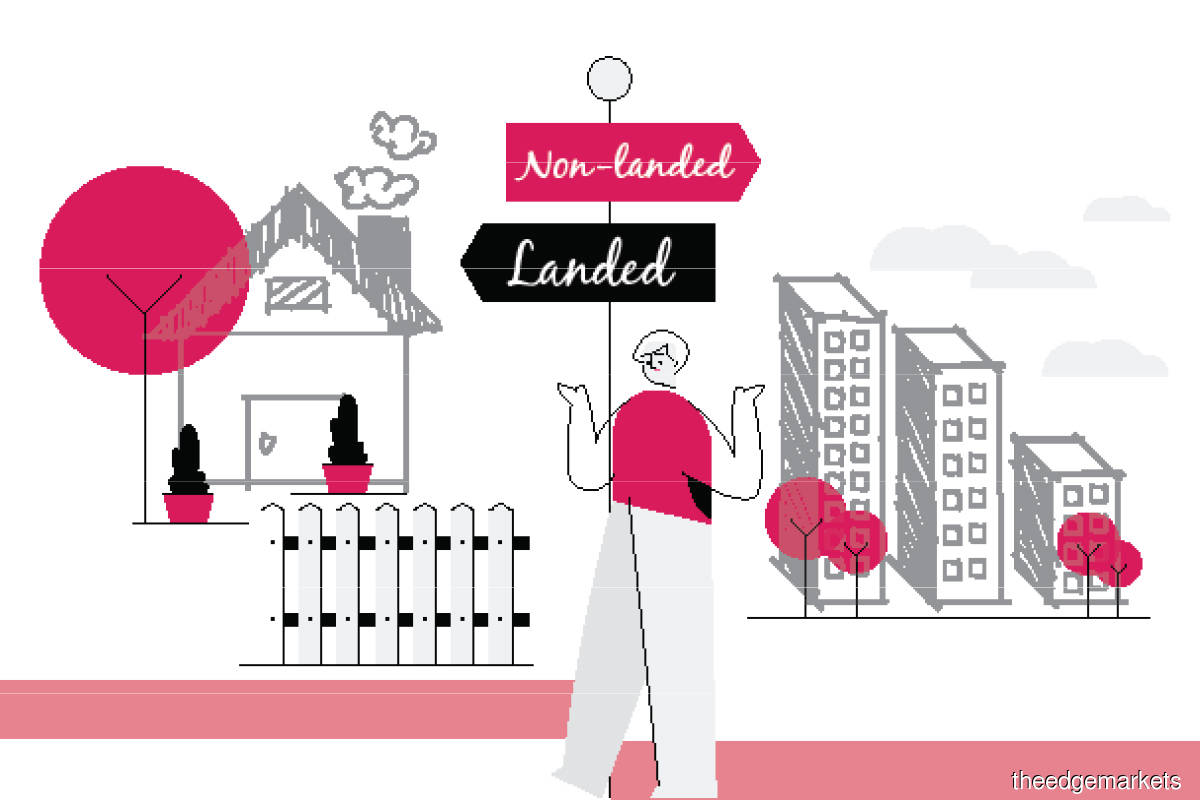 While location and price are key considerations for many people looking to buy property, another critical factor is whether it is landed or non-landed.
For the same price tag, one can get a non-landed unit with a city fringe address or a landed property in the suburbs, both of which offer at least three bedrooms and two bathrooms. Alternatively, one could also look at a condominium or a landed property in the same housing estate, but likely with a signficant difference in the age and condition of the property.
With a budget of RM600,000, one could get a new 2-storey terraced home in Semenyih and Shah Alam (built-ups from 1,990 sq ft) or an older, non-landed unit in the vicinity of Embassy Row in Kuala Lumpur (built-ups of about 1,000 sq ft or less).
As to whether a landed or non-landed property is better, this is often a matter of personal preference. Nevertheless, one should bear in mind the advantages and disadvantages of both property types.
Laurelcap Sdn Bhd executive director Stanley Toh says the advantages of landed living include more privacy, easy access to the car porch and less noise from the upper floors. For non-stratified landed living, the owners do not have to pay maintenance fees nor deal with regulations and house rules.
Conversely, non-landed living may not have a high level of privacy and the parking bay is usually not on the same floor as the unit. On the other hand, the advantages include security, facilities, and not having to monitor and carry out maintenance activities. In an affluent neighbourhood or city centre, it is also more affordable than living in a landed property.
Things to consider
Toh says there are several aspects buyers need to take into consideration when buying a property, whether landed or non-landed.
For landed property, one needs to look at the location, land tenure, building condition, size, title and whether the property is in a gated and guarded community. For properties with strata titles, it is important to know whether there is a need to sign a deed of mutual covenant (DMC), he says.
"For properties in a gated and guarded community, what are the fees for security and is there an RA (residents' association)? If it's an individual title in a gated and guarded community, is there also a DMC to sign? Is it stated in the agreement that if you transfer the property to another party, the new owner has to sign the same DMC?
"This is important, as many gated and guarded landed developments do not have this clause. This will cause problems in the future when a new owner in your estate refuses to pay the security and maintenance fees, and says he did not sign any DMC when he bought the property on the secondary market. The RA has no right to sue him/her or bar him/her from entering the estate, as there is no clause to say that the undertaking of a DMC must be transferable," Toh notes.
"At the end of the day, the rest of the residents would have to subsidise the new owner's portion of the security and maintenance cost."
He advises potential buyers of non-landed properties to look into the maintenance fees, house rules, the condition of the units, common areas and facilities, issuance of the strata title, tenure as well as location and the surrounding areas.
"It is also important to look at the management company — whether it is a licensed managing agent, or self-managed by the management corporation or joint management body, or an illegal property management company," he says.
"Remember to look at the occupancy rate because it will affect the funds for maintaining the non-landed scheme."